Domestic Wine Sales Increase 3% in January
Latest edition of Wine Analytics Report also features overview of M&A market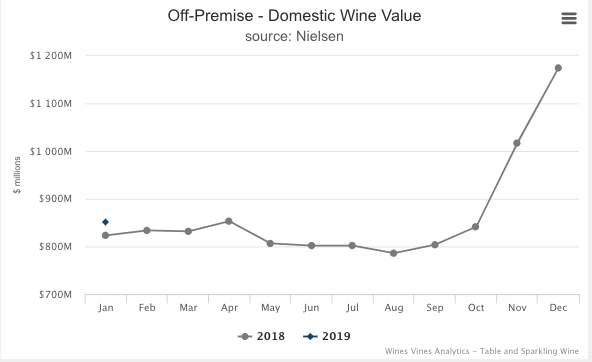 San Rafael, Calif.—Wine sales and shipments in January remained steady, but growth was muted in the traditionally slower, post-holiday season according to the Wine Industry Metrics available in the latest Wine Analytics Report.
The report, which released to subscribers on Feb. 15, also included an overview of mergers and acquisitions activity in the wine industry, data on young wine consumers and potential opportunities in the changing U.S. wine market.
All of the metrics that first appeared in the pages of Wines & Vines magazine and winesandvines.com are now published in the new report accessible to subscribers at wineanalyticsreport.com.
According to partner research firm bw166, U.S. wine sales in January totaled $3.2 billion and sales in the past 12 months of just U.S. wine approached $48 billion. Sales of all wine in the U.S. increased by 4% to nearly $71 billion.
Off-premise sales tracked by Nielsen in the four weeks ended Jan. 26 rose 3% versus a year ago to $851 million. Case sales topped 10 million for the month. Sales in the 52 weeks ended Jan. 26 rose 1% to approach $12 billion, while volumes in the period were flat at 138 million.
Direct-to-consumer (DtC) shipments in January were flat at $126 million, according to Wines Vines Analytics/ShipCompliant by Sovos, while hiring activity slipped 3% in the month, yet Winejobs.com's Winery Job Index remained relatively strong at 319.
Vineyard, winery deals expected to stay brisk
The past year witnessed multiple deals at all levels of the U.S. wine industry. Mergers and acquisitions are expected to stay strong in 2019 despite wider, potentially troublesome changes in the overall U.S. wine market.
The advisory firm Zepponi & Co. had a hand in some of the biggest winery transactions of 2018, such as AXA Millésimes' purchase of Outpost Wines in Napa Valley and Foley Family Wines' acquisition of the Acrobat brand from Oregon's King Estate.

The deals were among the dozen worth more than $10 million last year that Santa Rosa, Calif.-based Zepponi tracked, and firm principal Matt Franklin expects activity to remain robust in 2019. "We have a pretty full pipeline of opportunities in Napa, Sonoma, Oregon, Washington and Central Coast, and there seems to be buyer interest still," he said. "We're expecting that 2019 should be as good as 2018."

Given the abundance of wine and grapes in the bulk market at the moment, Erik McLaughlin, CEO of Seattle-based advisory firm Metis, feels brands are in a strong position in the current market. "The power of brand is more important than ever, as buyers become pickier about their investment opportunities," he said. "I think we'll continue to see strong activity on brand-oriented deals, but land-oriented deals will slow down."

The comments underscore the direction heralded by 2018 purchases such as the Wine Group's acquisition of the 7 Deadly Zins as well as the Acrobat transaction, but also point to a deeper issue in the market: the decrease in vineyard prices as the abundance of production dampens buyer interest in securing land.
"Folks who a couple of years ago were concerned about where their grapes were going to come from are now taking a little more of an attitude, 'Why would I buy a vineyard when I can buy grapes so cheap for now?'" McLaughlin said. "Buyers want a bargain right now, and there's enough distress situations that, outside of the primo, primo areas that are still garnering a premium, the buyers can be really picky, and they can afford to wait to get the right deal."
The Wine Analytics Report is a new, digital publication available each month to subscribers and part of a full suite of wine industry data and marketing services offered by Wines Vines Analytics. The report features news, data and analysis to help readers better understand the U.S. wine market so that they can make the best decisions for their business. For more information or to subscribe, visit: wineanalyticsreport.com or winesvinesanalytics.com