Sonoma County Vintners' members are expected to have another busy year in 2019.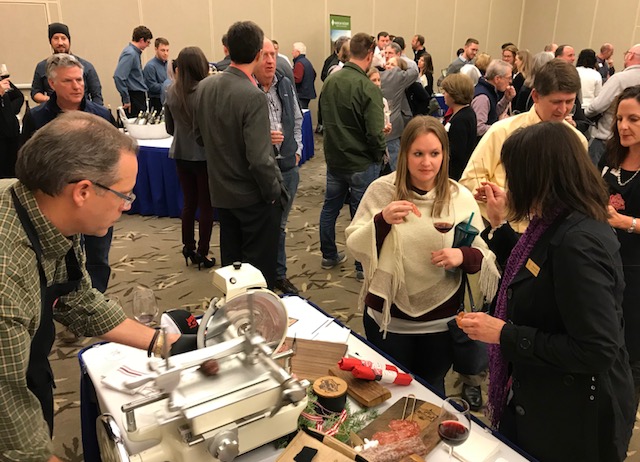 Sonoma County Vintners on Tuesday had their annual meeting at Sonoma State University's Student Center. The event included a reception.


Sonoma County Vintners' members are expected to have another busy year in 2019.

The trade association in 2018 expanded its political advocacy, its governmental relations program and its visibility internationally and enhanced its foundation, said Michael Haney, executive director, Sonoma County Vintners, a trade group with more than 230 members. The group also hosted two record-breaking wine auctions, among other events.

"2018 for Sonoma County vintners was a very, very busy year," Haney said during the annual Sonoma County Vintners meeting scheduled this year at Sonoma State University's Student Center. "The best is yet to come," Haney said.

The trade association is expected to participate this year in another round of domestic and international events. In July, Sonoma County Vintners will collaborate with Sonoma County Winegrowers and Sonoma County Tourism to host 60 Wine Enthusiast editors for their annual international media conference.

In addition, Sonoma County Vintners wants to expand its visibility and continue to reach out to elected officials regarding issues such as permitting process as wells housing and labor issues. The group also plans to highlight the wine industry's philanthropic efforts. Sonoma County Wine Auction last year raised $5.7 million for the community.

Other speakers at Tuesday's event at Sonoma State's Student Center included Karissa Kruse, president of the Sonoma County Winegrowers, who introduced her organizations' Artificial Intelligence project. Sonoma County Winegrowers has worked with San Francisco-based Tactic and six wineries to design augmented reality labels as part of a marketing program to attract millennials. The participating wineries are: Lynmar Estate, Dutton Estate, Dutton Goldfield, Cline Family Cellars, Ferrari-Carano Vineyards and Francis Ford Coppola. The first wines shipped with augmented reality labels on the bottles in February will probably be a Cline Chardonnay and a Ferrari-Carano Pinot Grigio. For a nominal fee, wineries can customize the labels.

Another speaker, Ray Johnson, board member of Sonoma County Vintners and executive director of Sonoma State University's Wine Business Institute, announced that another $200,000 is available for the Wine Industry Scholars Program. The scholarships are for about 20 would-be students who want to attend Sonoma State University. The recipients are students with financial needs who are the first members of their families to attend college. This will be the third year scholarships have been awarded. The students do not have to study wine or business, Johnson said. The scholarship is offered to inspire students who may not attend college otherwise, he said. Industry and community members donate to the program.
Claudia Vecchio, president and CEO, Sonoma County Tourism, pledged to tasting room operators to bring back tourism to Sonoma County and let people know what's going down the pike. "And secondly our commitment is to work damn hard to get people into this county," she said.
"It's been a challenging year in the world of tourism," Vecchio said. "We have been still grappling with some perception issues around Sonoma County," she said, referring to the aftermath of the 2017 fires and the other blazes in California. Intended trips to California at an all-time low point, she noted.

Tasting room operators have asked Sonoma County Tourism to get visitors back into the county. "We hear you and we are going to be certainly what we can to make that happen. But we know it's a challenge," Vecchio said. "2019, I am very cautiously optimistic," she added.

At the same time the county has so much to offer, she said.

"We are open and welcoming and a loving place where people of all races, creeds and nationalities types can visit. We welcome everyone," Vecchio said.

U.S Rep. Mike Thompson, D-St. Helena, was in Washington D.C. and could not attend the meeting. Stephen Gale, his district representative, read a letter on the Congressman's behalf. Thompson's praised the Sonoma wine industry's contributions to the community. "Though our district was hit hard by fire in 2017, we have come back strong, and your work has been a critical piece to that recovery," Thompson said in his letter.

For information on Wine Industry Scholars Program, contact SSU Educational Opportunity Program Office at 707-664-2427. Would-be contributors should contact Wine Business Institute at 707-664-3347 or winebiz@sonoma.edu