Introducing the 2018 Hot Brands -- Elk Cove Vineyards
Every year, when Wine Business Monthly creates our annual list of Hot Brands, we look for vintners, growers, wineries and wines that are making a statement in our industry. Quality is always an important consideration, but Hot Brands is more than a list of the "best" or most interesting wines we've tasted during the year.
When we set out to choose our Hot Brands, our goal is to always represent the American wine industry. Often, that means discovering a new winery in an established region while also paying homage to the stalwarts who continue to move the industry forward. It means we look at wineries in non-West Coast, "traditional" winemaking states, or those who might be bucking a trend or trying new techniques. Our editors look for wines that are embodiments of national trends or have soaring sales. Sometimes we'll choose the winemaker, not the wine.
Quite often, we end up with a couple of wines that were unexpected. During the search for a Pinot Noir, for example, we'll discover a producer who is also making Tempranillo—and is doing such a good job of it, we adjust our plans to get that Tempranillo in. We're never quite sure how the list will turn out, but it's a chance for us to explore new regions, varietals and new winemakers.
In the end, this list is comprised of wines that we here at Wine Business Monthly would serve to winemakers. That's exactly what we do, as representatives from each of these wineries were on-hand to serve their wines to winemakers, grape growers and industry members at our annual Bottle Bash party at the Unified Wine & Grape Symposium, this year held January 29, 2019. Cheers!
_____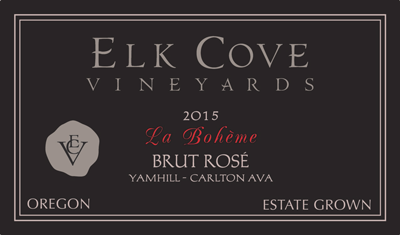 Elk Cove Vineyards
2015 Brut Rosé Sparkling, Willamette Valley, OR
As a region, Oregon's Willamette Valley had been producing outstanding Pinot Noir and Chardonnay for decades, and the Campbell family has been a steward of those grapes since the beginning.
Pat and Joe Campbell are Oregon natives, both spending their childhoods in Hood River. The two were high-school sweethearts, attending prom together before going their separate ways for college.
Eventually they reconnected, married and had their son, Adam, before moving back to the Northwest in 1973. At the time, they knew that they wanted to plant winegrapes, but there weren't many others doing the same; just the pioneers like Adelsheim Vineyards, Eyrie Vineyards, Sokol Blosser, Erath and others. But they found a nice 200-acre property in Gaston, Oregon, up in the foothills of the Coast Range mountains. The couple planted and tended to the vines and made the wine themselves, with some additional help from their five children.
Their son Adam left the family vineyard to study political science at Lewis & Clark College, but also spent time making wine in Australia. He returned and was named head winemaker in 1999. Since then, he's been buying high-quality vineyards and planting his own, experimenting and increasing total production. Even with six separate vineyards, 380 acres under vine, and a 40,000-case production, since 2017 the winery has retained 100 percent estate fruit and wants to maintain that for years to come.
The full story on Elk Cove Vineyards ~ and all our Hot Brands ~ will be available in our February 2019 issue of Wine Business Monthly. You can come by our booth (#1620) at Unified and pick up a copy or click here to subscribe to WBM.

Taste all the Hot Brands at our Annual Bottle Bash, Jan. 29, 2019, the night before the Unified Symposium.

Click here to register