A Snapshot of the American Wine Consumer in 2018
Study by Sonoma State University reveals purchasing and drinking habits of the American Wine Consumer
2018 has been a wild ride, but the American wine consumer continues to thrive. This year's survey of American wine consumer preferences and behaviors provides both new and consistent findings into the styles of wine they enjoy, as well as motivations to drink wine and shopping behavior. In addition, more information on wine pricing, eco-friendly wines, social media/wine app usage, as well as wine e-commerce provide some interesting insights for wine marketers.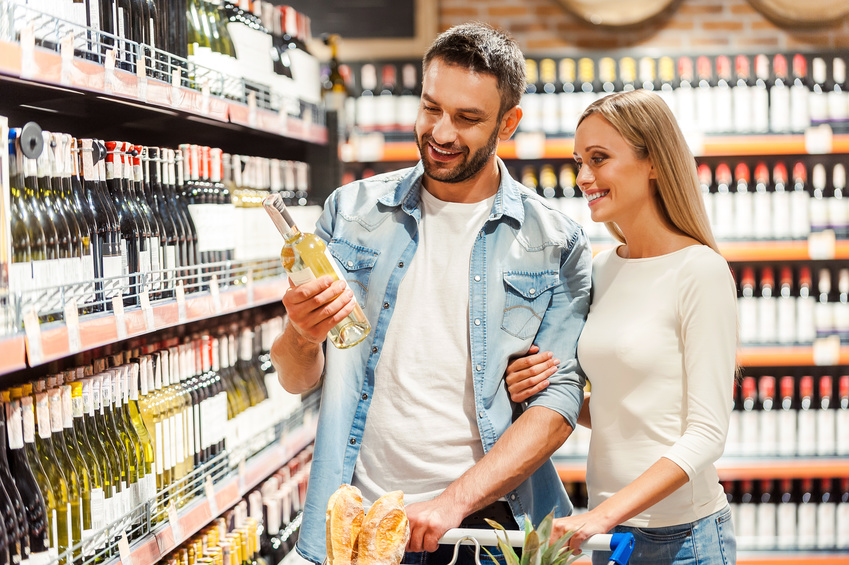 Shopping for Wine. Photo Credit: Fotolia
About the Survey and Sample: 1,191 American Wine Consumers from 50 States
The survey of the American Wine Consumer is conducted every few years by researchers at Sonoma State University's Wine Business Institute. The purpose is to gain insights into U.S. wine consumer preferences and behaviors, as well as to conduct deeper research on specific topics. This year the data was collected in November 2018, with a total of 1,191 responses. A representative sample was collected in order to obtain data from consumers in all 50 states, with 60 percent women and 40 percent men. In terms of age, 2 percent were Generation Z (ages 21-23); 26 percent Millennials (ages 24-38); 17 percent Gen Xers; (ages 39-53) 47 percent Boomers (ages 54- 74); and 7 percent Greatest Generation (ages 75+). The median annual income of the sample was $85,000, and 63 percent had a college degree. These demographics are consistent with other studies profiling the American wine consumer.
In terms of wine knowledge, 50 percent of the respondents described themselves as possessing intermediate knowledge, 15 percent as advanced and 3 percent as connoisseurs; however, 32 percent self-identified as knowing very little about wine. Despite varying levels of wine knowledge, 50 percent of the sample said they drink wine several times per week or daily—making them "High Frequency" wine drinkers, according to Wine Market Council. Consumers who reported drinking wine once a week accounted for 17 percent, with the remaining 33 percent consuming wine less often.
Preferred Wine Styles: Semi-Sweet, Smooth and Fruity
If you are familiar with the most popular wine brands in America in terms of sales volume, you will see that the taste profile of these wines is very similar to what Americans report they prefer when it comes to wine style preferences. As illustrated in Figure 1, wines that are little sweet, have a smooth texture, and taste fruity continue to score high on this survey, as in previous years. Though there are consumers who enjoy dry, savory, and tannic wines, they are not in the majority. In terms of type of wine, the sample prefers red wine at 69 percent; white at 67 percent; Rosé at 40 percent; sparkling at 31 percent, and 16 percent said they enjoy dessert wines.
Figure 1: Wine Style Preferences of Americans
(How do you prefer your wine to taste? Check all that apply)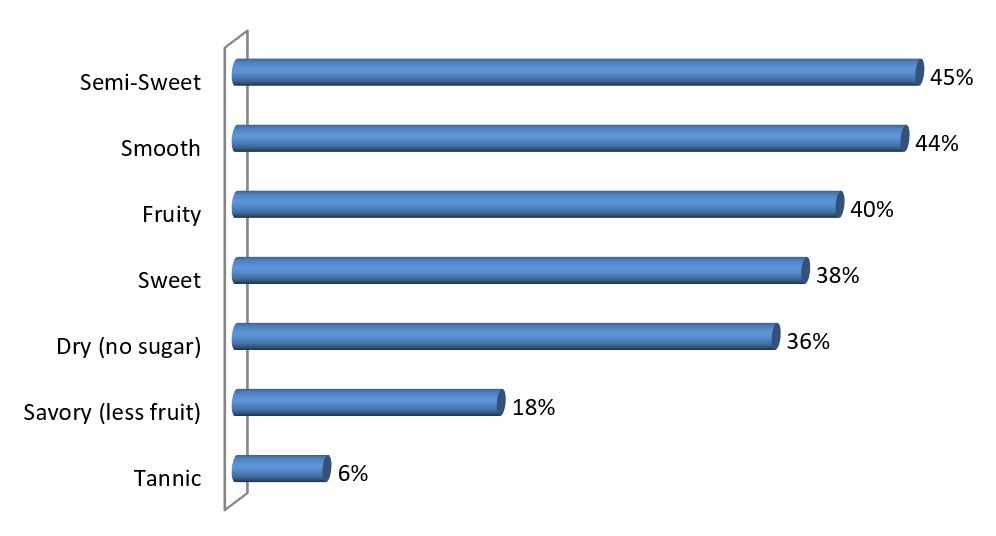 Motivations and Wine-Buying Decision Making
As in previous surveys, enjoying the taste of wine remained the number one reason why Americans like to drink wine, at 79 percent of the sample. Relaxation and pairing with food tied at 59 percent, and socializing with friends was selected by 57 percent, and with family 43 percent. Wine for romance was selected by 20 percent of respondents and 15 percent cited health reasons. A new question asked how they were first introduced to wine: 38 percent reported by a friend and 36 percent said by a family member. The remainder said it was through travel (7 percent), cooking (4 percent), and just "falling in love with wine (12 percent)."
Price (80 percent) and brand (69 percent) continue to rule when Americans decide on which wine to purchase, as illustrated in Figure 2. This is consistent with surveys from previous years, with varietal (33 percent) and country (33 percent) tied in third place. Ratings are still relatively important to 23 percent of consumers, though medals are less so at 9 percent.
Figure 2: Wine Decision-Making
(When making a decision on which wine to buy, I usually consider -check all that apply)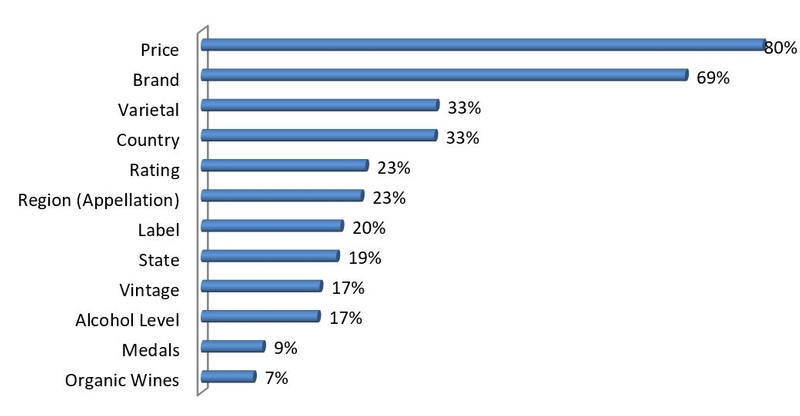 As before, organic wines still seem to be less of a concern for American consumers, so this year we asked a new question about paying more for organic, sustainable, and biodynamic wines—and provided a short definition of each. The results (Table 1) show that roughly 15 percent of Americans are willing to pay an additional $1 to $3 more per bottle for these certified wines, though an average of 32 percent would not pay more.
Table 1: Willingness to Pay More for Eco-Friendly Wines


Wine Pricing, Purchase Location and How Soon Wine is Consumed
When asked about the price they usually pay for wine to drink at home, the most common range was $11 to $14.99, which is consistent with Nielsen scan data, but 46 percent of the sample reported they had paid $50 to $99 a bottle for a special occasion. For price paid for wine to drink in a restaurant, the most common range was $31 to $45, though 31 percent reported they only buy wine by the glass at restaurants. Americans continue to purchase most of their wine in a wine/liquor store at 51 percent responding Almost Always or Often. The second most popular location was a grocery store (39 percent), followed by 24 percent at discount/warehouse store; 17 percent winery tasting room; and 10 percent convenience store. Most interestingly is that 11 percent of the sample reported that they Almost Always or Often purchase wine online. This is up from only 7 percent on the 2016 survey, and reflects similar trends in other research studies, showing that American are slowly starting to purchase more wine online.
Since there is a much repeated quote that "98 percent of Americans open a bottle of wine within 24 hours of purchase," we decided to add this question to our survey this year. The results show that Americans do not really pop the cork or screwcap as quickly as previously reported, with only 20 percent admitting that they drink the wine within 24 hours of purchase. The majority waits several days or weeks before consuming the wine, and others save it for aging.
Figure 3: Consume Wine Within 24 Hours?
(When you buy a bottle of wine, how soon do you USUALLY drink it?)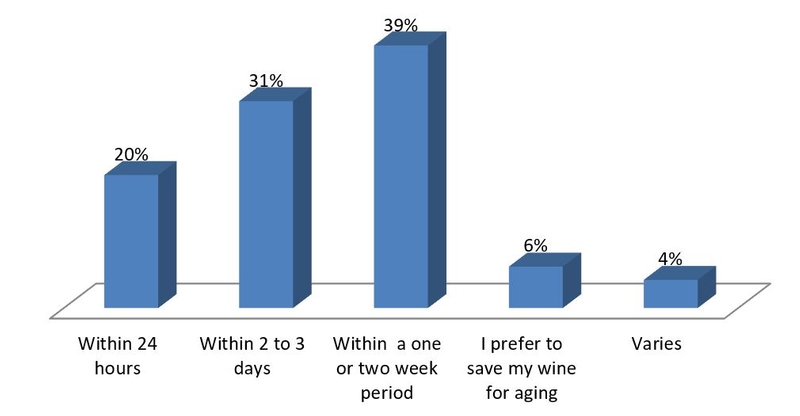 Social Media and Wine Apps: Still Embraced by Wine Consumers
American wine consumers are still active on social media, with Facebook still listed as the number one platform with 75 percent of the sample, followed by YouTube/online videos at 36 percent. What is different this year compared to the 2016 survey is that Instagram has moved into third place at 35 percent of the sample, pushing Twitter down to fifth place at only 26 percent. Pinterest is in fourth place at 28 percent. This provides useful information for wine marketers on where they should focus their social media advertising dollars. The primary reasons wine consumers report using social media are: 1) to ask friends for recommendations on which wine to buy (59 percent), and share wine experiences/post wine photos (40 percent).
In terms of wine apps, 11 percent of the sample have them on their smart phones, and primarily use them to check wine prices (30 percent), decide which wine to buy (9 percent) and use apps to get coupons on wine (6 percent). The most popular wine apps are Vivino, in number one place, pushing WineSearcher to number two since the 2016 survey. Hello Vino is in third place, followed by Delectable and then Cellar Tracker. The fact that average wine prices are now available on other apps seems to be appealing to some consumers.
Wine E-commerce: Americans Buying More Wine Online
Due to reports that Americans are purchasing more wine online, we included additional questions on this topic. A surprising 27 percent reported that they have purchased wine online, though only 11 percent do so Almost Always or Often. We then asked them to compare the percentage of their online wine purchases against online purchases of other products. The results are probably not surprising in that consumers purchase many other products online—by nearly three times as much—compared to wine, as illustrated in Figure 4.
Figure 4: Online Purchases?
(What percent ALL products Vs. Wine do you purchase online?)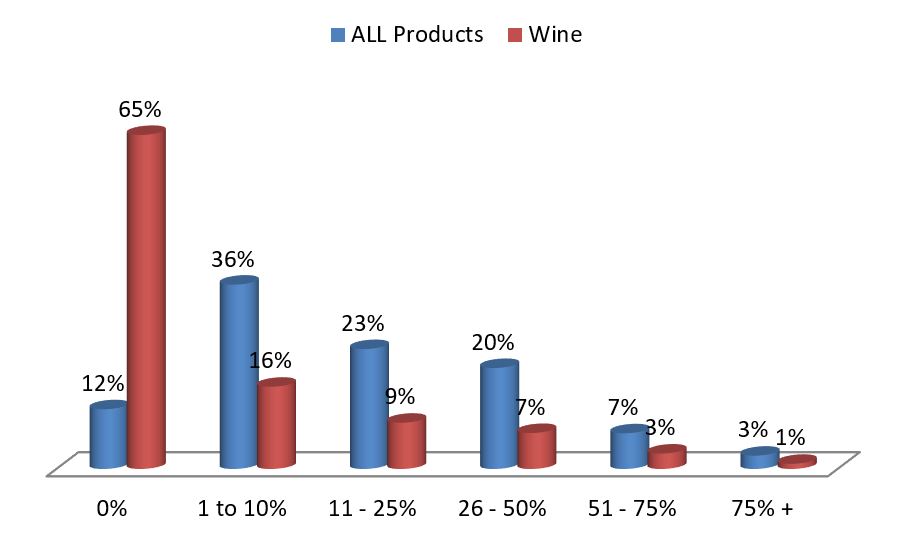 Consumer Recommendations to Make Online Wine Shopping Easier
In order to understand what consumers would like to improve in wine e-commerce, we asked them an open-ended question: "What would make purchasing wine online more attractive?" Of the more than 1,100 responses received, we used a coding process to determine most common themes. From this, four major suggestions emerged: 1) Provide cheaper wine prices online – most seem to be quite expensive; 2) Provide complimentary or discounted shipping; 3) Consider finding a way to provide taste samples; and 4) Make the whole process easier to order and receive wine online.
Summary and Implications
This year's survey highlights that Americans continue to enjoy a wide variety of wine types, but many have a preference for smooth and fruity wines—sometimes with a touch of sugar. They primarily drink wine because they enjoy the taste, but also to pair with food, relax, and socialize with family/friends. Price and brand continue to be important to Americans when selecting a wine, illustrating the importance of the role of wine marketer in promoting brand. For price, the sweet spot continues to hover in the $11 to $14.99 range for a bottle of wine to drink at home, but Americans will pay more for wine at a restaurant and for special occasions. This suggests that premiumization is still active in the U.S. wine market in 2018.
Some new findings which may be useful for wine marketers to explore are the willingness of a small percentage of consumers to pay more for eco-certified wines; the continued growing importance of Instagram as a social media channel; and the fact that a good percentage of wine consumers use social media to ask for wine suggestions and to post their wine experiences/photos. Wine apps, though still only used by a small percentage, seem to provide an avenue for more engaged wine consumers; and online wine sales are growing—albeit not as quickly as other products. However, the rise of new wine delivery services, such as Drizly, and more grocery stores, such as Raley's, delivering everyday priced wine along with groceries, for a nominal delivery fee, bodes well for continued growth in this channel.
Caveat: Since this survey is based on a representative sample of American wine consumers, and not a random sample, it cannot be generalized to all wine consumers.
by Dr. Liz Thach, MW and Dr. Angelo Camillo, Sonoma State University
Dr. Liz Thach, MW is the Distinguished Professor of Wine & Management and Dr. Angelo Camillo is Assistant Professor of Wine & Management at Sonoma State University in the Wine Business Institute. They can be contacted at Liz@lizthach.com and camillo@sonoma.edu