UC Davis Names Two New Viticulture Faculty Members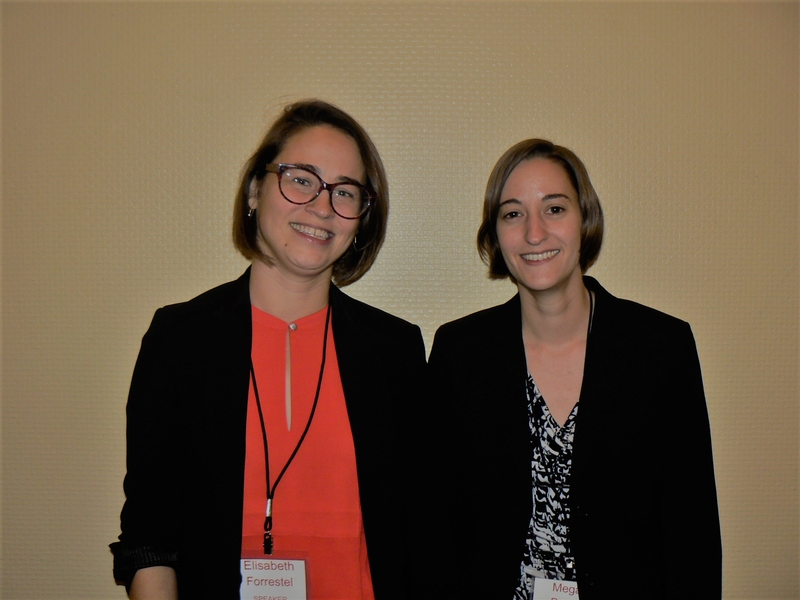 Dr. Elisabeth Forrestel and Dr. Megan Bartlett will join the UC Davis Department of Viticulture & Enology as assistant professors in viticulture in 2019 (Photo: Ted Rieger)

The University of California, Davis (UCD) Department of Viticulture & Enology announced the addition of two new viticulture faculty members--Dr. Megan Bartlett and Dr. Elisabeth Forrestel. They were introduced by department chair and professor Dr. David Block at the biennial Recent Advances in Viticulture and Enology (RAVE) meeting held on campus November 30. The new faculty each presented an introduction to their recent research and areas they plan to investigate, which include better understanding of grapevine physiology and cultivar diversity, and understanding grapevine responses to heat, drought and climate change.

Megan Bartlett

Dr. Bartlett will officially join the department in January 2019 as an assistant professor. A native of Spring Hill, Florida, she earned a Ph.D. in Ecology and Evolutionary Biology from UCLA in 2016 and holds a B.A in Organismic and Evolutionary Biology from Harvard University. She has been a postdoctoral research associate at the Princeton Environmental Institute at Princeton University in New Jersey since 2016.

In her RAVE presentation, Bartlett discussed, "Scaling grapevine responses to heat and drought stress from mechanistic physiology." She explained, "As a plant physiologist, my work has looked at how we can use plant physiology to predict a plant's drought tolerance, looking at what are the traits most important to drought tolerance, and how should plants regulate their responses to the environment to optimize performance under new conditions such as climate change."

Her studies have included looking at plant leaf responses and wilting. She said, "Leaves wilt at the 'turgor loss point' (TLP), or the water potential that causes the cell walls in the leaf to collapse." She noted that TLP varies widely across plant species, and for individual plants, over time with changes in water availability. The variation in TLP across plants drives species distribution in relation to environmental water supply.

Related areas to investigate are how plants modulate stomatal conductance to respond to rapid changes in the environment, and how are growth and recovery mechanisms used in plants. For example, xylem recovery processes significantly affect optimal stomatal responses to drought. Bartlett believes a better understanding is needed of the drivers of stomatal responses and the drivers of stomatal diversity and these differences in grape cultivars. She said two viticultural approaches to mitigate global climate change are through vine and vineyard management, and through cultivar development.

Bartlett also hopes to investigate relationships between metabolic processes and genetics in grapevines and how they may play a role in managing or improving grape cultivars for drought and heat resistance. Bartlett explained: "Breeding grapevines for wine quality has produced unique genes related to monoterpene synthesis in grapes, and monoterpenes can also improve photosynthetic resistance to heat stress." Therefore, it could be worthwhile to investigate whether monoterpene expression is an important adaptation in heat-resistant grape cultivars, and determine if some monoterpenes are especially effective.

Elisabeth Forrestel

Dr. Forrestel is currently a National Science Foundation postdoctoral fellow in the UCD viticulture and enology department jointly performing research in the labs of professors Dr. Andy Walker and Dr. Andrew McElrone. She will join the department as an assistant professor during the first half of 2019. She earned a Ph.D. in Ecology and Evolutionary Biology from Yale University in 2015, and received a B.S. in Biology from Cornell University.

Forrestel describes herself as an evolutionary ecologist and a field biologist. She said, "I've long been fascinated with plant diversity and adaptation in different environments." She has done extensive field research working with grass species and grassland ecology. For her RAVE presentation she discussed "Understanding drought and heat tolerance in grapevines: perspectives from wild species and cultivars."

She noted that there are 60 species of grapevines worldwide in the Vitis genus that demonstrate a lot of phenological diversity. From these 60 species are an even greater diversity of grapevine cultivars. She works with the major grapevine germplasm repositories in the world, and is in the process of doing whole genome sequencing for several grape species. She summarized, "My work is focused on evaluating grapevine germplasm and understanding how we may be able to use its diversity to adapt to climate change."

She said, "Extreme temperatures in the contiguous U.S. are projected to increase." A heat wave is defined as a period when temperatures reach 38 degrees C. (100 degrees F.) or more for three or more consecutive days. These events cause major variations in leaf stomatal response, and prolonged periods of reduction in photosynthesis.

She is working on a research project with commercial grape growers that include J. Lohr Vineyards, E & J Gallo, and Vino Farms to evaluate what current irrigation practices are being used in response to heat waves in California vineyards for Chardonnay and Cabernet Sauvignon. A second goal of the study is to evaluate how these cultivars vary in their physiological responses to heat, and their recovery times under variable irrigation regimes.