Retailer Juggernaut to Keynote Central Coast Insights and WiVi Central Coast 2019
Tickets to the two events are now on sale!
PASO ROBLES, CA – Christian Navarro, the Los Angeles-based president and principal of luxury wine retailers Wally's Wine & Spirits will speak as a keynote at Central Coast Insights and WiVi Central Coast 2019, held March 12-13, 2019 in Paso Robles.
Under Navarro's direction, Wally's Wine & Spirits has evolved from a traditional retail space into a true customer experience focused on luxury and prestige clients. His vision has earned him Wine Enthusiast's Retailer of the Year award (2018), as well as the nickname "the therapist to the stars" from The New York Times. Navarro is well-lauded for his ability to harness the consumer connection to expand business, both in-store and online.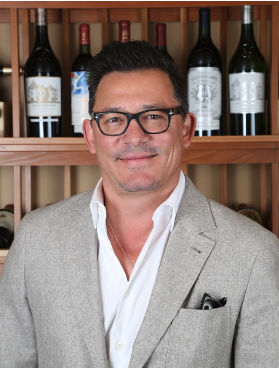 As the local wine region for Southern California shoppers, the Central Coast is well-positioned to take advantage of the market. With a lofty number of high-end, luxury wine producers, Navarro knows that creating partnerships with wineries in the region can be mutually beneficial.
At Central Coast Insights, held March 12, 2019 at the Allegretto Vineyard Resort, Navarro will dive deeper into those topics, discussing how he helped revitalize his business and what steps wineries can take to do the same.
Then, at WiVi Central Coast, held the next day, March 13, 2019 at the Paso Robles Event Center, Navarro will join a panel of writers and experts as they discuss perceptions of the Central Coast wine scene, including areas where the region excels, as well as opportunities to become stronger.
Tickets for the two conferences are now on sale. Visit www.centralcoastinsights.com and www.wivicentralcoast.com for full session line-ups, information about the shows and more.
About Central Coast Insights
Central Coast Insights is an annual educational seminar addressing the economic and financial issues, challenges and trends that affect the vintners, wineries and grape growers of the Central Coast wine industry. This year's session topics include: innovative approaches to selling wine, making business decisions in an uncertain regulatory environment, education and wine quality on the Central Coast, as well as the state of the wine business. More information can be found at www.centralcoastinsights.com.
About WiVi Central Coast
WiVi Central Coast was founded in 2012 through a partnership between Wine Business Monthly, the leading publication for wineries and growers, and Precision Ag, an agricultural consulting company that specializes in vineyard management, viticulture production consulting, soil fertility and irrigation management, and ag waiver compliance on the California Central Coast. As of November 2015, WiVi is fully owned by Wine Business Monthly. WiVi is the effort of the two companies to create a regional wine industry conference and tradeshow on the California Central Coast. For more information, visit www.wivicentralcoast.com.