Hong Kong Wine and Spirits Fair draws 1,000 exhibitors from 33 countries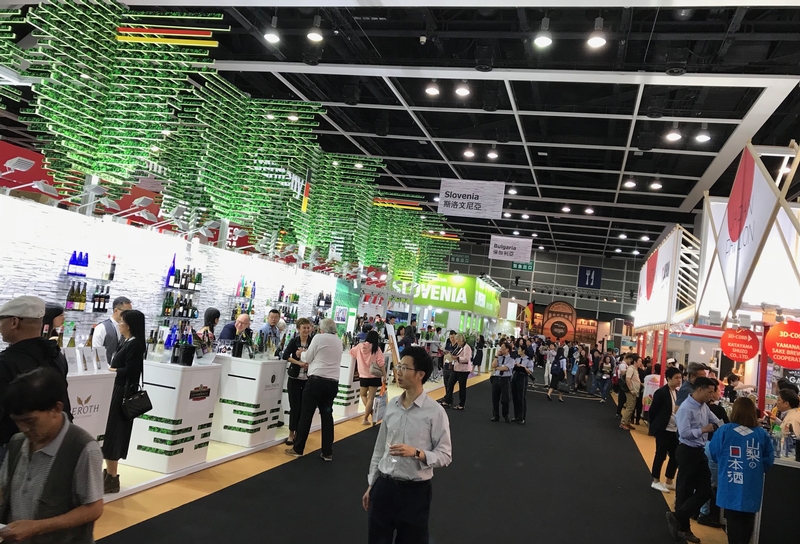 Producers of alcoholic beverages from around the globe gathered in Hong Kong recently for an annual trade fair, all in an effort to boost wine and spirits trade in the growing Asian markets.

The 11th annual Hong Kong Wine and Spirits fair from Nov. 8 through Nov. 10 drew more than 1,000 exhibitors from 33 countries. An estimated 19,000 trade buyers attended the event, according to the organizer, the Hong Kong Trade Development Council. The last day was open to the general public.

Organizers reported 24,000 members of the public visited the fair on Nov. 10.

Hong Kong, unlike mainland China, charges no tariffs on alcohol, organizers noted repeatedly. Hong Kong is the "gateway to the flourishing wine market," said James Lau, acting financial secretary of the Hong Kong Special Administrative Region. Mainland China remains Hong Kong's top export destination.

Producers from France, Italy, Spain, Chile, Australia and other countries poured wines from dozens of booths.

Chinese consumers, after all, continue to prefer French red wines and remain loyal to the most famous French chateaux, buyers and producers said at the fair. Opus One, Screaming Eagle and other US super premium wines and cult wines remain popular among wine collectors. However, most US wines are not commonly found in Hong Kong wine shops or on e-commerce platforms in mainland China.

JD. com is a mainland China e-commerce platform that imports thousands of wines every year. Of these, only a few are US wines. Trade buyers at the fair cited prices and a lack of exposure.

"Too expensive," said Cynthia Yang, senior manager at JD.com, referring to US wines' price tags.

Eros Liu, a Canadian who imports wines to China, was looking for wines from other countries produced in the style of US wines. Prices of US wines – and its tariffs - are "a little crazy," he said at the fair.

Still, the California State Trade Expansion Program – or California STEP – sponsored a booth for eight small wine companies. California Wines for You, LLC and Hestan Vineyards. Mark Shediac, the Hong-Kong-born founder of California Wines for You who is based in San Francisco, said exporting wine to mainland China is the target.

Hestan Vineyards, whose owners Stanley and Helen Cheng are originally from Hong Kong, also wants to build contacts in Asia, including Hong Kong. "My job is to bring some brand exposure to us," Grant Yeargain, director of sales and guest experiences for the Napa Valley winery, said at the California STEP booth.

Hestan Vineyards was looking for a distributor who knows how to market premium wine in Hong Kong. After all the winery owners are from Hong Kong, where they have offices for their cookware company, Meyer Corporation.

"There is plenty of wealth in Hong Kong," Yeargain said.

"I'm sure that there is plenty of people that would enjoy paying under $100 for a bottle of wine that was incredibly enjoyable," Yeargain said, pointing to a $80 bottle.

We want the wines to be showcased the right way and marketed to the right target demographics," Yeargain said.

So far, Hestan Vineyards has not ventured into mainland China. Tariffs on US wines currently hover around 80 percent as a result of a trade dispute between the Trump administration and China.

Jeffrey Williamson, director, California State trade expansion at California STEP, spoke with visitors at the California STEP booth at the Hong Kong Convention and Exhibition Center.

US wines imports face steep tariffs in mainland China and a strong dollar that make US wines more expensive.

"These are things that are not directly favorable," Williams said.

The tariffs do impact sales, Williamson and others said in separate interviews. The trade may wait for the trade dispute to end, they said.

"Some importers are taking a wait-and-see attitude," Williamson said. "I think the uncertainty, if you will, with the resolution of the trade dispute is putting off some of the purchases they might make."

Other factors include popular culture and political sentiments. "These things all have an impact on something like wine which is a very origin-based product," Williamson said.

But overall, it's a matter of building relationships for when the trade dispute is settled, he said. It takes time to have these relationships in place, Williamson added.

France's wines, red wines in particular, dominate the Chinese market. California wines are a very good quality product, Williamson said.

"People think movies they think Hollywood. They think red wine they think France," Williamson said. "But we're trying to change that little by little," he added. "Little by little we're trying to change that perception."

US wines imports into China total about 1.07 million cases in 2017 – about 1.06 percent than the previous year, according to statistics Marcus Ford, Asia market manager for Wines of South Africa, presented at the conference. The US is the sixth biggest importer of wine into China. The average price per liter climbed by more than 45.6 percent in 2017.

Australian winemaker Campbell Greer represented his family-owned winery, McLaren Vale III Associates, a winery that produces 15,000 cases of wine a year. The winery won two awards at the Cathay Pacific Hong Kong International Wine and Spirit Competition, including a trophy for "best red wine from Australia," also came to Hong Kong to meet potential importers in person and start building trust.

"It's the relationships that matter," he said as a buyer tasted his Shiraz.

Greer would not say one wine fair is better than another. "It's a trial and error thing to see which ones work," Greer said.
Lyuben Yochkov, commercial director at Assenovgrad Winery in Bulgaria, sells a wine produced with Mavrud, a native red wine grape. Visitors have an open mind about the wines. "People are curious to start something new," he said.

Andras Kmec, business development manager for Somos-Tokaj Winery in Hungary, came to Hong Kong as a buyer to check on the trends. They change all the time, he said. "It's good to see the latest trends."
All indications are the demand for wine continues in Hong Kong and in mainland China.

Yang, of JD.com in mainland China, reported the e-commerce platform's wine revenues in 2017 were seven times what they were in 2013. The company now carries 8,000 brands from 2,000 suppliers, according to JD.com.

Statistics from mainland China are notoriously unreliable, Ford said. Still, China may produce an estimated 150 million cases of wine annually.

"Your average Chinese consumer is going to be confronted with Chinese product 80 percent of the time," Ford said. "The vast majority of wine in China is red and produced in China."

Speakers at the conference said wine consumers in Hong Kong and mainland China want better wines than those produced in China. They also want to experiment.

The Cathay Pacific Hong Kong International Wine and Spirit Competition at the fair featured dozens of categories. Wang Shenghan, a Brown University graduate now based in Beijing and known as Lady Penguin, won a trophy for being the 2018 Young Communicator of the Year. More than 1.5 million fans follow her social media postings on wine, according to the fair.

"If you have not checked out Lady Penguin, then you are not in the market," said Master of Wine and completion director Debra Meiburg.

Lady Penguin's company produces videos on wine that are light-hearted and less than 1 minute long. Shenghan, 30, said she tries to invent her own wine language to connect with the people.

Shenghan said she discovered wine after she received a gift certificate at a wine ship while she was in college. She found that wine tasted very differently from one another. And she had a lot to say about it. "I was very poetic about every single wine," she said.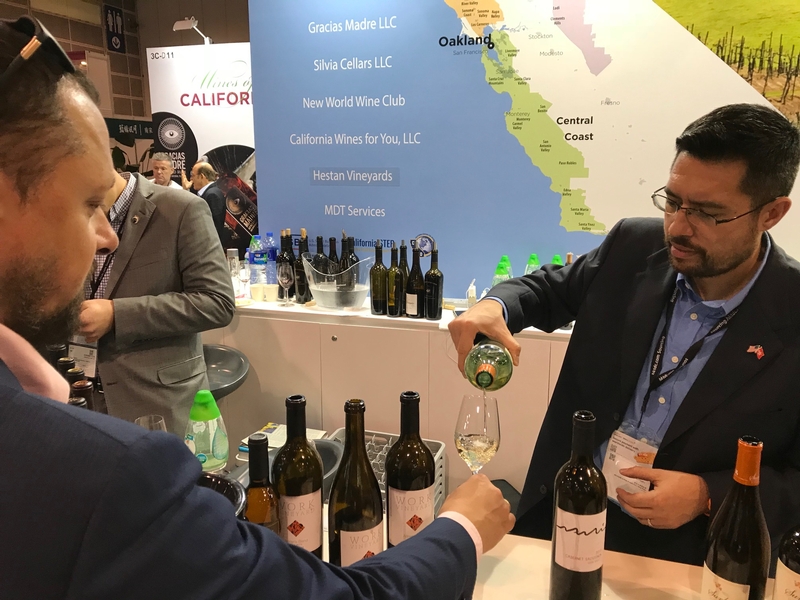 Mark Shediac, founder, California Wines for You LLC, right pours wine at the California STEP booth at the Hong Kong International Wine and Spirits Fair. Photo by Kerana Todorov