Proposed family winery expansion at foot of Mayacamas west of Napa whips up storm of protest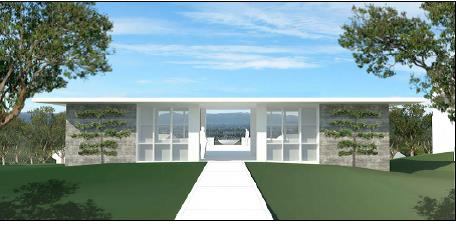 Anthem Winery. Graphic courtesy Napa County.

A proposed expansion of a winery at the foot of the Mayacamas Mountains west of Napa has whipped up a storm of protest in the neighborhood.

Anthem Winery was originally approved in December 1996 for 30,000 gallons with a 1,600-square-foot cave and a 240-square-foot fermentation tank pad. In 2014, owners Julie and Justin Arbuckle applied to boost production to 50,000 gallons and build a tasting room. The winery's green features include a solar roof and rain water recycling.

Anthem winery's plans include the construction of 10,000 square feet of winery space; 29,000 square feet of caves; 1,500 square foot tasting room; a 1,700 square-foot office space building as well as new access road to and from Dry Creek Road. The new 650-foot stretch of roadway would require multiple exemptions to meet code. Owners Julie and Justin Arbuckles also requested the green light to welcome up to 245 visitors per week and two-dozen special events.

While supporters included fellow vintners who praised the Arbuckles' sustainability efforts, neighbors along Redwood Road and Dry Creek Road said the project would endanger their groundwater source, add traffic and create noise in a peaceful area. The Napa County Planning Commission on Wednesday voted to continue the hearing until Dec. 5.

"The level of concerns that I'm hearing have raised this to an issue for me of whether or not this is an appropriately sized application for this particular location," Planning Commissioner Dave Whitmer said at Wednesday's hearing before the vote.

Owner Julie Arbuckle told the Planning Commission the plans were vital to the survival of her family's agricultural business.

"Since we first moved to Napa over 12 years ago, we've been carefully planning to expand the existing winery and add a tasting room so we can share our beautiful vineyards with customers and build a family winery that is able to support our family," Arbuckle said.

But speakers spoke on the size of the proposed project. They raised concerns about ground water availability, access and traffic from visitation and marketing events.

"The problem here is not the road, it's the size of the project," said attorney Kevin Block, who represents a property owner who has declined to give an easement for the access road to the proposed winery.

His client, New York attorney Paul Rowe, also attended Wednesday meeting. Rowe said he completely agrees with the neighbors who shared their concerns. He disputed the innuendo that's he's just an absentee property owner.
"The occupants of the house are in fact my 90-year-old parents. They lived at Silverado Crest. Their house burned to the ground in 5 minutes about a year ago and they live there full time. So I do care," Rowe said.

Nieghbor Jeff Atlas said the proposed new access road would devalue his house and "take away my peace and my privacy."

Steve Moulds, a grower who lives nearby, said "The request to add additional capacity to accommodate their winemaker's other clients constitutes an egregious taking of ag watershed land for primarily commercial purposes."

Moulds, a past president of the Napa County Agricultural Commission, noted Napa County is celebrating the 50th anniversiry of the Agricultural Preserve. The Napa Valley floor is built up. So developers are "flocking up to the hills," he said.

"Clearly the Direction of the county and the board of supervisors is further protection of our endangered ag resources."

Supporters also spoke. Debra Dommen praised the Arbuckles and the project's unique water saving measures, including rain harvesting to offset water use.

Tom Davies, of St. Helena, supports the Arbuckles. "I really worry about the future of agriculture in Napa County. The land is zoned agriculture, said Davies, president and part owner of V. Sattui. Wineries are an accessory use, he added. "Grapes don't magically sell themselves. You can't go to Wholefoods and buy Cabernet Sauvignon grapes. It is the wineries to support the culture that we have in our county," he said. "The real threat," he added is "housing in the hills."

This is not going to increase traffic. The people are here anyway, Davies said. "We should support the small producer. This is the heart of our industry," Davies said.

The applicant's attorney, Rob Anglin, pledged to continue to reach out to the neighborhood.