Patz & Hall Celebrates 30 Years of Legendary Vineyards & Renowned Wines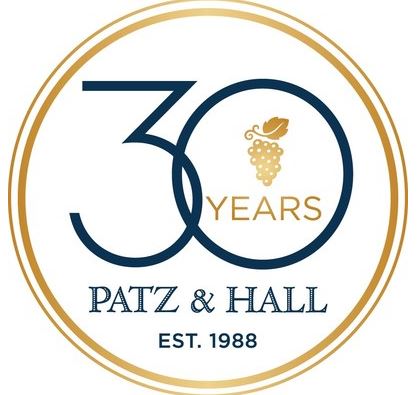 SONOMA, Calif., April 2, 2018 /PRNewswire/ -- Patz & Hall, one of California's leading wineries for vineyard-designated Chardonnay and Pinot Noir, is celebrating its 30th Anniversary this year with a series of events at the Sonoma House at Patz & Hall and across the country.
Since its founding in 1988, Patz & Hall has exemplified one core philosophy: to make great wines from the finest vineyards in California, farmed by the greatest growers. From these prized vineyards, Patz & Hall makes some of the New World's most stirring and sought-after single-vineyard Chardonnays and Pinot Noirs—wines that have become benchmarks for their intensity, elegance and complexity.
"It's hard to believe it's been 30 years since we set out to bring our passion and vision to life," said James Hall, who's made every single Patz & Hall wine since 1988. "I'm very proud that we've stayed true to our original vision. Along the way, we've established great relationships with our growers, wine club members, fans and trade customers – and the winery wouldn't be the success it is today without their incredible support."
To craft the exceptional single vineyard and limited-production Patz & Hall wines, Winemaker James Hall has developed close, personal relationships with many of California's finest growers—people like Larry Hyde, George Martinelli, Charlie Chenoweth and Gary Pisoni and family. This focus has given Patz & Hall unprecedented access to the finest sites, blocks and clones. These relationships are the cornerstones of the winery's success, allowing Patz & Hall to realize the highest levels of quality and consistency.
"We've come a long way since we pooled together $10,000 to start the project," said James. "While we've accomplished our dream of making single vineyard wines from top vineyard sites, my passion for finding the next great site and building new relationships with growers in Sonoma, particularly in the Sonoma Coast and Russian River Valley AVAs, keeps me energized for the future."
To reveal the distinct identity of the legendary vineyards Patz & Hall works with, James Hall applies a consistent winemaking approach that has been refined to underscore the finesse, depth and complexity of each vineyard. Located in the Sonoma Coast, Carneros (Napa Valley), Russian River Valley, Mendocino County and Santa Lucia Highlands, these vineyards span California's finest winegrowing regions.
In honor of the 30th Anniversary, the winery will be participating and hosting a series of events across the country as well as at the Sonoma House at Patz & Hall.
Special Programming at the Sonoma House at Patz & Hall
Located in the heart of Sonoma wine country, amid a majestic backdrop of vineyards and mountains, the Sonoma House is an idyllic setting for enjoying Patz & Hall's acclaimed Chardonnays and Pinot Noirs. Guests are welcomed seven days a week from 10 am to 4 pm.
A library wine to be featured each month in the tasting room (daily)
Annual Lobster Feed at the Sonoma House (May 12)
Luxury Media Tours to the Sonoma House (April 29, May 6, October 7)
Wine Club dinner with 30th Anniversary focus (August 18)
A selection of Patz & Hall 30th Anniversary Events Across the U.S.
James Hall and Anne Moses will be traveling to attend events across the country in honor of the 30th Anniversary.
Atlanta High Museum Auction – 30th Anniversary Live Lot (March 21-March 24)
Pebble Beach Food & Wine Festival – 30th Anniversary seminar (April 7)
Sonoma County Barrel Auction – 20-case lot, 30th Vintage Celebration Cuvée (April 20)
New York Media & Trade Event – 30th Anniversary tasting (May 1)
Kapalua Wine Festival (June 7-12)
International Pinot Noir Conference (July 27-29)
Sonoma County Harvest Wine Auction – 30th Anniversary Live Lot (September 22)
About Patz & Hall
Patz & Hall was founded by four talented individuals: Donald Patz, James Hall, Anne Moses and Heather Patz. Together, they turned Patz & Hall into one of California's most highly regarded wineries with a celebrated portfolio of single-vineyard wines. Though Patz & Hall was not the first California winery to make vineyard-designate Chardonnays and Pinot Noirs, it was one of the first to introduce these wines to a wider audience outside of wine clubs and tasting rooms.
James Hall crafts all the wines in a state-of-the-art winery in Sonoma that he designed. This purpose-built winery gives the Patz & Hall team complete control during every step of the winemaking process. In the winery, James and his team apply both traditional and cutting-edge techniques, including a unique, custom barrel program.
Patz & Hall is part of Ste. Michelle Wine Estates.