Clark Smith Named 2016 Innovator of the Year at the Innovation + Quality (IQ) Forum
March 07, 2016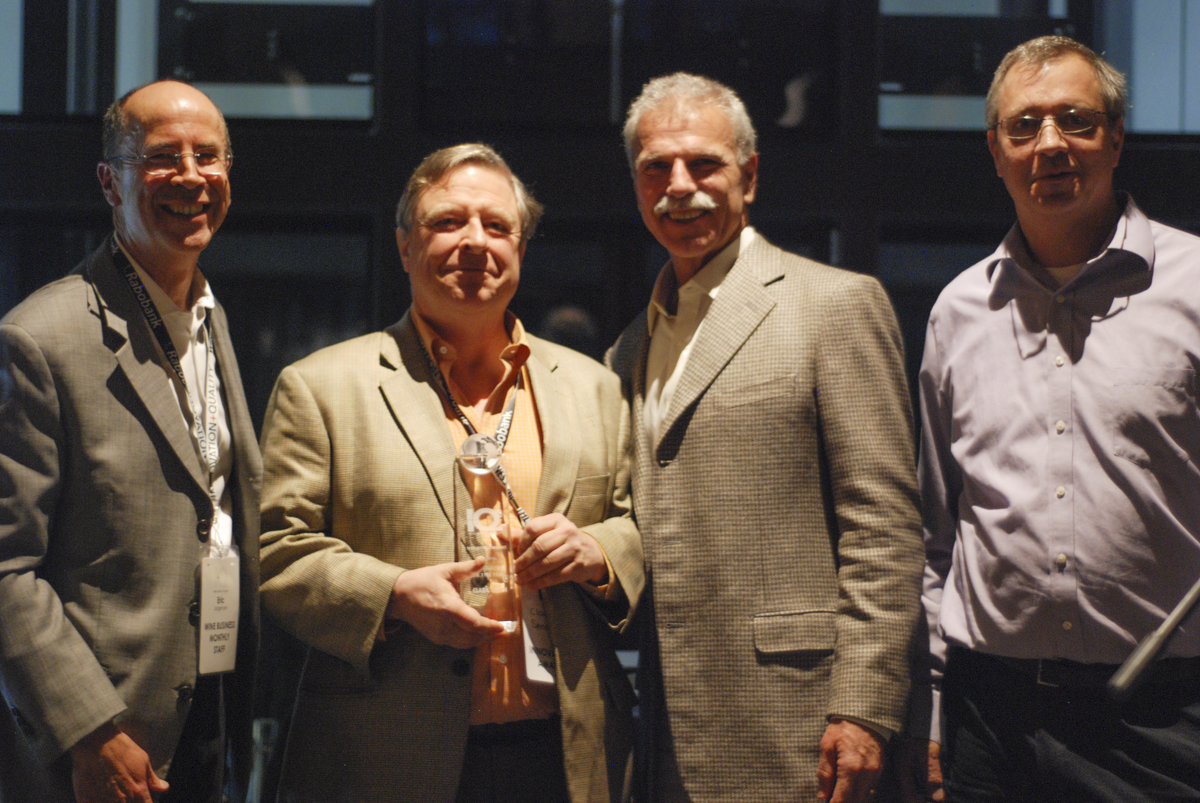 (L-R) Wine Business Monthly publisher Eric Jorgensen, Clark Smith, Peter Mondavi Jr. and Wine Business Monthly editor Cyril Penn
Winemaking consultant Clark Smith was presented with the Innovator of the Year Award at the Innovation + Quality (IQ) conference on March 2. IQ, a forum for ultra-premium wineries that focuses on cutting-edge innovations that advance wine quality, is presented by Wine Business Monthly.
The Innovator of the Year Award is presented at an awards ceremony each year to someone who has a lifetime of innovation in his/her body of work, has fostered innovation among other winemakers and organizations and has made a positive impact on the wine industry through his/her contributions. Members of the IQ Advisory Board voted for the recipient from nominees submitted by the Wine Business Monthly editorial staff. The first Innovator of the Year Award in 2015 was given to Peter Mondavi, Sr.
Smith has a long track record of innovation, and has been on a mission to make people think about winemaking. He entered the California wine industry in 1972 and went on to found R.H. Phillips, where he pioneered night harvesting.
He's known for his early work with adjusting alcohol and VA with reverse osmosis, pioneering the concept of finding the sweet spot and adjusting alcohol back to find the right level. In 1992 he patented applications of reverse osmosis to remove volatile acidity and adjust alcohol, which gave birth to Vinovation, a company that has grown to be the world's largest wine production service firm, bringing European innovations, including micro-oxygenation, ultra-filtration, oak alternatives and electrodialysis to the United States.
He began teaching for the UC Davis University Extension in 1981, and in 1986, launched Fundamentals of Wine Chemistry, an "enology degree in a weekend," which has graduated over 4,000 winemakers in its 30-year run. He has held adjunct professorships at Napa Valley College, CSU Fresno and Florida International University, and regularly delivers guest lectures on five continents.
Smith's research areas include membrane and distillation technologies, Brettanomyces management, sulfur dioxide, minerality, cognitive enology and the relationship of wine and music. He's taken that thinking about wine and its components several steps further into his post-modern winemaking seminars with a nod toward pairing artistry with science, helping winemakers get their intuition and technical chops in line.
His UC Press publication, Postmodern Winemaking, named Wine and Spirits Magazine's 2013 Book of the Year, a humorous and highly readable personal perspective which has inspired openness and deeper understanding of the winemaker's viewpoint.
He consults for throughout the industry and lectures widely on wine chemistry fundamentals. His Postmodern Winemaker" column has appeared in Wines & Vines magazine since 2009.
His latest innovation, which he thinks is probably his most important, a method for measuring a wine's 02 appetite, is poised to help winemakers manage reduction or oxidation in wines.
Wine Business Monthly editor Cyril Penn along with Peter Mondavi, Jr. presented the award to Smith the night before the conference at an Awards Reception that also featured IQ's Innovative Product Winners. For more on IQ's Innovative Product Winners, click here.
More than 1,100 people gathered for the second annual IQ, which concluded its one-day wine industry conference and trade show on Wednesday afternoon. The conference, which featured educational sessions, a trade show with 25,000 square feet of exhibit space with almost 100 exhibiting companies, took place at the historic Charles Krug Winery in the Napa Valley.
About IQ
Innovation + Quality (IQ) 2016 is the second annual forum for ultra-premium wineries focused on cutting-edge innovations that advance wine quality. This day-long event will take place March 2, 2016 at Charles Krug Winery in Napa Valley.
Sessions will be held in the Carriage House and in the newly restored Redwood Cellar Tasting Room and Hospitality Center. A tented area between these two historic buildings will feature product and technology demonstrations and exhibitors showcasing the latest innovations in the ultra-premium winemaking, grape growing, packaging and direct-to-consumer sales.
This event is produced by Wine Business Monthly, the leading print publication for the wine industry.
About Wine Business Monthly
Wine Business Monthly is an essential information resource for wineries and growers. WBM keeps readers up-to-date on the latest developments in wine making, grape growing, sales, technology and finance. WBM distinguishes itself through its editorial emphasis on products. Each issue contains a product review, covering everything from vineyard weather stations to yeast, helping readers decide which products to purchase. WBM's newest feature is an in-depth focus on a single grape variety every six months.