Constellation Segmentation Study Outlines Motivations, Behaviors of Today's Wine Consumers
Outlines six types of wine buyers: drives better understanding of wine category
"By understanding the six distinct types of wine drinkers we identified in this study, we help our retail and distributor partners more effectively reach consumers, build education and help wine drinkers by providing recommendations and developing products that meet their preferences, palates and price point." -- Dale Stratton, VP of Strategic Insights
Constellation Brands has released results of a comprehensive study identifying six segments of wine drinkers based on their purchase behavior, motivations and preferences. The study follows up on a similar study conducted ten years ago.
Three of the segments identified in the study are new, reflecting today's changing wine consumers. The new segments -- identified as Engaged Newcomers, Everyday Loyals and Price-Driven consumers -- account for more than half of the wine drinking public in the United States and Canada.
The segmentation study provides insights for Constellation's marketing team for aligning its brands with consumers. Constellation Brands' vice president of strategic insights, Dale Stratton, told winebusiness.com the company chose to share the findings because having a common vernacular for talking about the wine category and the wine consumer improves communication within the trade. "It drives a better understanding of the wine category," Stratton said. "We want to make the category grow.

"By understanding the six distinct types of wine drinkers we identified in this study, we help our retail and distributor partners more effectively reach consumers, build education and help wine drinkers by providing recommendations and developing products that meet their preferences, palates and price point," Stratton said.
Consumer Segment - Consumer Profile
Price Driven
(21 percent of consumers)
* I believe you can buy good wine without spending a lot
* So price is a top consideration

Everyday Loyals
(20 percent of consumers)
* Wine drinking is part of my regular routine
* When I find a brand I like, I will stick with it

Overwhelmed
(19 percent of consumers)
* I drink wine, but it does not play an important role in my life
* I donít enjoy shopping for wine, and find it complex and overwhelming

Image Seekers
(18 percent of consumers)
* How others perceive me is important
* I want to live a life that impresses others
* I want to make sure the wine I choose says the right thing about me

Engaged Newcomers
(12 percent of consumers)
* I'm young and new to an intimidating category
* Wine is a big part of the socializing I do
* I'm interested in learning more

Enthusiasts
(10 percent of consumers)
* I love everything about the wine experience
* I love researching purchases, reading reviews, shipping, discussing, drinking, sharing with others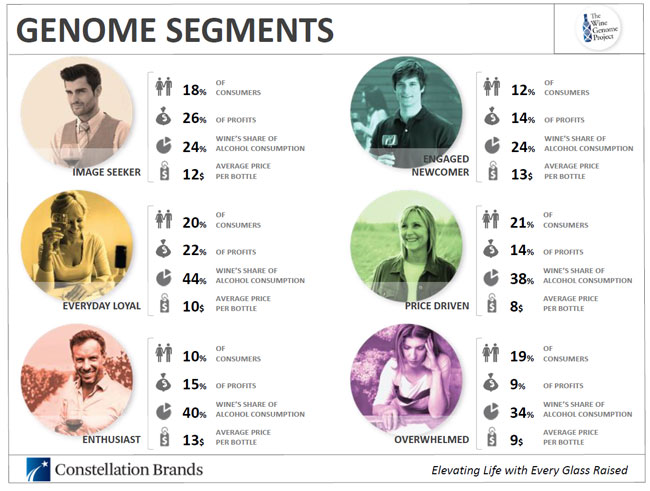 The study is the latest in an ongoing effort that started in 2004. Constellation released results of the first phase of Project Genome in October 2005. The first iteration of the study looked at the premium consumer purchasing wines priced between $5 and $19. A second iteration of that study used data gathered over 18 months from 10,000 wine buyers in Nielsen's Homescan consumer purchase panel. The latest iteration of the study covers a broader range of price points, including luxury purchases. It included more than 100 questions asked to 4,000 U.S. consumers and 2,946 Canadian consumers who purchase and consume wine at least once every three months. Interviews were conducted in November and December 2012 in the U.S. and Canada, and in February and March 2013 in Quebec.

As consumer preferences and the marketplace shifts, Project Genome has evolved to create more detailed analysis. During the past decade wine consumers have changed as a new generation has entered the market. Millennials, the proliferation of mobile apps and social media, and overall economic trends impact the way consumers shop for and enjoy wine.
The first study found that consumers fell into six unique segments: Enthusiast, Image Seeker, Savvy Shopper, Traditionalist, Satisfied Sipper and Overwhelmed. The three segments that have stayed the same in the updated study are the Enthusiast, the Image Seeker and the Overwhelmed consumer.

The new Everyday Loyal and Price-Driven segments mostly came out of the three segments that went away: (Satisfied Sippers, Savvy Shoppers, and the Traditionalists). Most of the "Satisfied Sippers" segment migrated to the Every Day Loyal Category and into the Price-Driven segments.

Image seekers, first identified in 2005, are still around today and this consumer tends to skew a little bit more male than female and represents about 18 percent of the wine drinking population.

Overwhelmed consumers also remain and this consumer has not really shifted a whole lot in their attitudes and behaviors over the past ten years. They tend to say that wine is complex and overwhelming to shop for, though they account for about 19 percent of wine drinkers.

Price-driven consumers are perhaps the most surprising new segment identified in the study, representing 21 percent of the wine drinking public.

The Everyday Loyal consumer tends to skew a bit female and also accounts for 21 percent of the wine drinking population. For her wine drinking is part of the daily routine and she tends to pick brands that she loves and she tends to stick with those wines.

Engaged Newcomers are the youngest consumers in the segmentation. This segment came about as the result of a population shift. They tend to recognize that theyíre new to the category and typically want to learn more, though they often do have a fair amount of wine knowledge. They are also heavily engaged when it comes to smartphones, tablets and hand-held devices.

Enthusiasts are passionate about wine, and consume a lot at the high end, but are also drinking craft beer, bourbons and single malt scotches. Ten years ago this segment was predominately male, but it is now becoming close to evenly split between the genders.

Three consumer sets identified in the segmentation study are highly knowledgeable about wine: Image Seekers, Engaged Newcomers and Enthusiasts. There is a difference in how much information they need to make a decision that is based on how knowledgeable they think they are. Enthusiasts are comfortable making decisions based on their knowledge. They look at reviews or at endorsements as inputs into making a decision based on information already amassed. Image seekers and Engaged Newcomers are more impressionable. They may have considerable wine knowledge, but tend to be afraid to make a mistake so trust reviews, endorsements, what their friends are drinking, or even consider what the label looks like, or what a store representative might tell them to buy. They are knowledgeable than the average consumer, but there's still a lot that needs to go into their comfort level in making a brand decision.

Constellation worked with professors at a number of colleges to include the first project Genome segmentation as an educational tool in marketing classes.

From a more pragmatic standpoint, the company has worked with restaurants to reshape lists to appeal to a broader range of consumers. From a promotional standpoint, the information can be used with geo-coding tools to pinpoint demographic profiles in specific population bases that fit the segments. A chain of stores, for instance, could hypothetically have a preponderance of Image Seekers visiting one location and Overwhelmed consumers near another location. If a retailer or restaurateur has identified a sales strategy, they might use the segmentation to balance known brands with more esoteric items, or safer varietals versus exploratory varietals or countries, piecing together a logical balance of products to carry based on what products a customer is most likely to purchase.

Wineries, both big and small, may find the segmentation study of interest for understanding that there are different types of consumers out there - even if one can't be everything to everyone.

"By understanding that an Image Seeker is more trend-focused and more image-focused; that an Everyday Loyal looks for a routine and a brand that theyíre familiar with; or that a Price-Driven consumer is really looking for something that hits their price pointóthat starts a small winery on a path to differentiation within their small portfolio," Constellation director of consumer insights Indira Augustin said. "It helps them bring their brands to life in a differentiated manner that helps consumers make their choices at shelf in an easy non-complex way."