JP Chenet Introduces JP Chenet Ice Edition to U.S. Market
Crafted with Extra Bubbles and Served Over Ice, the Latest Trend in French Bubbly Hits American Shores
June 10, 2014
PRESS RELEASE
(Bordeaux, France) June 10, 2014 – JP Chenet, the number one French wine brand in the world, announced the U.S. launch of an exciting new concept in sparkling wine: JP Chenet Ice Edition. The innovative sparkling wine is made with enhanced effervescence that is suitable for serving over ice in a non-traditional, large-bowl wine glass. JP Chenet Ice Edition represents a major new U.S. product introduction for JP Chenet, a leading French wine company based in Bordeaux.
"JP Chenet has long been recognized as an innovator in French winemaking," said Frederic Helfrich, U.S. commercial director for JP Chenet. "With the introduction of JP Chenet Ice Edition, we're giving consumers permission to be more adventurous and to enjoy an element of fun with their bubbly -- without sacrificing quality or flavor."
The festive new sparkling wine -- which received rave reviews in May from American audiences at The American Pavilion at the Cannes Film Festival -- makes its U.S. debut this month in key markets nationwide. Pale yellow in the glass with a steady stream of fine bubbles, JP Chenet Ice Edition boasts a lovely nose full of white flowers, tropical fruits and citrus. The well-balanced palate is fresh and lively with classic creamy notes that give way to a crisp, clean finish. Uniquely crafted to be served over ice without dilution, JP Chenet Ice Edition is an ideal summer sipper served on its own, or as a refreshing companion to all kinds of warm weather dishes. The wine is equally delicious as a focal ingredient in a versatile array of sparkling cocktails. Affordably priced at just $19.99 per 750 ml bottle, the wine offers U.S. consumers a unique new experience in sparkling wine enjoyment.
JPChenet is a long-time pioneer in French wine, having broken with tradition decades ago by focusing on the grape variety rather than the appellation in its wine names and developing a revolutionary wine bottle noted for its striking curved neck and generous wide body. In addition to the new JP Chenet Ice Edition, JP Chenet makes a full line of varietally labeled wines. JP Chenet is the thirteenth largest global wine brand.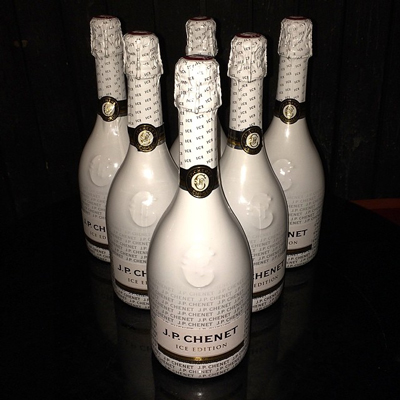 About JP Chenet
JP Chenet is the best-selling French wine in the world with distribution in more than 160 countries. The company is based in France and makes a range of wines from premium grape varieties. Additional information is available at www.jpchenet.com.