Ningxia Wine Province -- Will They Achieve Vision to be Highest Quality Wine Region in China?
In general Chinese wine has not received high marks in quality or taste on the international market in past years. However that changed recently when Decanter Magazine declared a Chinese wine from the Ningxia wine region as winning the top Red Bordeaux Varietal Over £10 International Trophy. The wine is Chateau Helan Qingxue Jiabeilan 2009 and is a blend of 80% cabernet sauvignon, 15% merlot, and 5% cabernet gernischt (also known as Chinese Cabernet or Cabernet G).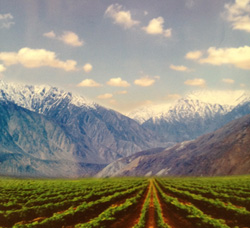 Helan Mountains and Daylong Vineyards in Ningxia
Last week I had the pleasure of visiting the Ningxia wine region and participating in a blind tasting of 39 local wines. Ten judges were invited, and I was honored to be in the same company as Jancis Robinson, MW, Dr. Qin Ma, and Georg Riedel, producer of the famous Riedel wine glasses. Interestingly after we tasted through the wines, and the brands were revealed, the gold medal Best of Class Red was again from Chateau Helan Qingxue, but this time a special reserve barrel called Jiabeilan Grand Reserve 2009 "Baby Feet." It was named for female winemaker, Zhang Jing's new child and the baby footprints she had placed on the barrel. Assisting Zhang in producing the wine was consulting winemaker, Li Demei.
Other winning wines included Xixia King Chardonnay "1950" 2011 for Best of Class White, with the second, third, and fourth placing red wines as Ningxia Hong 2010 Cabernet Gernisht, Chateau St. Louis Ding 2008 Cabernet Sauvignon, and Silver Heights The Summit 2009. The latter wine was made by Emma Gao, a Chinese winemaker who has gained much positive press for her high quality cabernet blends from Ningxia.
The Rising Quality of Ningxia Wine
The coordinator of the competition, Jim Boyce, prefaced the tasting by advising the judges that we were looking for wines that were at least of commercial quality. This is because in many previous Chinese competitions, a large majority of the wines had faults and/or were thin and green tasting. In Ningxia, however, we only found 7 to 8 wines that were faulty, and this was mainly due to oxidation issues.
Overall, the judging panel was surprised at the rising quality of the wines, which had been guaranteed by the local government to be 100% from Ningxia grapes, and not supplemented with wines from Chile and Australia as if often the case. The Chinese government still has not set regulations on required percentage of grapes in a bottle to be labeled for a specific region, whereas many other countries adopt OIV standards of at least 85% of grapes from the region in order to be labeled as coming from a specific appellation.
The Ningxia government has developed a vision for their region to become known as the highest quality producer of Chinese wine. They are currently discussing the development of their own quality standards.
About the Ningxia Wine Region
Ningxia is one of eight major wine regions in China, and is probably more suited to winegrowing than some of the other regions primarily due to its terroir. It is located in the center of China, and the vineyards are situated at the foot of the Helan Mountains at an elevation of 1200 meters (3600 feet). The highest peak is 3556 meters. The vineyard soil is alluvial, washed down from the mountains to the foothills and plains. It consists of sand, schist, and small pebbles.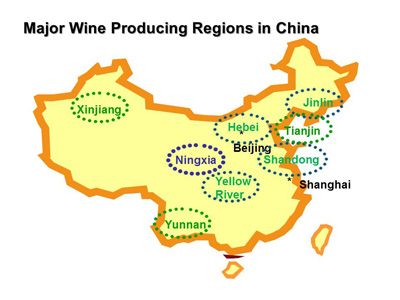 The climate is Continental, but dry with very little humidity compared to other Chinese wine growing regions. It is hot in the summer with average temperatures of 29 C during the day, but cooling down at night to 17 C, which helps to preserve grape flavors. Winters are cold (2 C daily average and -10C at night) with some snow, so the vines must be buried, which is a very labor intensive process. Water is abundant with the Yellow (Yangtze) River running through the area and many lakes, so irrigation is not an issue.
The first vineyards were planted in the 1970's, so it is a relatively new area. Currently there are 30,000 hectares planted with cabernet sauvignon being the most widely planted red grape, followed by merlot and cabernet franc. In terms of white varietals, muscat is most predominant followed by riesling.
Ningxia now has 38 wineries with approved plans to increase to 70 in the next few years. Indeed the giant wine corporation, Changyu, is preparing to open a very grand "chateau style" winery and visitor's center in October of 2012, and Chandon just broke ground in April of this year to begin building a large winery to make sparkling wine in China.
Success Factors for Ningxia to Achieve Vision
Right now there is much energy, and apparently a lot of money, going towards the Ningxia wine industry achieving its vision of being the top quality producer in the country. Success depends on several factors:
High Quality Grapes – currently the wineries who are crafting award winning wines are carefully sorting through the grapes, which are often under-ripe or plagued with mildew during rainy vintages (2010, 2011). Since the Chinese government owns all the land, wineries have to negotiate long term leases in order to plant a vineyard or set up farming contracts with growers and try to convince them to produce quality grapes verses large quantities.
Continued Support & Resources – the high level of support and resources provided to the local Ningxia government needs to continue in order for them to build the infrastructure they need to produce high quality wine and encourage tourists and wine buyers to visit. In addition, they need to provide training for workers in viticulture, enology, and wine business.
Quality Standards & Cooperation – Ningxia has been accepted as an observer region by the OIV (International Organization of Vine & Wine) with a desire to learn more about international quality standards for wine. In order for them to achieve their vision, they will need to agree on standards and make sure to police them once implemented. This will call for much cooperation between wineries and government within the region.

ABOUT THE AUTHOR: Dr. Liz Thach, MW is the Korbel Professor of Wine Business and Management at Sonoma State University's Wine Business Institute. For more information, see Liz's recent 8 blog postings on her trip to Ningxia at www.winetravelstories.blogspot.com