Sarah Jessica Parker Adds a New Rosé Wine "Invivo X, SJP Rosé" to Her Collection of Wine with Invivo & Co.
Posted on May 20, 2020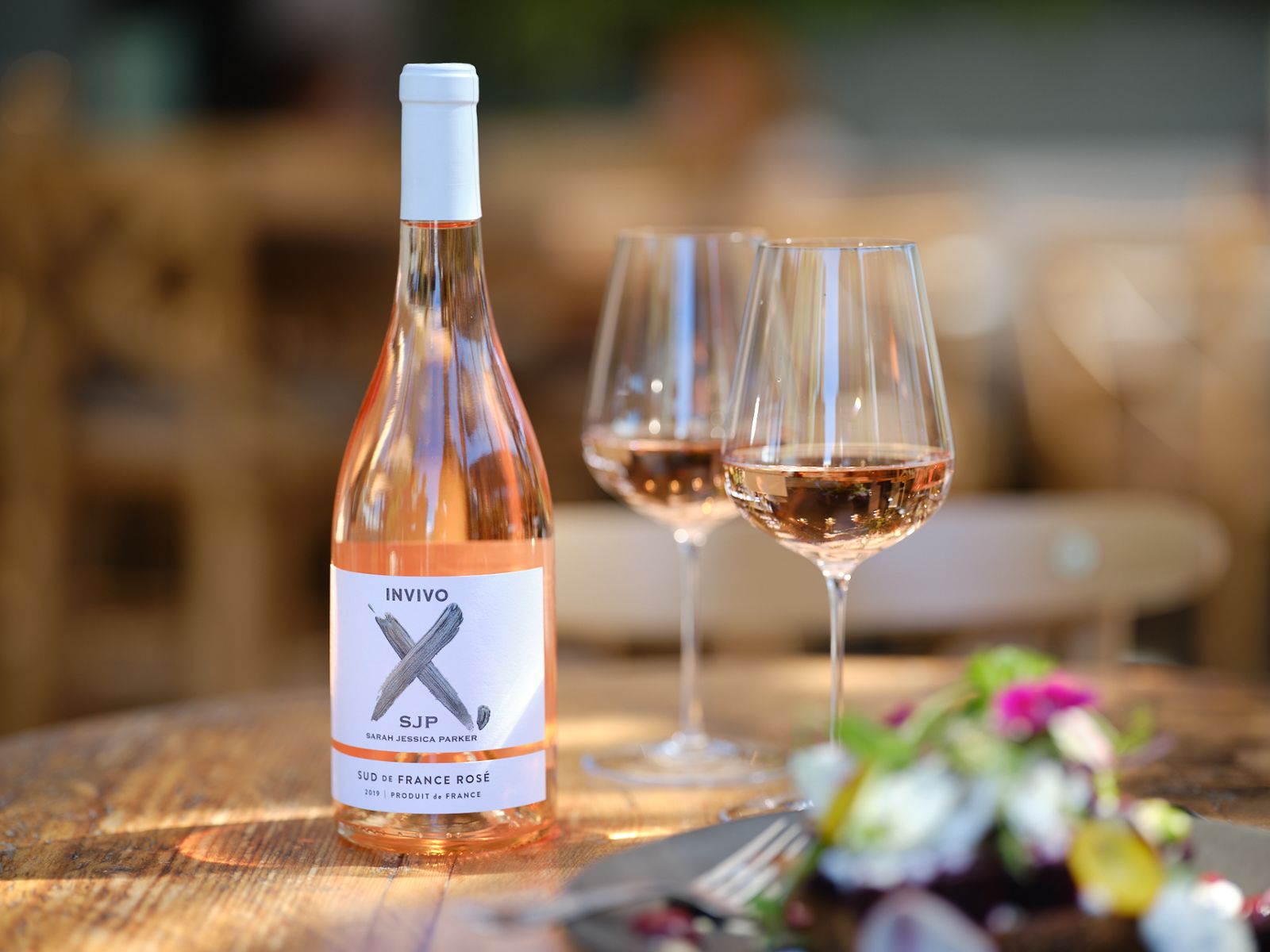 New York, NY (May 20, 2020) - Award winning actor, producer, designer and entrepreneur Sarah Jessica Parker is adding a new rosé wine to her collection of wines with New Zealand-based winery INVIVO & Co and it will be available just in time for summer sipping. This premium rosé - Invivo X, Sarah Jessica Parker Rosé - comes from the South of France and has been crafted in partnership with Sarah Jessica Parker, the founders of Invivo and a family estate in Provence. The new Invivo X, SJP Rosé will have a suggested retail price of $20 and will be available May 26th on Wine.com and then rolled out nationwide this summer.
"Blending the rosé was an experience I never thought I would be participating in and was not only great fun but, as always with my partners at Invivo, informative, surprising, delicious and wonderfully satisfying. I am so looking forward to adding it to our collection of wines." X, Sarah Jessica Parker
The rosé comes hot on the heels of Invivo X, SJP Sauvignon Blanc, SJP's first wine collab and one of 2019's most successful global wine launches with huge retailers such as Costco, Bevmo, Albertsons, Sainsbury's (UK), Supervalu (Ireland), which all listed the brand within months. Mike Osborne, Founder and Executive Vice President of wine.com describes the wine as "one of their most successful launches ever."
The final rosé blend was selected by SJP and Invivo over an afternoon tasting and assessing in New York City and the result is a new rosé that can be taken very serious, but it also very seriously fun. As Invivo's winemaker Rob Cameron describes it, "Invivo X, SJP Rosé is a gorgeous shade of blush pink in your glass, which is what will initially draw you in, but it's the taste that will bring you back for more. The aroma profile invokes clear rose petals and bright summer berry characters, wrapped in a minerality that makes this wine exceptionally fresh. SJP Rosé is full bodied with great complexity and elegance, delicious on its own or with a range of cuisine."
The grapes comes from a vineyard in Provence on a family estate "Vins Chevron Villette" located in the famous 'Golden Triangle,' situated in Saint Tropez, inland between Puget-Ville, Les Arcs and Le Thoronet Abbey, which was built in the late twelfth and early thirteenth century. The Invivo X, SJP Rosé is all about expressing the very best of these Provence vineyards that Invivo notoriously sources from. With cutting-edge technology and a ton of winemaking experience, the vineyard also strives to be eco-friendly by running the winery almost entirely on solar energy. Watch this video from the vineyard where the rosé wine was sourced from: https://vimeo.com/378205953
The critics at Wine Orbit in New Zealand have already given Invivo X, SJP Rosé 94 points and 5 stars, saying "This is instantly appealing on the nose showing grapefruit, crunchy apple and nectarine characters with a hint of sweet raspberry. The palate delivers terrific fruit intensity and vibrancy, combined with fine texture and bright acidity, finishing delightfully long and refreshing. At its best: now to 2022."
This is the second release in the Invivo X, SJP Wine Collaboration following Sarah Jessica Parker's award winning Sauvignon Blanc, which launched worldwide in September 2019 and received a 90 Points rating from Wine Spectator along with numerous awards from the world's largest wine competitions.
To find a local wine store selling the Invivo X, SJP Wine Collection, please plug your zip code here: https://bit.ly/2wW2j18
ABOUT SARAH JESSICA PARKER:
Next year, Sarah Jessica Parker will star on Broadway opposite Matthew Broderick in Neil Simon's classic play, "Plaza Suite." In February 2014, she launched "SJP by Sarah Jessica Parker," a footwear, apparel and accessory label, with partner George Malkemus III. The collection showcases the brand's theme of colors acting as neutrals and encourages women to take risks and break away from fashion rules they imagine. Parker currently serves as Vice-Chairman of the Board of Directors for the New York City Ballet. She also served on the President's Committee on the Arts and the Humanities under the Obama administration. Parker lives with her husband and three children in New York City.
ABOUT INVIVO & CO
Invivo's mission is to bring people together so great things can happen. Invivo has been described as "New Zealand's most innovative winery." Founded in 2008 by school friends Tim Lightbourne and winemaker Rob Cameron, Invivo set out to make great wine without the elitist attitude the industry can be known for. They believe that nothing should stand in the way of a great drink. 12 years later, the formula has been a success, with their wines receiving over 200 international wine show medals, distribution in 16 countries and sales of over 3,500,000 bottles. Two successful crowdfunding campaigns, making Invivo the largest crowdfunded beverage company in the Southern Hemisphere, Invivo has also recently released a Gin brand in partnership with Graham Norton. Invivo has played a role in helping New Zealand become the 3rd largest importer of wine into the US (by value) behind France and Italy. USA is New Zealand's largest export market for wine with $422 million USD in sales. This is an impressive statistic considering that NZ produces less than 1% of all the world's wine.