Holiday Gift from Hangar 1 and Food52: Portable Bar Kit
Posted on November 18, 2019
Alameda, Calif.—Just in time for the holiday season, the Hangar 1 Distillery has teamed up with Food52 to create the perfect plus-one to every holiday party this season! Instead of bringing just a bottle of wine, the Portable Bar Cart includes everything you need to craft the perfect cocktail at any holiday party.
The kit includes
Two martini glasses
Two resealable garnish cups
Napkins and coasters
An original Food52 cocktail recipe (below)
Secure slot for bottle of Hangar 1 Vodka of your choice

Hangar 1 and Food52's Portable Bar Cart is as good a holiday gift as it is a complement to holiday parties themselves. The full kit is available for $140 for a limited time at the Hangar 1 Distillery.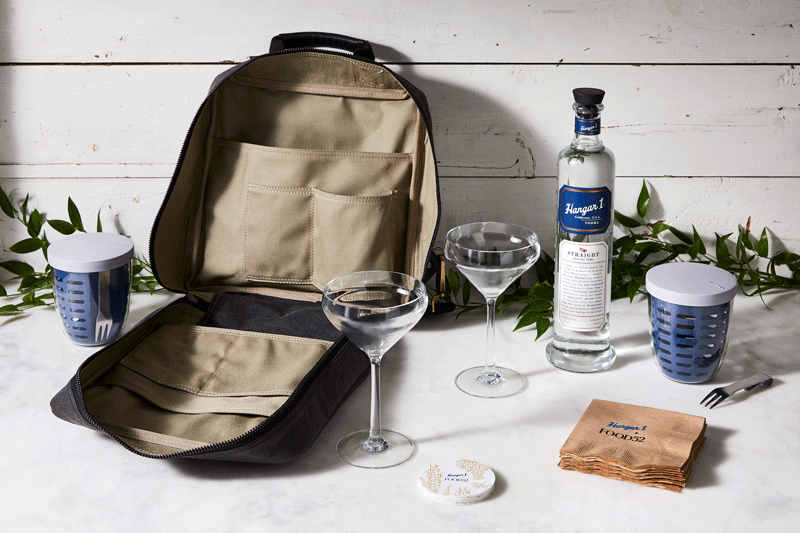 ---
Blood Orange Pomander
(created by Hangar 1 and Food52)

Ingredients:
2 oz. Hangar 1 Straight Vodka
0.5 oz. clove syrup
1 oz. fresh-squeezed blood orange juice
6 dashes Angostura bitters

Directions:
Combine all ingredients in a mixing tin and shake with ice
Strain and serve on ice in a rocks glass
Garnish with a blood orange wheel

For clove syrup:
Peel 1 blood orange and bury in 1 cup of white sugar. Muddle to release oils and let sit for one hour – sugar will become like wet sand.
Toast 2 tbsp. of whole cloves in dry saucepan until very fragrant. Add 1 cup of water and the cup of sugar with blood orange peels. Stir everything well and heat until almost boiling. Remove from heat, let cool completely, and strain.