Tussock Jumper Malbec Single Serve
Posted on August 16, 2019

New Rochelle, New York—Global wine portfolio Tussock Jumper is pleased to annound the release of a new 2018 Mendoza Malbec varietal as an addition their incredibly popular 187 ml single-serve wines.

Tussock Jumper 2019 Malbec, Argentina ($3.99/187ml)
Hand harvested and grown using sustainable farming practices, this rich red wine from the high-altitude region of Mendoza, Argentina has flavors of dark berries, raspberries, dark chocolate, lush tannins, and a silky finish. The ideal wine for grilling season, it pairs with everything from barbecue and veggie burgers to steaks on the grill.

Ideal for the Active Lifestyle Consumer
Each of the wines comes in a recyclable plastic bottle with a twist-off cap and attached cup for easy, glass-free drinking, making it an ideal and unique choice for outdoor and sports enthusiasts like golfers, boaters, as well as sports stadiums like Citi Field and MCU Park.

"With a portfolio of 24 wines from 11 different wine regions, the full Tussock Jumper wine family has something for every person, and every palate. Wine lovers can start exploring with the single serve sizes, and then move up once they find their favorites," says Marc Oliveira, Sr. VP of Sales for Tri-Vin Imports.

Additional wines in the single serve size are as follows:

Tussock Jumper Delle Venezie Pinot Grigio, Italy ($3.99/187ml)
A go-to summer white wine, notes of orange zest, pineapple, white peach, and delicate tropical aromas, with a long, refreshing finish.

Tussock Jumper Pinot Noir, France ($3.99/187ml)
A light red wine with flavors of juicy red berries, cherry pie, and wild strawberry, along with aromas of crushed black fruits, vanilla, and baking spice.

Tussock Jumper Chardonnay, France ($3.99/187ml)
A pale golden color with aromas of apricot, pear, and green apple, this white wine is fresh and fruit forward, with notes of toasted hazelnuts, citrus flower, and just a hint of oak aging.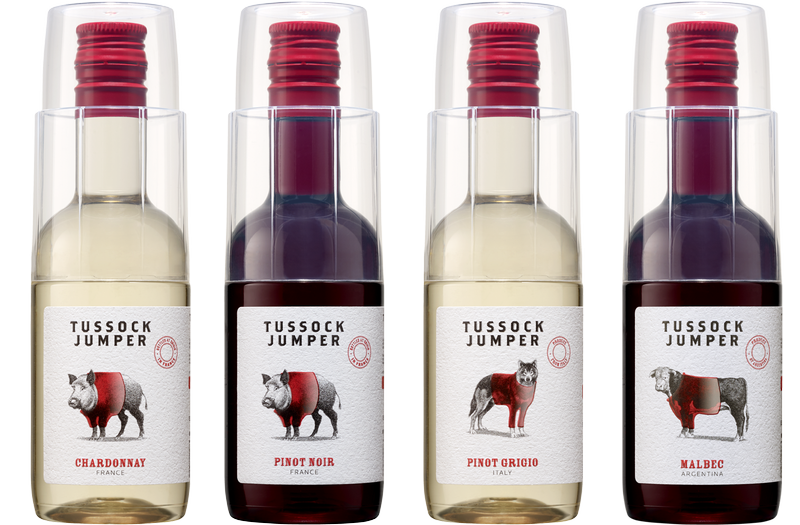 A GLOBALLY SOURCED PORTFOLIO
As a gold medal award winning wine portfolio, Tussock Jumper Wines sources only the best limited production vintages each growing season from producers around the globe.

For the US market, the Tussock Jumper portfolio includes 24 wines from 11 different winemaking regions. Each of their wines are bottled at the source, capturing the best flavors and aromas from grape to glass.

For the 2019 baseball season, Tussock Jumper is also an official partner of the New York Mets, with their wines available throughout Citi Field by the glass, by the bottle, and in a new carafe program that allows guests to purchase a bottle to enjoy at their seat.