Guarachi Wine Partners Introduces Matias Riccitelli Wines
Posted on December 07, 2015
LOS ANGELES, CA (December, 2015) – Guarachi Wine Partners is pleased to introduce Matias Riccitelli wines to the U.S.
A brand that is already widely respected in Argentina for crafting excellent, terroir-driven Mendozan Malbec, Matias Riccitelli showcases his award-winning wines with cheeky, nontraditional labels. Riccitelli represents the new generation of winemakers in Argentina who are interested in breaking with tradition, exploring new terroir and infusing personality into the winemaking process.
Riccitelli's vineyards cover 20 hectares across three different sites within the premium growing region of Lujan de Cuyo, Mendoza. Situated at the foot of the Andes Mountains between 980 and 1120 meters, Riccitelli maintains low yields and oversees careful management of his vines, some of which were planted in the early 20th century.
Riccitelli hails from a prestigious winemaking family as the son of Jorge Riccitelli, the highly lauded winemaker for Bodega Norton winery. With his generational knowledge and experience gleamed from working harvests all over the world, Riccitelli's independent label, which he launched in 2009, shows his acumen as a world class winemaker in his own right. As such, Riccitelli's wines demonstrate both the power and elegant complexity that Malbecs from this region are capable of.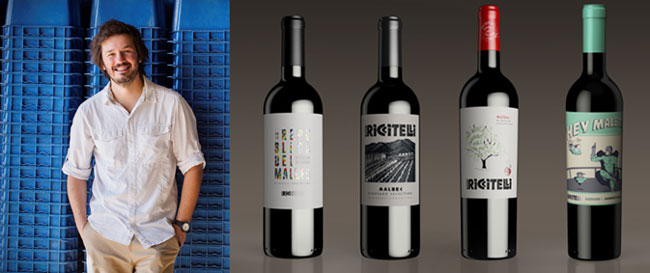 MATIAS RICCITELLI WINES
Republica Del Malbec 2012: Handpicked from vines that were planted in Vistalba in 1908, this 100% Malbec was fermented in small temperature controlled cement tanks and aged 18 months in French oak barrels. This wine has a beautiful bouquet of wild black berries, licorice and spice. On the palate, the wine shows a remarkable balance with very elegant, delicate and silky tannins. SRP $75
Vineyard Selection Malbec 2012: A blend of Matias Riccitelli's three vineyards, the youngest being 20 years old, this wine was aged 16 months in French oak. A very complex and elegant Malbec with aromas of wild black berries, black cherries, licorice and rose petals. Perfectly balanced with a great structure and a round, elegant finish. SRP $50
The Apple Doesn't Fall Far From The Tree Malbec 2013: Hand harvested Malbec from two vineyards in Perdriel, Lujan de Cuyo and Uco Valley, this 100% Malbec was aged 12 months in French oak. Deep purple in color, this wine shows beautiful aromas of wild dark fruits, vanilla and chocolate. SRP $30
Hey Malbec! 2014: This wine hails from Lujan de Cuyo and is aged in French oak barrels. Juicy black fruits are layered with violets and black pepper on the nose and palate, with soft and ripe tannins leading to an opulent finish. SRP $20
ABOUT GUARACHI WINE PARTNERS
Founded by Chilean wine visionary Alex Guarachi in 1985, Guarachi Wine Partners celebrates 30 years of enduring connections with supplier, distributor and retail partners. Guarachi Wine Partners pioneered Chilean and Argentine wines in the US and today is a leading global importer, marketer and innovator of fine wines. Guarachi Wine Partners' portfolio consists of Black Ink, Bodega Norton, Castillo de Monseran, Guarachi Family Wines, Kaiken, Lea, Matias Riccitelli, Montes, Nobilissima, Pascual Toso, Santa Ema, Surf Swim, tensh?n, and Tensley Wines.