Merlot Masters Gather to Discuss the Grape's Future, Look Back on Prior Vintages
Despite it's much maligned view, Merlot is thriving in the Napa Valley--or at least that's what four longtime producers proclaimed at the Masters of Merlot masterclass and tasting at the CIA at COPIA yesterday, Thurs., Nov. 1. Anthony Giglio, columnist for Food & Wine Magazine led a panel completed by Ted Edwards, winemaker for Freemark Abbey; P.J. Alviso, vice president of winegrowing at Duckhorn Vineyards; Cleo Pahlmeyer, president of Pahlmeyer Vineyards and Chris Carpenter, winemaker for Mt. Brave and La Jota Vineyard Co., through a tasting of 2015 Napa Valley Merlots, discussing their virtues, challenges and futures.
"It's a variety that I think has a lot of nuance, its own signature, it's own quality level, its own way of expressing itself and I think there is value in that," said Carpenter, referencing the start of his interest in the grape. "I'm very competitive and as I looked at the volumes of Merlot coming out of the rest of the worl--in France at the exhorbitant prices that they offer and what's coming from Italy--I asked, why can't we do that? We can do that. We've got the land, we've got the terroir, we've go the passion. We should be doing that right along step with them."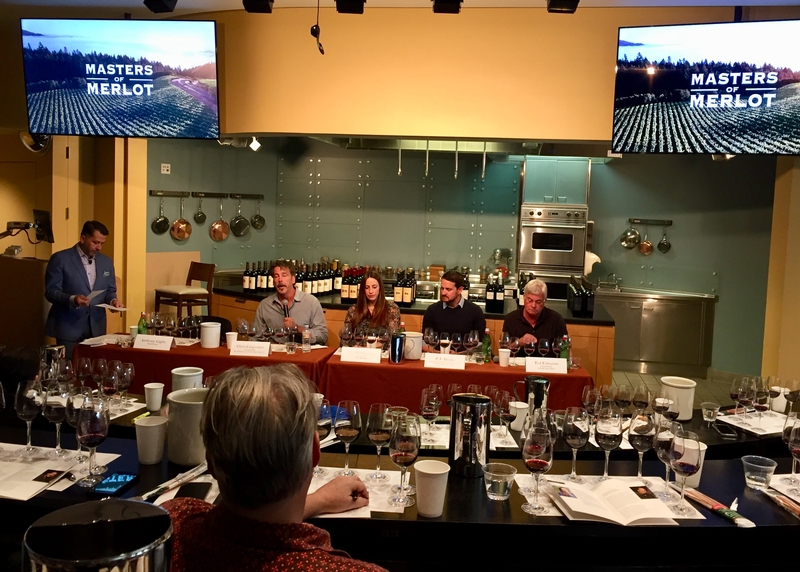 (left to right) Anthony Giglio, Chris Carpenter, Cleo Pahlmeyer, P.J. Alviso and Ted Edwards
While any discusssion of the past and future of Merlot will likely bring up the 2004 movie "Sideways," the panelists refrained from blaming the movie for the failures of the grape on the broader market. Giglio cited statistics that Merlot is a favorite among consumers, particularly in the on-premise. With 44,000 acres planted to the grape and 17 million cases of it sold across the United States, Merlot has not disappeared, and deserves serious discussion, according to the panelists.
Once called "liquid Snickers" by Robert Parker, Pahlmeyer said its that concentration and density that makes Merlot special, and said that it could be just as finnicky as Pinot Noir, notorious for being a difficult grape to grow.
To grow the best Merlot, Edwards says that he tends to let the grapes ripen on the vine as long possible--otherwise the wines tend to show more green, arugala or even skunkweed notes. Carpenter said it's a grape that needs a lot of light to develop pyrazines and has to have a lighter crop load.
In 2015, dropping fruit wasn't much of an issue-- when a rainstorm hit the Napa Valley just after fruit set, growers estimated that the loss of fruit reached as much as 30 percent. While all four panelists said quality was never an issue, it was definitely a low quantity year.