Charles Shaw Launches Shaw Made With Organic Grapes
March 28, 2018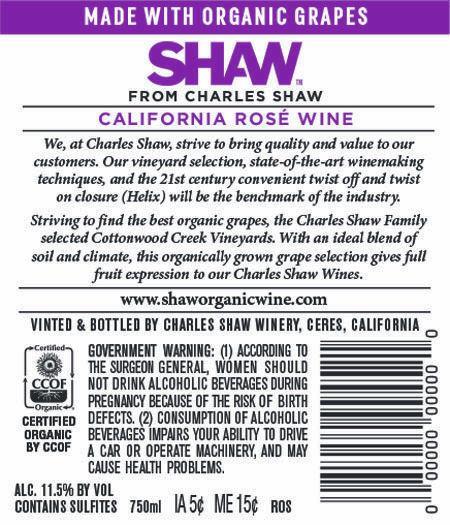 Charles Shaw Winery, producer of Charles Shaw Wines, aka "Two Buck Chuck," launched Charles Shaw Wines made with Organic Grapes.
As readers will recall, Two Buck Chuck has sold many millions of cases.
The local Trader Joe's wine guy said they'll arrive in about a week, possibly priced for $3.99.
The Shaw Organic wines will be available in Cabernet Sauvignon, Pinot Noir, and Rosé - with other varieties to follow.
Shaw Organic Wines will be sealed with Helix, developed by Amorim and O-I. Bronco started using Helix with Red Truck. Helix delivers the pop of the cork and is easy to reseal.
see shaworganicwine.com.
Cheers!
"Our Customers have been asking for more options in the "wines made with organic grapes" category. We've heard you. We've actually been working on this for quite some time – because grapes are crops and crops take time to cultivate, bringing more of these options to our shelves doesn't happen overnight. But when it finally does happen, it happens in a big way. Big as in Charles Shaw big."