When Wine Business Monthly creates its annual Hot Brands list, we aim to celebrate the breadth and diversity of our industry. We seek out wineries that have superior wines, creative techniques, unique sites or heartfelt philosophies behind their brands. We look for winemakers that are willing to take risks and commit to their vision regardless of the whims of the market. We like wineries and winemakers that love what they do and want to honor that love with well-developed, meaningful wines.
This year we have 10 wineries from four states and six different regions in California, and virtually all of our Hot Brands are dedicated to sustainable, organic or Biodynamic practices, and several to natural or hands-off winemaking techniques.
We are releasing the Top 10 Hot Brands in alphabetical order, one per day, leading up to the Unified Wine & Grape Symposium (plan your walk on the trade show floor here). Wine Business Monthly will be serving these wines to winemakers, grape growers and industry members at our annual gathering Bottle Bash during Unified on Tuesday, Jan. 28, 5:00-8:30pm at cafeteria 15L (1116 15th Street, Sacramento).
Lake Sonoma Winery
2010 Dry Creek Zinfandel, Sonoma County, California
Creating Meaningful Sonoma County Sub-Appellation Wines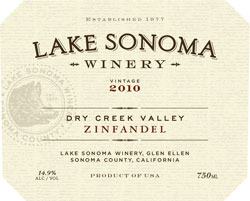 Since being acquired by West Coast Wine Partners in August 2012, Lake Sonoma Winery is returning to its roots. The winery was first established in 1977 on a property at the base of Lake Sonoma. The husband and wife team who founded the brand focused on crafting small lots that celebrated the different regions of northern Sonoma County. After being acquired by F. Korbel & Bros., though, Lake Sonoma Winery began to languish amid a larger portfolio of wines.
West Coast Wine Partners acquired both Lake Sonoma Winery and Valley of the Moon winery from Korbel, starting both brands on new paths that emphasized the history and quality of Sonoma County wines. For Lake Sonoma Winery, that meant a return to small lots that celebrated Sonoma County sub-appellations.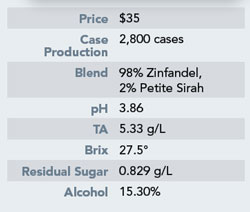 West Coast Wine Partners is a collaboration between partner Dan Zepponi and the Stewart family of Kelowna, British Columbia, Canada. Zepponi is a Sonoma native and third-generation vintner whose career includes stints at Fosters Wine Estates (now Treasury Wine Estates), where he was senior vice president, and the Mark Anthony Group, where he was president of Mission Hill Family Estate in British Columbia's Okanagan Valley. The Stewart family, represented by partner Tony Stewart, owns Quail's Gate Winery, also in the Okanagan Valley.
"The reason we got together is that we believe that the wine industry needs to get back to the roots of what the wine industry is all about, and that is the sense of place," said Zepponi. "Sense of place needs to be talked about because it brings back authenticity to the industry in these types of brands. That's what consumers are looking for."
Lake Sonoma Winery, in its current iteration, launched with five wines, each dedicated to the most prominent varietal in the sub-appellation where the fruit was sourced. The initial four were launched this year: 2010 Alexander Valley Cabernet Sauvignon, 2010 Dry Creek Zinfandel, 2012 Russian River Valley Chardonnay and 2012 Sonoma Valley Sauvignon Blanc. A 2012 Sonoma Coast Pinot Noir will be launched later this year.
"These sub-appellations are really telling the story of what Sonoma County is. Sonoma County has this huge opportunity to ground itself, to become more relevant and better understood by the larger wine community."
The full story on Lake Sonoma Winery ~ and all our Hot Brands ~ will be available in our February 2014 issue of Wine Business Monthly. You can find it here starting Feb. 1, or come by our booth (#1324) at Unified and pick up a copy. Click here to subscribe to WBM.

See other 2013 Hot Brands:
Cowhorn Vineyard & Garden
Drew Family Cellars
Frogtown Cellars