When Wine Business Monthly creates its annual Hot Brands list, we aim to celebrate the breadth and diversity of our industry. We seek out wineries that have superior wines, creative techniques, unique sites or heartfelt philosophies behind their brands. We look for winemakers that are willing to take risks and commit to their vision regardless of the whims of the market. We like wineries and winemakers that love what they do and want to honor that love with well-developed, meaningful wines.
This year we have 10 wineries from four states and six different regions in California, and virtually all of our Hot Brands are dedicated to sustainable, organic or Biodynamic practices, and several to natural or hands-off winemaking techniques.
We are releasing the Top 10 Hot Brands in alphabetical order, one per day, leading up to the Unified Wine & Grape Symposium (plan your walk on the trade show floor here). Wine Business Monthly will be serving these wines to winemakers, grape growers and industry members at our annual gathering Bottle Bash during Unified on Tuesday, Jan. 28, 5:00-8:30pm at cafeteria 15L (1116 15th Street, Sacramento).
Frogtown Cellars
2009 Petit Verdot, Dahlonega, Georgia
Premium, Award-Winning Wines Using 100 Percent Georgia Fruit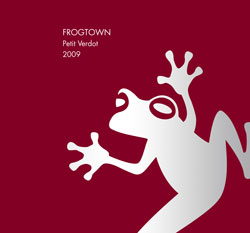 For former Atlanta attorney and longtime wine collector Craig Kritzer, a second career as a winemaker has become a source of pride—pride for his region, the wine style he's chosen and for his strict adherence to a Georgia-focused wine-growing and winemaking philosophy. "What we have going for us is the wow factor. You aren't going to believe this wine is made in Georgia," said Kritzer, who along with his wife, Cydney, owns Frogtown Cellars in Dahlonega. "People have said to us, 'Your wines are great, but you have a label problem—it says Georgia.' No, no, no! That is a benefit, not a detriment, to us."
Kritzer's research into led him to believe that winegrapes could be successful in his home region. Dahlonega is 60 miles north of Atlanta, along the foothills of the Blue Ridge Mountains in northern Georgia. Frogtown Cellars' vineyards sit along the steep slopes of the Dahlonega Plateau at about 1,700 feet in elevation. "Looking at it and studying the region, I was convinced it could grow premium winegrapes. What I mean when I say premium wine, I mean wines that can medal in competitions in California," said Kritzer. "I decided that instead of going to California or Virginia or another recognized grape-growing region, that I would pursue growing grapes here."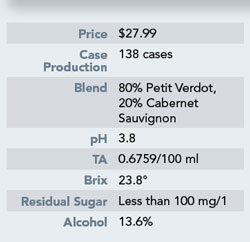 Frogtown initially focused on French varieties, planting 20 acres of grapes, primarily to Bordeaux reds. The winery has since expanded to 42 acres of grapes planted to 25 different varieties. "I'm like a mad piano player using all of these different varieties as piano keys," Kritzer said. "How do you receive 70 to 80 awards a year? You have to have good wine that judges feel are worthy of the medal, but you can't just do that with five or six bottles. It doesn't give you the exposure."
Submitting wines to competitions is a significant part of Frogtown Cellars' marketing philosophy. The decision to do so was made early on, when neither he nor Cydney could see any discernible difference from traditional advertisements. "I literally have never been able to track a positive result," he said. "Whether we call it advertising or expenses for wine competitions, this year we spent $12,000 in sending our wines to competitions. Obviously, we think that it's worth it because, you see, Wine Spectator is not knocking on our door—yet—to taste our wines. When you send your wines to commercial competitions, they are 100 percent blind. Nobody knows what they're tasting. For me, it's an imprimatur. It's a stamp of approval."
Because the winery is mostly sold direct-to-consumer, Kritzer feels he has an obligation to provide this proof of quality and to deliver an honest and ethical product. To that end, he adopted what he calls French winemaking rules, part of a larger philosophy about what it means to be a wine producer.
"There are two really significant aspects about French wines or European wines," said Kritzer. "The first thing is that they are very terroir-based. The second thing is that no sugar is ever added to a finished wine. Not even one gram per liter."
The full story on Frogtown ~ and all our Hot Brands ~ will be available in our February 2014 issue of Wine Business Monthly. You can find it here starting Feb. 1, or come by our booth (#1324) at Unified and pick up a copy. Click here to subscribe to WBM.

See other 2013 Hot Brands:
Cowhorn Vineyard & Garden
Drew Family Cellars