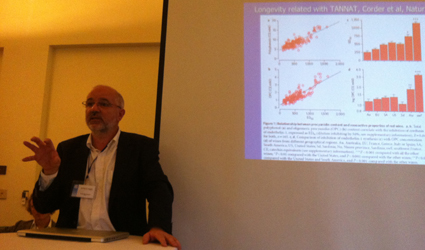 Francisco Carrau with Bodegas Carrau talks about mapping the Tannat Genome
Sommeliers like to mix things up by exposing their clientele to wines that are cool and different. Wine lovers like to try new things. So it's not surprising that a trade tasting of Wines from Uruguay drew a large turnout in San Francisco last week. The tasting capped the first "tour" of the U.S. by Wines of Uruguay – with stops in Austin, Texas, and Washington, D.C.
It's not often that one comes across wines from Uruguay in the U.S. The country exports about three percent of production, mostly to Brazil, with just a little going to the U.S. Fewer than a dozen wineries from Uruguay have any representation in the U.S. market. Wines of Uruguay manager Gustavo Magarinos says the value of wines exported to the U.S. each year is about $1 million, a drop in the bucket.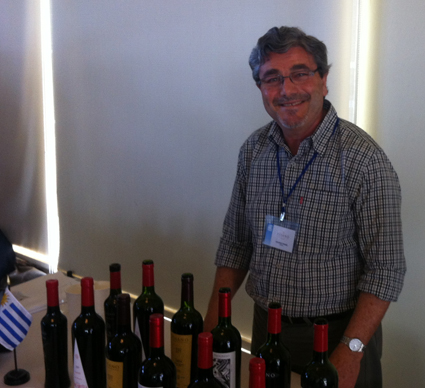 Eduardo Pisano of Vinos Pisano pours six different interpretations of Tannat
One reason Uruguayan wines aren't found in the U.S. is that they don't make much – 900 million liters a year – and the domestic market is good – per capita consumption in Uruguay is robust (consumption of beef there is pretty high too - there's just 3 million people but 12 million cattle).
The signature grape Tannat gives Uruguay a unique identity though vintners are experimenting with Rousanne, Albarino, and even Zinfandel. Tannat is typically big and bold but is made in many styles, blended in various ways.
Tannat was in the news this month because it's the only grape besides Pinot Noir that's had its genome mapped.
And it apparently has more polyphenols and resveratrol than Pinot.
I'd tried Tannat from California but hadn't tasted any from Uruguay in oh, say, about twelve years?. I hope it isn't that long next time!
There's been a lot of investment in Uruguay in the past few years. We'll have an update from Blake Gray in the November WBM.