by Patricia M. Roth | March 5, 2012 | 8:00 AM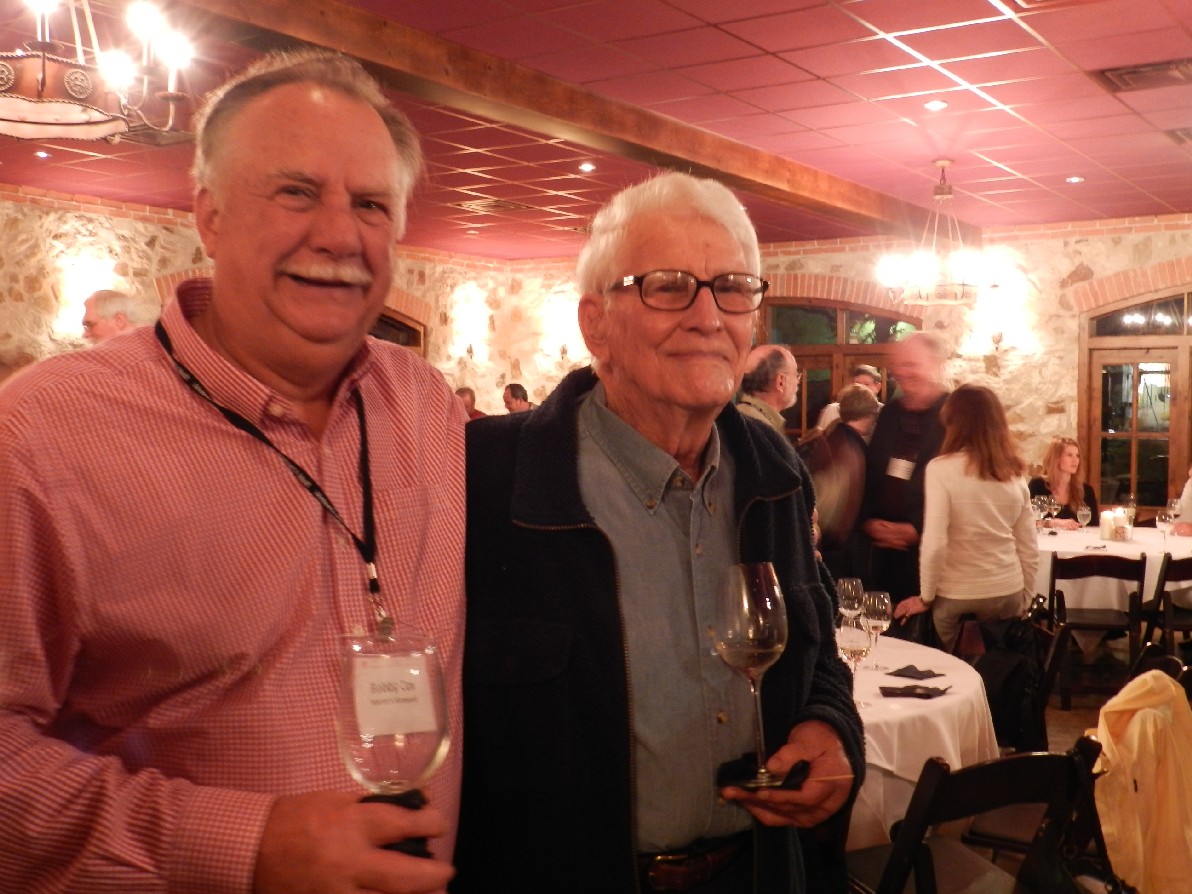 Pictured at the Duchman Family Winery dinner during the TWGGA 2012 Annual Conference and Trade Show: High Plains grower Bobby Cox, the new TWGGA president, and his father, grower Bob Cox, who was given the President's Award for his contributions to the wine and grape industry.
Hats off to the Texas Wine and Grape Growers Association for another successful conference & trade show at the San Marcos Embassy Suites. This annual event is also when TWGGA brings on its new board members. High Plains grape grower Bobby Cox was sworn in as the new president. Bobby follows Gary Elliott, the owner/winemaker of Driftwood Estate Winery. Ron Yates of Spicewood Vineyards is president-elect.
"The economy is good, wine sales are strong, and Texas wines are starting to be better received in the market," Bobby said, following the show. He added that the High Plains region is starting to attract capital from outside the area, including younger people. "That's extremely positive." Bobby would know. He's known as a pioneer in the region and now works as a consultant with the wine industry's best.
Bobby talked about expanding the wine "universe" with some of the unique varieties that grow in Texas, such as Vermentino and Trebbiano. He wants to continue to promote Texas wines and how good they are to drink. "I'd love for us to make wine part of the Texas culture. Our per capita consumption is very low, about one-third of the national average." To do that doesn't mean taking sales away from, for instance, California. Rather, "We're taking the people who drink ice tea in Texas" and turning them into Texas wine consumers. He also noted that TWGGA is involved in a fundraising drive—so if haven't joined up, go to http://www.txwines.org/membership/signup.asp.
Texas is obviously a big place with five diverse wine regions; yet there's no room for fragmentation between growers and winemakers, and wine snobs would be laughed out of the state. Like my brother-in-law (fourth-generation Texan) says, experiencing Texas hospitality is kind of like reconnecting with your best friend. On the other hand, Texas pride, self-confidence and that 'get 'er done' attitude runs deep; and when I came across that anti-litter sign seem on so many roads, "Don't mess with Texas," I couldn't help but think of how it applies here. Many borrow the slogan from this popular campaign, but "Don't mess with the Texas wine industry" seems so appropriate—because that's what the state legislature is doing now. (Maybe TWGGA needs George Strait to step forward on behalf of wine and grapes! Pro bono, of course.)
The state's budget committee has recommended cutting all money for wine and grape industry development in Texas for 2012-2013. That's $4.3 million per biennium (the legislature meets every two years) for education, research and marketing. Apparently some funding has been found to keep field agents for 14 more months. That's crucial. Being spread out so far from one another, many look to them for advice about what grapes grow best and when to plant them, water regulations, soil conditions, pests and disease. But a number of other programs are dead and gone.
Looking back a few years, Bobby recalls: "Frank Madla was a fantastic supporter of the industry." The late senator authored the 2005 legislation that provided funding to the Texas Department of Agriculture to support the growing wine and grape industry. The industry grew 26 percent from 2007 to 2009, according to a report by MFK Research. Since the origination of this funding in 2005, $2.4 billion of additional economic impact has been generated, or $200 of additional economic impact for every dollar invested by the state.
Putting it in perspective with other states, Bobby said Washington has spent more money marketing Washington state wine in Texas than the Texas Department of Agriculture has spent marketing wine in Texas (referring to a campaign that took place last summer).
"Where's the vision?" he wants to know.
Because the wines and vines of Texas are still growing.
Meanwhile, TWGGA is talking about how they can reinvest in themselves as an industry in the coming months. One measure includes setting up a wine grape commodity program. Soon the association will be surveying its members to see where they stand on such a plan.
"We're working on a solution. This is a solvable problem, and this is a voluntary program," said Bobby.
But really, doesn't someone out there know George Strait? Let's market some Texas wine! Just change the lyrics (a little):
I'm not gonna lay around and whine and moan
Cause somebody done done me wrong
Don't think for a minute that I am gonna sit around
and sing some old sad song
I believe it's half full not a…half empty glass
Every day I wake up…knowing it could be my last
I ain't here for a long time…I'm here for a good time
So bring on the sunshine to hell with the (moonshine)
Pour me some (Texas wine)
When I am gone put it in stone he left nothing behind
I ain't here for a long time…I'm here for a good time
Stay tuned: More about Texas soon, including a road trip to the biggest winery in the state.