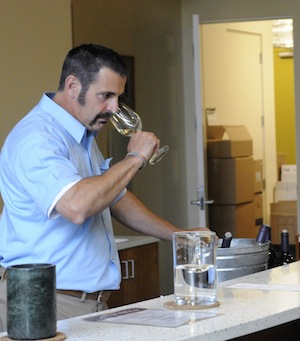 Kendall-Jackson president Rick Tigner opens up during his appearance on Undercover Boss.

Within the first few minutes of the 44-minute reality segment -- which airs this Sunday on CBS after 60 minutes -- the audience learns Tigner is a regular guy with problems and a story like anyone else. He talks about his father going to prison and eventually dying of a drug overdose and says his wife, who we meet on camera, is coping with Parkinson's disease. "I need to be there for her," he says.

Tigner is emotional in talking about the legacy of the late Jess Jackson, a father figure in his life. Jackson passed away about a month before the show was taped.

Tigner goes "undercover" disguised as Jake, a grocery store manager from Plano, Texas. Employees are told he's part of a show on people considering a career change. His real identity goes undetected and amusing scenes ensue as he shadows employees in the tasting room, on a truck delivery route, in the vineyard, and on a mobile bottling line. Serendipitously, Tigner's path is linked to an extent with two of the employees featured on the show.

The episode was taped in May, with 7 days of shooting starting with Jackson's memorial service. Jackson had given the go-ahead for doing the show and Tigner had just assumed the reins as president of Jackson Family Enterprises.

The show is powerful and compelling. It's a major marketing and public relations coup. I presume K-J sales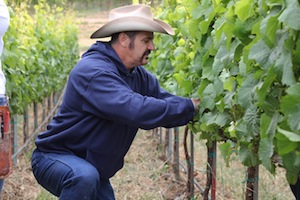 reps have been distributing huge promotional signs for floor stacks.

Following a screening for journalists this week, however, Tigner, emphasized that there was more to being part of the show.

"I took this very seriously. I went into this full throttle. I wanted to truly look, listen, and learn. I didn't want this to just be a marketing campaign," he said.

The show gave Tigner an opportunity to integrate himself more into the organization, though he's been in various parts of it for a long time and has been with the company twenty years.

Tigner used the show as a jumping off point for getting to know employees and integrating his leadership style throughout various departments.

"A lot of CEOs want to fly at 30,000 feet or they want to fly at 10,000 feet. To really be a good CEO or president, you have to fly at 3 feet. Yeah, there's times where you go up to 30,000 feet, but if you never go down to 3 feet, you're never going to understand how the overall enterprise works."

"Everybody has a story, said Tigner. "I have my story; Marco (a mobile bottling line supervisor featured in the show) has his story; Jess Jackson has a story. As a company, we've always wanted to know everyone's story and we do have employees that do have issues with regards to troubles in their lives, and as a family business, Jess and Barbara have always reacted to the stories they know about. The reality is you just don't know everyone's story."

K-J has some highly dedicated and passionate employees but morale fell when the current recession hit the wine business: K-J "right-sized," and a 401(k) program was iced.

Now the company is back in hiring mode.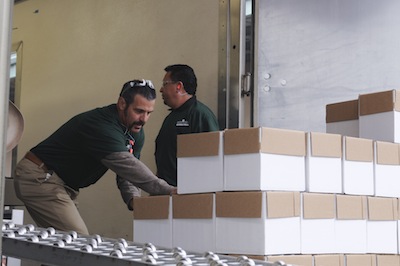 Tigner said what happens after the show is most important, and pointed to new initiatives inspired by participating in the show.

After the show was taped, K-J hired a new training manager and started a management-training program.

The company has a senior management group of 50 managers who are now required to spend two part days in a tasting room each year.

More than 200 employees are participating in a new language program (English classes during work hours, junior college tuition payments and a couple hundred Rosetta Stone licenses).

The show led to renewed discussion on part-time versus full-time employee status and benefits.

K-J's 401(k) program, frozen as the recession affected sales, was reinstated in June, soon after taping of Undercover Boss began. Discussions on this were already in progress, but Tigner said the show set the stage for the 401(k) program being restored.

"The morale of the entire organization based on a one-week experience went to another level," Tigner said.

"Jess' legacy is about the brand and the people. ... For me, we're a small family winery. People have this perception of the number of cases we do, but that's not how we run our business. We really do feel like we're part of the family. We don't run it like a multi-national wine and spirits organization. We actually run it like it's a boutique winery and hopefully that's what comes across in the show."