WBM Hot Small Brand Number 10: Lone Madrone
January 18, 2012
Wine Business Monthly has identified today's most exciting top 10 brands from small and medium-sized wineries during 2011 in our upcoming February issue. We gravitate toward wineries and brands that represent market trends or innovation, that take a leadership position in their regions, or that make unusual varietals or unexpected wines. There are some larger wineries on the list now, as well. Basically, these are wines we think other winemakers should taste.
We will also be serving the top 10 chosen brands at our Unified Symposium Bottle Bash party on January 24 at the Pyramid Brewery in Sacramento, California. The party starts at 5, and the winemakers for these brands will be in attendance.
We will be releasing our list on our blog one brand at a time starting today with #10:
10. Lone Madrone
Championing Rhône Varietals on the Central Coast
2007 Tannat, Paso Robles, California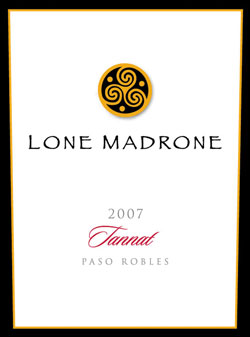 Neil Collins has been making wine in Paso Robles for more than 20 years. He has been with Tablas Creek Vineyard since 1998, where he currently serves as executive winemaker and vineyard manager. It's a job in which Collins may find himself driving a tractor to making great wine to serving it in fine restaurants, all within the same week.
Tablas Creek is a partnership between the Perrin family of Château de Beaucastel and importer Robert Haas, who purchased the 120-acre property in west Paso Robles for its similarities to Châteauneuf du Pape. It's one of California's best-known wineries—a name that's virtually synonymous with Rhône Varietals and with Paso Robles.
Lone Madrone is Collins' own label, a family affair, if you will: one he makes in relatively small amounts. Collins makes a number of Rhône blends, though the wine we were most intrigued by was the Tannat.
"I have a lot of experience with fruit from the west side of Paso Robles," said Collins, "I've been in the area a long time and have a passion for it."
Having lived and worked in the Paso Robles area for more than two decades, Collins has established relationships with long-time growers in the area, most of whose vineyards are head-trained and dry-farmed.
The grapes for the 2007 Lone Madrone Tannat are from the Glenrose Vineyard on Peachy Canyon Road, owned by Don Rose, while the clone came from the Tablas Creek nursery. The annual production was 168 cases.
Originally planted in the Basque region of northeast Spain and southwest France and made famous for the bold red wines of Madiran, Tannat is known as a really big tannic wine that is deep in color. The Spanish brought Tannat to Uruguay, where it thrives and became that country's signature grape. With just 200 acres of Tannat planted in California (mostly as a blender in California's Central Valley), Tannat is one of the rarest grape varieties harvested in North America, one that is poised to become more popular.
"Tannat is a great variety. There are definitely some Tannat fans out there now, and we're seeing other wineries and vineyards starting to plant little bits of it. It grows very well in Paso Robles. It can handle and enjoys the heat," Collins said.
"As with all of my wines, the Tannat is native-yeast fermented, and the malolactic fermentation is native. It rests on its lees a long time until right before bottling. It's such an intriguing grape. It's one I'm fond of. It's a very dark grape and has a reputation of being ferociously tannic. On this soil and in this climate, we can get it fully ripe so that those tannins become an asset rather than issue. For all of its darkness and structure, it has an incredibly juicy mid-palate," Collins said.
Collins' owners/partners in the winery include his wife, Marci, and sister Jacki Meisinger.