Rock Stars and Wine?
John Lodge of the Moody Blues is the latest of a handful of rock stars to release his own wine, though in this case, the wine has been cellared for a few years. An unassuming Lodge presented the wine to the public for the first time yesterday - Tuesday afternoon, and signed some bottles for fans too.
The wine is called Krisemma, named for his children Kristen and Emma. It was made in Napa Valley by Joe Bob Hitchcock and Behrens & Hitchcock Winery. Krisemma is a blend of Cabernet Sauvignon, Syrah, Merlot and Cabernet Franc, a big, powerful Bordeaux style blend.
That event at Wellington's Wine Bar in Sausalito coincided with the Moody Blues Tour, which is selling out. Last night they played the Marin Center in San Rafael and performed many hits, including "Nights in White Satin," "Tuesday Afternoon," "Ride My See Saw," "Isn't Life Strange," "The Story In Your Eyes," "Question," and "I'm Just A Singer (In A Rock And Roll Band)." Here's a clip from yesterday's KGO-TV newscast about them coming to the area and about John's wine.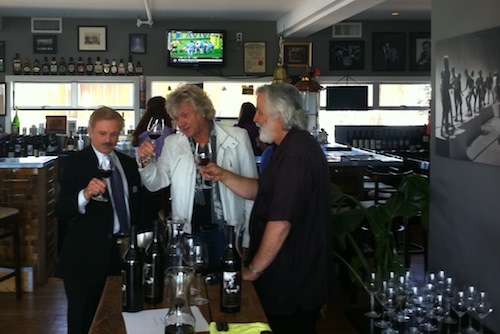 John Lodge discusses his wine with with Joe Bob Hitchcock (right) and Don Sanchez of KGO-TV (left)
I met up with Lodge at Wellington's and tasted the wine. It was lovely: a delicious, big, and complex wine with lots of fruit. Though it was from the 2002 vintage and bottled in 2004, it had held up quite nicely. It's ready to drink now.
I was a bit surprised to see a wine held for release that long sealed with a Supreme Corq. They don't make those anymore – and I don't remember Supreme Corq having had a reputation as being ideal for long-term aging. Winemaker Joe Bob Hitchcock said that back in 2004 he was having difficulty getting reliable cork. He said the bottles aged with Supreme Corq for the most part held up well.
Krisemma is $95 per bottle and 123 cases were produced. In January 2011, two cases sold at a charity auction, the Sandy Lane/John Lodge Golf Tournament Gala in Barbados, garnering $30,000 for the benefit of the Sandy Lane Charitable Trust. But again, yesterday was the first time it was available for tasting and for sale to the general public after being cellared nine years.
Lodge said his enthusiasm for wine came from being introduced to Burgundy though his daughter's headmistresses' husband, who took him to Hospices de Beaune. John was later honored as a "Commandeur de la Confrerie de Chevaliers du Tastevin" – in 1987. He goes to Burgundy each year to buy wine en premier – usually white wine -- and has a summer home in Saint-Tropez, France.
During tours of America, Lodge has visited Napa and Sonoma and he calls the area one of the most beautiful on earth. "In America, there are beautiful wines from all over," he adds. "The Central Coast is making fantastic wines – especially the whites."
Lodge met Joe Bob Hitchcock during a concert tour years ago and told him he wanted to be involved in "a really great, great wine, one to be decanted and to be really proud of."
Lodge was sampling the Krisemma recently and realized it was ready for release. He said he's put it into blind tastings along with "some really good wines" and that it does well. "It seems to win," he said. I don't think it's because I hold onto the glass a bit longer so people know it's mine – although that does tend to work."