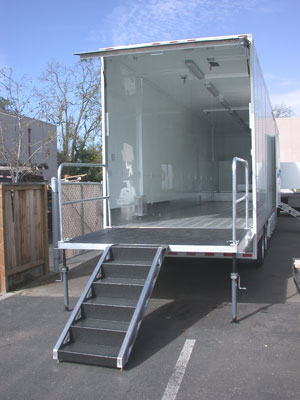 The empty trailer arrived in California exactly one month ago.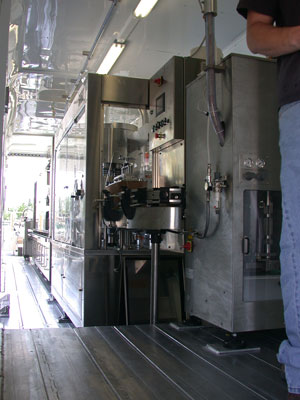 All the "heavy metal" is
securely in place.
Last week owner Mark Driver took possession of the newest mobile bottling trailer to hit the road. With bottling dates already contracted it was none too soon, especially since the mobile bottlers really get busy as another crush approaches.
Beginning as a heavily reinforced, 48 foot custom-trailer built in Kentucky it was then detailed for plumbing and electrical in St. Louis. It finally reached the AWS warehouse in Windsor, California for installation of the GAI monoblock and labeler. Related conveyors, steam sterilization systems, dump and packoff tables finally completed the project.
This trailer will afford the winemaker almost complete freedom in bottling packages with its ability to handle a wide range of bottle sizes, closures and labels. Each time a new trailer rolls into service it has the advantage of incorporating the latest in bottling equipment.
From corks to Zorks to screwcaps or heat shrink, and 187 mm to 1.5L, this rig also incorporates de-aeration, nitrogen sparging before and after filling and a multi-head vacuum belt labeler to handle about any configuration a winery can design.
What is also cool are this trailers electricals; including step-up and step-down transformers, converters and inverters allowing it to operate with any winery's power supply. Obviously the trailer has the capability to travel far afield but I was told the company (Valley Bottling) and will first concentrate in the central California wine country.
At last count there are now 42 mobile bottlers throughout the United States with many more on the drawing board. Mobile bottling has now evolved into a "service industry" as increasing numbers of wineries are enjoying relief from the drama of bottling season. In the September issue I'll doing an updated review of the mobile industry and how it has grown.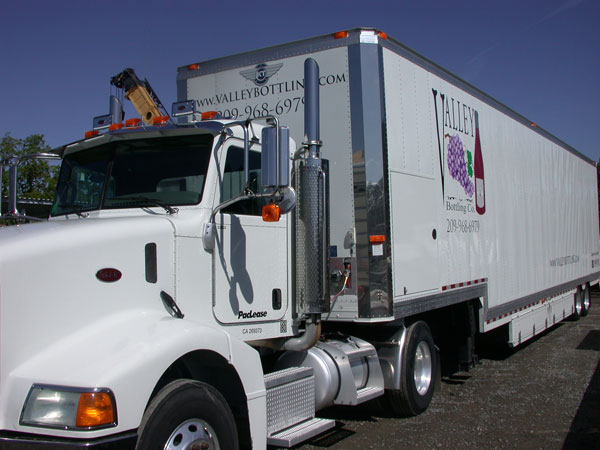 The finished trailer is ready for service.