Rob McMillan of Silicon Valley Bank released his annual report on the state of the wine industry today and discussed results in a conference call/webinar. We spoke briefly after the call.
Rob is in a unique position. He has access to a wide range of data and an insider's view on how wineries are doing financially. His report also incorporates results of a winery survey that drew 600 responses.
Rob predicted sales of fine wine (priced above $20) will grow 8-12 percent over the next year. "We are at the beginning of another steady growth pattern in fine wine sales," he said. He observed that there's still a fair amount of discounting out there but said it may subside this year.
The report was posted for download but here are three of the slides I found particularly interesting:
1) Change in the Financial Condition of Wineries
Wineries were asked how they thought they were doing. Rob was expecting to see some relative change for the positive this year but didn't here. He said that is likely because wineries were still going through some inventory issues early this year and because it wasn't until the fourth quarter of last year that momentum really started to shift.

"The big takeaway is that no matter where people were, they probably looked closely at expense structures and cut expenses to manage the decline in the margins they might have been seeing," he said. "We have bottomed and are now trending up."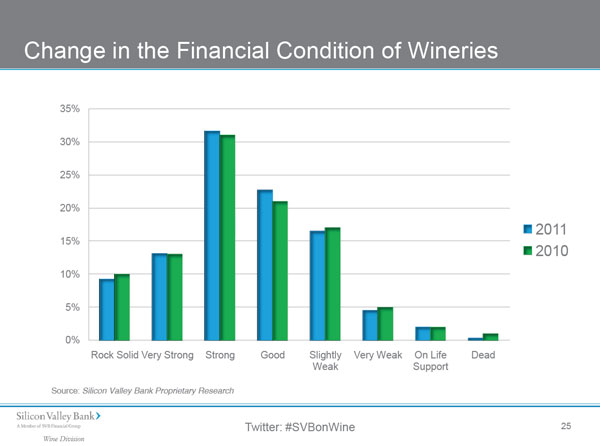 2) How is the Fine Wine Industry Really Doing?
This is a very, very cool slide. This is data you won't see anywhere else and provides a comparison to the past recession. One can compare 2003 to 2009 and 2004 to 2010.

"The margins are actually a little bit stronger (today) than they were in the early part of 2003," Rob said. "That has to do with inventory. We don't have a lot of non-bearing acreage at this point. When you look at pre-tax profit, it's not that much different: that shows this recession was managed more on expense control relative to the last one."

Rob observed that during the last recession the cost of grapes was out of line with pricing at the time while this time the margins are in fact slightly higher.

The big takeaway from this slide, Rob said, is that margins are recovering, relatively speaking. Gross margins, pretax profits and sales growth are starting to go back up. The sales growth of 10.8 percent for fine wine is also roughly consistent with the sales results Nielsen has been showing for wines sold at retail above $20 (up 11.8 percent through the end of 2010). It's also in line with the report's forecast of 8-12 percent growth.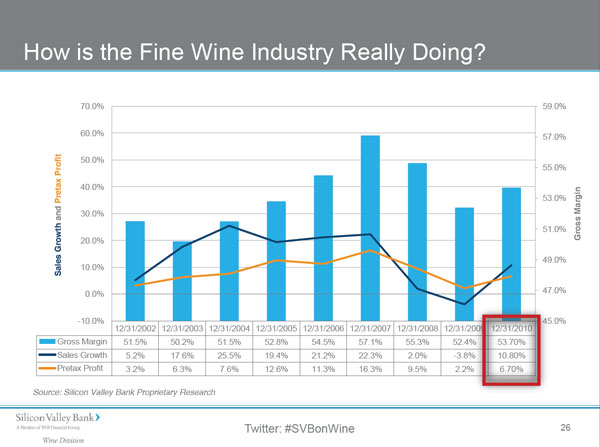 3) Price Changes by Price Point
Wineries were asked if they were planning to increase or decrease pricing. In this slide, one can see that the $40 to $70 price range has much greater upside pricing than the $21-$31 range. That's counter-intuitive to many but a large number of the higher priced wines are on allocation and sell out. Those price points have not been as sluggish as has been depicted in the press. "The affluent are buying and they're buying all of the wines that are out there that are rare," Rob said.

"You're not gong to drop your price on your most expensive wines," Rob said. Rather, wineries blended excess wine from upper-tier programs into less expensive wines. "That's part of the fallacy out there that if we take our good wine and blend it down and sell it cheaper, we're going to train people that they can buy cheaper good wine. The reality is this is just part of the cycle. Consumers get a good deal for a period of time, but it's uneconomic and at a point the producers change the way they behave and the consumers have to make a decision – buy a wine that's not as good as it was last year, or spend more money."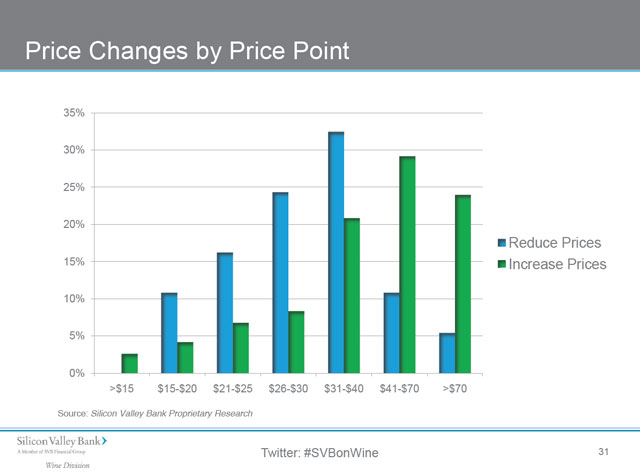 The survey also asked about grape purchases and 59 percent of wineries said they expect to buy more grapes this year while 64 percent of the respondents said they expect to spend less. Rob said the finding makes sense because growers always lag through the supply cycle. Growers are the last to see price changes in a recession and the last to get out of it.

"Despite all the good news, what has to happen before you see grape contracts trend up, is that bottle prices actually have to turn positive," Rob said. "They haven't yet. We are forecasting that they are going to. This is probably the bottom."
One finding of the survey that was quite surprising was not about the economy or pricing, but about industry best practices. Wineries were asked about their use of CRM tools for tracking sales. Just 8 percent of them said they use CRM tools. "It's dismal to see CRM this low in terms of actual application," Rob said. "It's where the industry needs to go. You have to work into best practices and come up to speed. You have to answer the basic question, 'Why do people buy my wine?' If only 8 percent are asking, then they don't know and if you don't' know, how do you sell?"