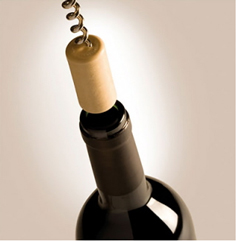 Supremecorq, the alternative closure producer based in Kent Washington, has notified customers that it will be suspending operations.
Supremecorq was founded in 1992, sold its first closures commercially in mid-1994 and at its peak worked with more than 1,000 wineries in more than 30 countries around the world.
Bill Gates was among the early investors, but Supremecorq was later purchased by Graham Partners, an offshoot of Graham Packaging, the rigid plastic container manufacturer serving global consumer packaged goods companies. Supremecorq opened a production facility in Belgium a few years ago to serve Europe.
Supremecorq makes injection-molded closures. Its biggest competitor, and at this point the leader in synthetic closure sales, is Nomacorc, which sold its first closures in 1999.
Nomacorc makes co-extruded synthetic closures.
I called a couple winemakers in California that I remembered had used Supremecorq but learned that two of them had already made a switch. Both said they liked the company and that the issue wasn't the closure's performance. One had switched to screwcaps for certain early-to-drink white wines while another had switched back to natural cork for "sustainability" reasons. I additionally spoke with a winemaker at St. Francis, one of Supremecorq's best customers. She said the winery is considering its options and confirmed that Supremecorq notified the winery that they'd be suspending operations.
I called Supremecorq's Washington headquarters and supply chain manager Erica O'Brien directed my call to North American sales director Jim Cahill who didn't immediately return my calls for a comment.