Wine Business Monthly has identified today's most exciting top 10 brands from small and medium-sized wineries during 2010 in our upcoming February issue. We gravitate toward wineries and brands that represent market trends or innovation, that take a leadership position in their regions, or that make unusual varietals or unexpected wines. There are some larger wineries on the list now, as well.
We will also be serving the top 10 chosen brands at our Unified Symposium Bottle Bash party on January 25 at the Pyramid Brewery in Sacramento, California. The party starts at 5, and the winemakers for these brands will be in attendance.
We began releasing our list on our blog on Monday and will release one brand at a time each day. Here is number 7:
7. BELLA VINEYARDS AND WINE CAVES: CREATIVE BLENDING IN DRY CREEK VALLEY -- 2008 HILLSIDE CUVEE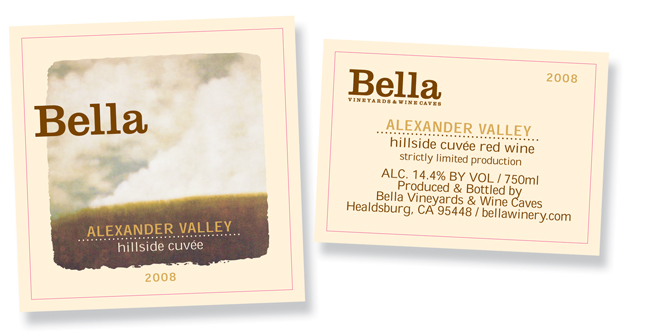 In 1994, Scott and Lynn Adams were married in Napa Valley. They took a bus tour of Dry Creek Valley as part of the celebration and were attracted to the area. With a background in agriculture in Minnesota, Scott had visions of making wine.
In 1999, the husband-and-wife team established Bella Vineyards and Wine Caves, named for their daughters, producing their first three vineyard-designate wines. It capped a process that began in 1995, when they acquired the Lily Hill Estate in Dry Creek Valley.
While selecting this and two other properties, the Adams immersed themselves in the world of viticulture. They moved to Belle Canyon, tended the vines and learned about winegrowing from vineyard manager John Clendenen. They would later work with consulting winemaker Mike Dashe.
Since then, Bella has earned a reputation for quality wines, focusing mainly on Zinfandel.
In 2001, the winery started working with Rhône varietals and started dabbling with Cabernet.
The winery continues to grow and will probably make about 8,000 cases this year. Most of the wine is sold through the tasting room and to Bella's wine club.
The Bella Hillside Cuvee is what Scott Adams calls, "a winemaker's wine" because it's a blend for which "anything goes at the blending table." The wine always has a Cabernet component and typically includes Zinfandel, Syrah or Petit Sirah as well.
The wine is meant for early enjoyment. "Since we're mostly a Zinfandel house, it's a fun one to work with," Adams said. "It's a creative process at the blending table."
For more 2010 Hot Brands, see:
WBM Hottest Small Brand Number 10: Gloria Ferrer Caves & Vineyards
WBM Hottest Small Brand Number 9: WillaKenzie Estate