Wine Business Monthly has identified today's most exciting top 10 brands from small and medium-sized wineries during 2010 in our upcoming February issue. We gravitate toward wineries and brands that represent market trends or innovation, that take a leadership position in their regions, or that make unusual varietals or unexpected wines. There are some larger wineries on the list now, as well.
We will also be serving the top 10 chosen brands at our Unified Symposium Bottle Bash party on January 25 at the Pyramid Brewery in Sacramento, California. The party starts at 5, and the winemakers for these brands will be in attendance.
We began releasing our list on our blog yesterday and will release one brand at a time each day. Here is number 9:
9. WILLAKENZIE ESTATE: AUTHENTIC OREGON PINOT BLANC IS FISH FRIENDLY, TOO -- 2009 WILLAKENZIE ESTATE PINOT BLANC WILLAMETTE VALLEY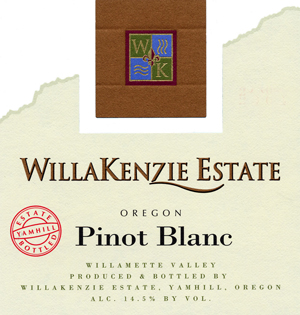 WillaKenzie Estate is located in Oregon's Willamette Valley on rolling hillsides in the Chehalem Mountains and was named after the WillaKenzie soil the vineyards are planted on.
Bernard and Ronni Lacroute are the co-owners. They met as graduate students and after living on the East Coast and in California, they bought the property that became WillaKenzie Estate in 1991. They are no longer married but continue their business partnership.
The winery is devoted to making Pinot Noir, Pinot Gris, Pinot Blanc, Pinot Meunier and Gamay Noir.
Properly, Pinot Blanc is really just a single gene mutation of Pinot Noir. If the mutation had affected leaf morphology instead of berry color, Pinot Blanc might be considered just another clone of Pinot Noir. The varietal, although reasonably well known in Alsace, is fairly rare in the U.S. Due to source-block misidentifications in the 1970s and earlier, most "Pinot Blanc" vineyards were actually planted to different varietals. In California, with very few exceptions, all "Pinot Blanc" is either Chardonnay or Melon de Bourgogne (AKA Muscadet). The mix-up was codified in California when "Pinot Blanc" was declared an accepted synonym for Melon de Bourgogne. In Oregon, however, Melon has to be labeled as such thus almost guaranteeing that any wine labeled as Pinot Blanc actually is Pinot Blanc.
The 2009 WillaKenzie Pinot Blanc was pressed whole clusters, and after cold settling of the juice, inoculated with yeast from the Alsace region, chosen to enhance the fruit's aromatics. It was fermented in stainless steel tanks slowly and at low temperatures.
The fruit that went into the wine is Oregon Certified Sustainable and certified as Salmon-Safe as well.