Cal Poly's JUSTIN and J. LOHR Center for Wine and Viticulture Receives Critical Support from Sonoma-Area Businesses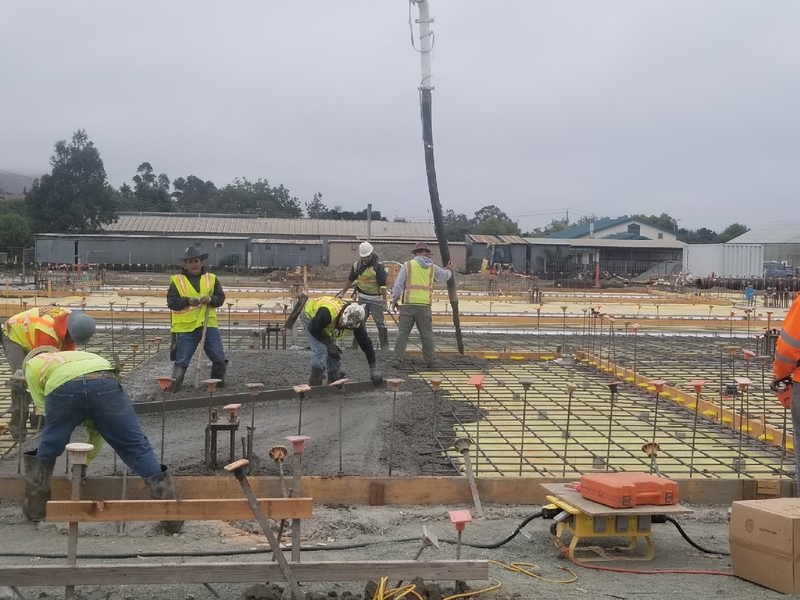 construction underway
Concrete was poured Tuesday for the construction of the JUSTIN and J. LOHR Center for Wine and Viticulture at Cal Poly. On the same day Sonoma's Scribe Winery was pouring its wines in support of the center's construction. The fundraiser, held at the winery, was hosted by Scribe's owners, Andrew and Adam Mariani. Some of the Sonoma area leaders and businesses in support of the project attended the event, including Dennis Stroud, owner, Plata Wine Partners, Mike Sangiacomo, owner, Sangiacomo Vineyards and Wine Business Monthly's own, Publisher Eric Jorgensen. Wine industry pioneer Jerry Lohr, (pictured with the Mariani brothers) and Cal Poly's Wine and Viticulture Department Head, Benoit Lecat, offered a special presentation on the history and vision of the center's development and provided detailed opportunities still available in support of the project's completion.


Cal Poly's JUSTIN and J. LOHR Center for Wine and Viticulture is just over one year from completion thanks to ongoing support from the Sonoma, California region. Area leaders have chosen to invest in this project, in addition to the other excellent wine and viticulture educational programs throughout the state, because they see the value of training tomorrow's industry leaders.
Cal Poly's one-of-a-kind, comprehensive program focuses on the three major elements of the wine industry: viticulture, enology and wine business. The program currently has a 14-acre teaching and production vineyard and small pilot winery where students gain hands-on experience in all aspects of the industry.
lndustry icon Jerry Lohr, with operations throughout the state, is the lead donor and has been a
champion of the project since its conception nearly a decade ago. He has long served as an
advocate of the project among key stakeholders and donors, and has been critical in helping to raise
the more than $'15 million in donations of the $20 million needed to make the center a reality.
Sonoma-area support

Sonoma-area support includes philanthropic gifts from Vino Farms, Gallo, and Plata Wine Partners,
among others.

"My experience at Cal Poly changed my life forever, and has allowed me to live out my dream in
the wine business," said Dennis Stroud, owner, Plata Wine Partners, who serves on the Project's
fundraising committee and has also provided financial gifts."
Construction of the project ongoing

Construction of the JUSTIN and J. LOHR Center for Wine and Viticulture began in April 2019. lt
will include both a state-of-the-a rt, 5,000-case bonded 1 5,600-square-foot Winery which includes a fermentation hall, bottling room, barrel rooms and a research lab - all providing students with a
learning environment similar to what they will experience in the wine industry. Both student and
commercial wines will be produced here, as well as faculty and student research wines.

The facility also includes a '12,000-square-foot Grange Hall, which will include viticulture and
enology labs, lecture/reception areas, and shared offices for faculty and students, as well as an
industry and community events hall for academia, industry and the community to come together to
learn, connect and celebrate.

The Winery is anticipated to open in fall 2020, follow by the Grange Hall soon after. To learn more
about the Center and view a livestream feed of construction, visit https://cafesbuilds.calpoly.edu