Porto Protocol: Making a Commitment to Do More
The Napa Valley Vintners Board of Directors voted to become signatories to the Porto Protocol, making NVVA the first North American wine trade association to join the effort.
Roughly 150 companies have signed up so far.
NVVA signed after being approached by Robin Lail, who recently became the U.S. Representative for the Porto Protocol.
"I remember clearly that at the time of the Vietnam War, it was basically the voice of the people that created change," Lail told Wine Business Monthly. "People do have a voice and in this instance, with what we're facing, it is very important to create that voice so that the leaders of industry and government take it head on and actively move to make changes."
Lail said she recently attended Julia Jackson's Grounded Summit and that one of the takeaways for her came in the form of a comments by former California Governor Jerry Brown. Brown said if politicians aren't in your camp but you increase the level of volume coming from their constituents, they will move quite logically to your camp because their focus is on keeping their seats. He suggested getting the attention of captains of industry by showing them the impact for their bottom line.

Lail said wineries have a powerful unwritten connection because wine is the world's oldest branded agricultural product but pointed out that the Porto Protocol isn't limited to the wine industry: It already includes companies such as Toyota and Marks & Spencer.

Climate Change Leadership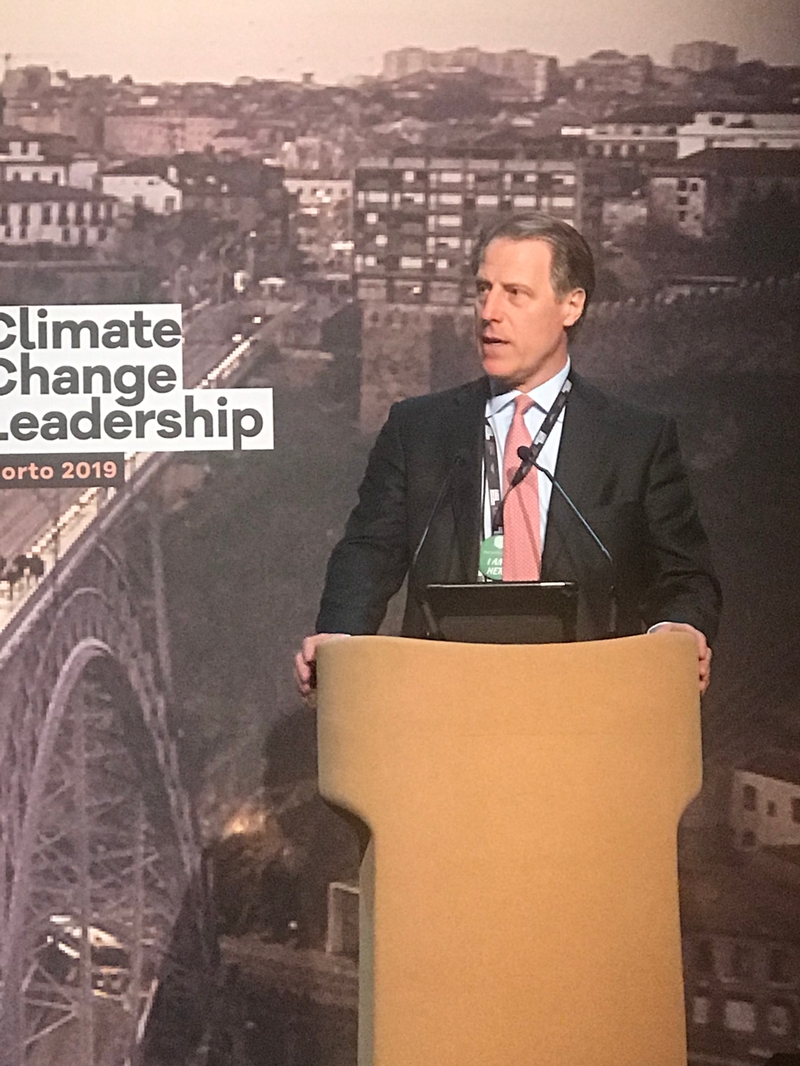 Adrian Bridge, CEO of Taylor`s Port, and the man behind the Porto Protocol, welcomed delegates to the Climate Change Leadership – Solutions for the Wine Industry 2019 conference in Porto, Portugal, an event that was attended by more than 600 delegates from 30 countries featuring 60 speakers including a keynote speech by former U.S. vice president Al Gore.


From the May 2019 Wine Business Monthly:
The purpose of The Porto Protocol is to raise awareness that climate change is here and that there are things we can do now to make a difference. By joining The Porto Protocol, companies make a commitment to do more than they are doing at the moment. The industry initiative is not just a call to action, but a binding commitment by its signatories, from whatever area, to make a greater contribution to mitigating climate change.
"The (wine) industry can learn from each other to help solve a problem that impacts everyone and, as a branded agricultural industry, it can help shape consumer awareness that things are being done by this responsible industry to improve the future," Taylor`s Port CEO Adrian Bridge said during the 2019 Climate Change Leadership conference.
"Mitigating climate change is a very tough challenge and it's made harder by the fact that not everyone is in agreement," Bridge said. "The reality is that many individuals and companies are already doing a great deal and have been working to tackle this problem for years. However, they have often kept such information to themselves, conditioned as we all are to keep new technologies and our research private. It is now time that we learn to share our information and to learn from each other."
"The wine industry is the only branded agricultural industry in the world. Uniquely, it can tell you where its parts actually come from. What we in the industry often refer to as terroir is simply all about that sense of place. For most of us, it is about looking after remote regions where grape growing may be the only activity. It is about family businesses that think about future generations. It is about the opportunity that we have to transmit all of this to the consumer and to share with them the very responsible approach that we have for nurturing the land. This is why the wine industry, in my view, can take a leadership position."

"Climate change is real and is happening around us every day all over the world. As our speakers today will confirm, evidence of climate change is clear and incontrovertible. Its effect on the environment and on human lives and livelihoods can no longer be ignored," Bridge said.
The Porto Protocol has two major objectives.
The first is to ask everyone to do more to help than they are doing at the moment. Too often we think that the problem is for others to solve or that our individual contribution will not matter. And why bother? Surely some scientists will develop the solution and we can all continue as we are. This will not happen and we must all start to do more – every contribution, no matter how small, helps.
A second objective is to create a platform where participants can share their ideas, achievements and experiences. Many companies have worked hard to develop solutions that they are applying to their businesses, often through hard work and careful research. The objective is to share solutions that are making a difference, stimulate new ideas and inspire others to take action.
Letter of Principles of The Porto Protocol (source, www.portoprotocol.com)


Principles

By joining The Porto Protocol, companies are committed to:

• Do more than they are doing at the moment

• Guide their activity by good environmental practices principles

• Promote, in the respective value chain, these principles that characterize good environmental practices

• Seek to identify opportunities for cooperation with other Porto Protocol members and with external entities, regarding Climate Change

• Execute projects oriented towards the sustainability of the organization

• Disseminate good practices and case studies to The Porto Protocol platform

• Participate in the initiatives promoted by Climate Change Leadership Porto, to support The Porto Protocol

• Publicly report on their development performance

• Appoint a delegate to manage the relationship with The Porto Protocol

The Porto Protocol assumes the commitment to its members to:

• Promote, through The Porto Protocol platform the communication and dissemination of good practices of its members, as well as of the projects and other initiatives that companies are the main road to the Climate Change fight.

• Develop, together with members, tools to help fight climate change, share/dissemination of innovative ideas and provide access to learning tools, reports and know-how produced by Official entities

• Encourage debate and companies to explore new concepts

• Maintain a close relationship with its members through a regular communication and promotion of events

• Support the leadership of companies in matters of climate change