Five takeaways from the World Bulk Wine Exhibition in Yantai China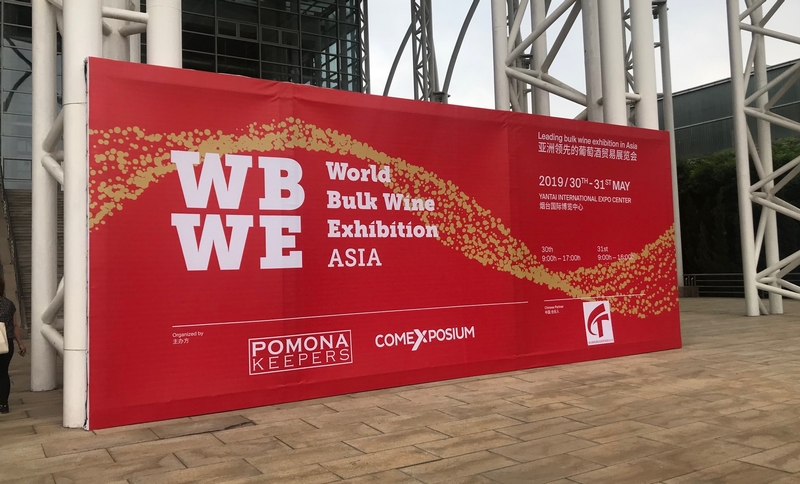 The World Bulk Wine Exhibition, which has been held in Amsterdam each year for the past ten years, hosted its first trade show in China earlier this month. The inaugural WBWE Asia event in Yantai, China was attended by nearly 4,000 visitors from 35 countries with 200 producers from 20 countries. Yantai's port is where most bulk wine enters China.

Here are five things to know about the emerging market in China



1) The Ciatti Company is Opening an Office in China
Based in San Rafael, California, The Ciatti Company is a wine and grape brokerage firm with offices in several countries including Chile and Australia (countries that sell a considerable amount of bulk wine to buyers in China). The Ciatti Company was an exhibitor in Yantai. Over the years, the firm has sold wine to Chinese customers sourced from a number of California wineries.
A new Ciatti office in China just opened, led by Federico Scrofani, an Italian living in Shanghai who married a Chinese gal (Federico is the tall guy with the glasses and blue sweater, pictured, right).
Ciatti partner Steve Dorfman said the Chinese don't tend to be particularly broker friendly because they want to cut out as many middle men as possible and get directly to the source. "They will go around you in a heartbeat," he said. Ciatti's business model in China is different than the traditional brokerage. The firm is acting as an agent for a winery from Chile, a winery from Australia, another from France, and for one winery based in California, though Dorfman isn't expecting to sell boatloads of California wine in China given the current situation with Trump's trade war and the ensuing retaliatory wine tariffs.
Dorfman said many new importers have launched, looking for product for their own labels and for private labels. He said The Ciatti Company also distributes hops and oak extracts for Chinese breweries. He offered a few observations on the Chinese market. He said imitation is important and goes beyond stealing intellectual capital in that it is a cultural phenomenon going back hundreds of years that is, in fact, a practice that is highly regarded. He said knock-off wines are still huge, with more brands such as Penfolds being knocked off than you can shake a stick at. Dorfman also said some Chinese don't fully trust their own bottlers, and sometimes prefer wine that's been bottled in-country because it won't be adulterated. "Sorting out what is real and what is not takes time and relationships," he said.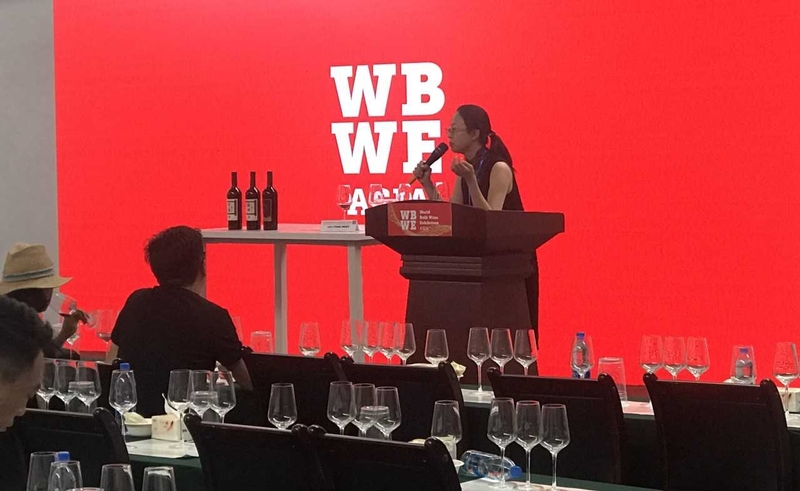 Li Li Tong, winemaker and owner of Excelsis Vineyard
2) Marselon is Trending!
Marselan is a red French wine grape variety that is a cross between Cabernet Sauvignon and Grenache, grown predominantly in the Languedoc. It also represents the latest red wine craze in China. While the French, who've been active in the Chinese market for a long time, are exporting plenty of Marselan to China, Chinese winemakers are starting to grow it themselves. Sometimes French Marselan is even mixed with Chinese Marselan. Li Li Tong, winemaker and owner of Excelsis Vineyard, a producer of Marselan from a number of regions, said Julien Boulard, a wine consultant based Nanning, China, is researching Marselan for his MW dissertation and determined that at least 80 wineries in China now produce it.

3) The Chinese market isn't only about High-Acid and over-extracted Cabernet
Sunny Zhang, a journalist with China Wine News said Chinese consumers are embracing easy-to-drink reds from Australia that have a fair amount of residual sugar. That could be one reason that Constellation just inked a deal to sell its Robert Mondavi Private Reserve wines that are aged in Bourbon barrels with a Chinese distriburor, 16 Area Wine.
It's hard to make generalizations about what people like because there are differing preferences depending on the region. In some regions people love vinegar and have high tolerance for acidity. People in other regions use a lot of sugar in their cuisine, so have a very low tolerance for acidity. Li Li Tong cited a study out of Shanghi University which concluded 57 percent of Chinese consumers prefer dry wines, with the rest preferring sweet or off dry. She said more than half of Chinese consumers are looking for fresh, easy-drinking wine. "Ten years ago, everybody, including winemakers, talked about the Bordeaux style and thought that was 'quality,'" Tong said. "We've begun to realize it's not true. Winemakers have started to have their own styles … We can see the diversity of the taste profile developing."
Tong said Chinese consumers don't want too much acidity and tannin. "I don't want to make the greatest wine in the world," she said, when she was sharing her wines. "I just want to make the best (approachable) table wine in China."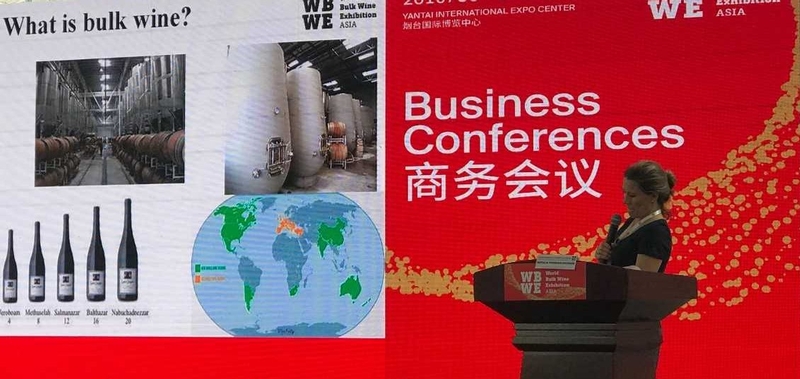 Natalia Posadas-Dickson


4) The Bulk Wine Market in China is Growing
Natalia Posadas-Dickson, conference program director for WBWE Asia, said global purchases of bulk wine in China to be bottled in destination rose from 31 million liters in 2000 to 176 million liters in 2018.

Speaking at the WBWE Asia, she said that fifteen years ago bulk wine was considered the excess of the harvest, and always lower quality, an alternative to meet a price point, but that with globalization and the inconsistencies of harvest, it has emerged as a solution for balancing quantity and quality.
Posadas-Dickson noted that the top buyers of bulk wine are 1, Germany, 2, France (ironic, given that they are a big producer), 3, the UK, and 4, the United States. She said China is currently number 5 but is "only just getting started."

"We hope stable countries can help China to build a sustainable business," Posadas-Dickson said. "It cannot be just an opportunistic one off."

5) California is Down, Not Out
Most California wineries don't have a strategy for exporting to China. A couple of large producers have steady and stable retail accounts, but to over-simplify: Gallo focusses on introducing Carlo Rossi to the Chinese people while a handful of luxury brands such as Opus One are in demand. There isn't much in-between when it comes to California wine in China, where the French, Chileans and Australians are way more established. Making matters more challenging, the Chinese government increased tariffs on U.S. wines in response to the ongoing trade dispute between the U.S. and China to the extent that the compounded new total tax and tariff rate is 93 percent.

The Chinese market has long-term promise and is expected to become the largest wine market after the United States within a year or two. This is a country with 40 cities with more than 10 million people. As for the China-U.S. trade war, Sunny Zhang from China Wine News offered a quote that she attributed to Winston Churchill: "A nation has no permanent enemies" Time flies by, friendship lives on, she said.