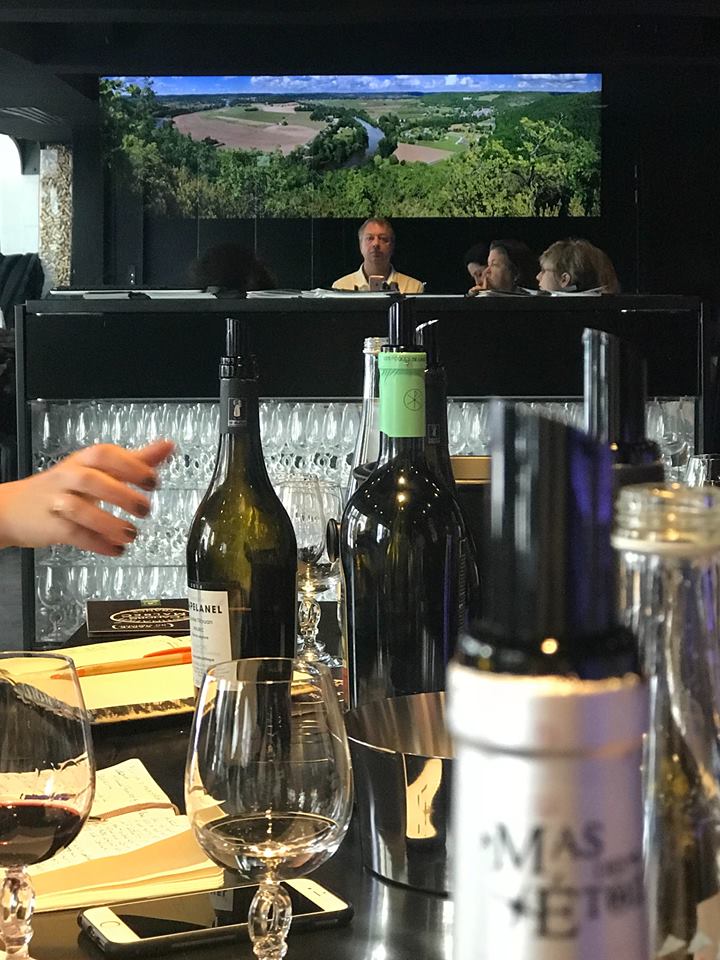 tasting Malbec in the Cahors Malbec Lounge, Cahors, France. If you visit Cahors, you'll want to stop at
the Malbec Lounge
Today is the 9th edition of World Malbec Day, established by Wines of Argentina to promote Malbec around the world. Argentina accounts for at least 75 percent of the world's Malbec with more than 80,000 acres planted.
Ground zero
Most U.S. wine consumers associate Malbec with Argentina because it's so popular here.

Malbec has a long, slightly convoluted, history but basically it's from Cahors, where there's roughly 15,000 acres planted.
The building pictured below is considered ground zero for Malbec. That's because it's where François Roaldès lived in the 16th Century when he wrote a book entitled "Discourse on the Vine" - proving Malbec was present in Cahors at the time.
Newsflash: Now a project has been proposed that involves renovating the Roaldès House, which is still owned by Roaldès' decendents - a luxury destination serving as a starting point for a historic route with Malbec as the theme. The renovation project is in the planning stages and is expected to be completed in three years.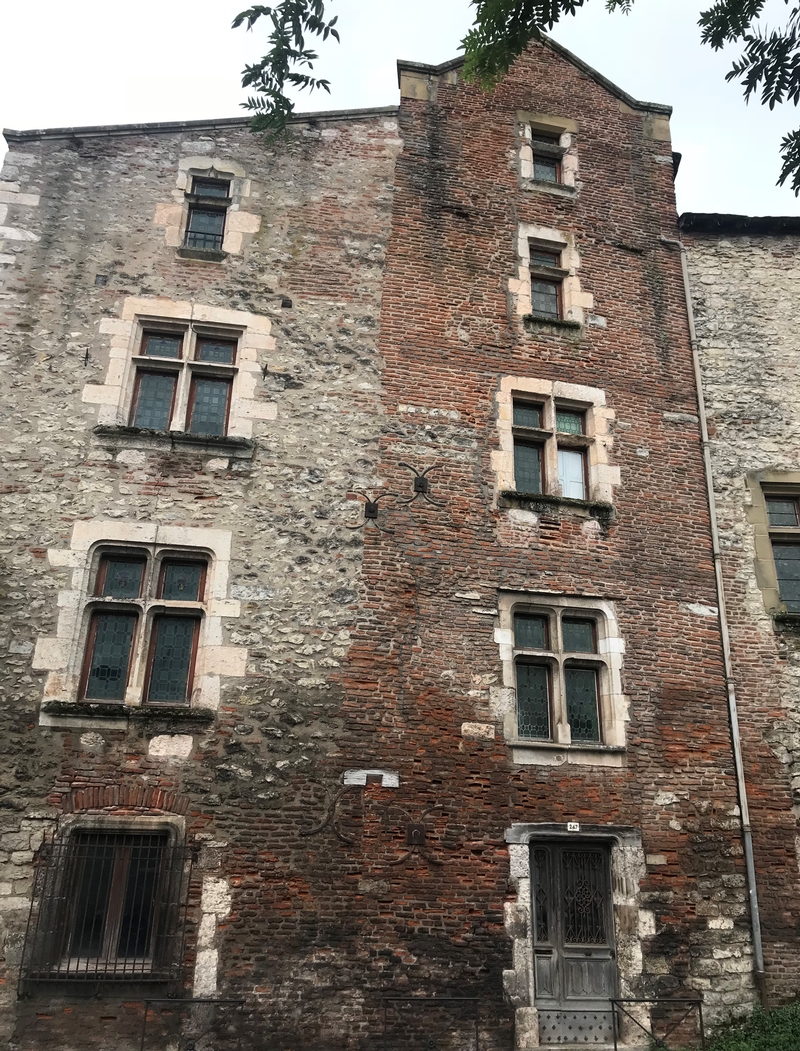 The building where François Roaldès lived in the 16th Century when he wrote "Discourse on the vine"
If you think Malbec means "Bad in Mouth" you fell for Fake News?
There's an old wives' tale that says the word "Malbec" originates from French words roughly translating to "mal bouche," or "bad in mouth" because of the poor opinion old French winemakers had about the grape.

"That's fake news," insists Jeremy Arnaud, a "terroir consultant" working with Union Interprofessionalle de vin de Cahors. Arnaud says "Malbec" came from a person's surname.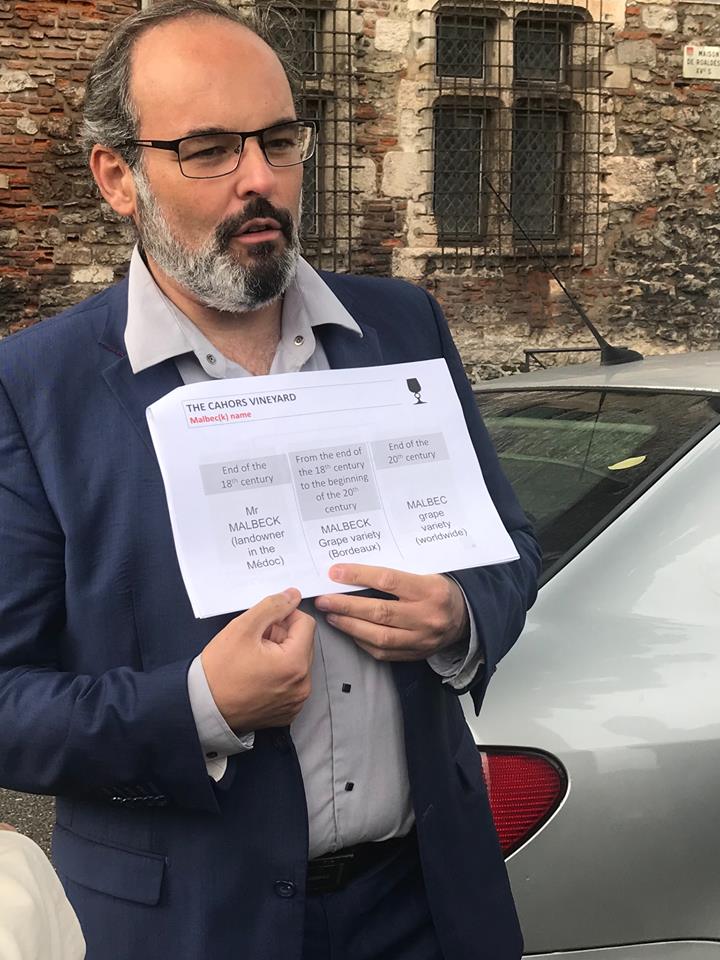 Jeremy Arnaud discussing Mr. Malbeck at ground zero in Cahors


According to Mr. Arnaud, the terroir consultant, Malbec, which was originally called "Cot," got its name because Mr. Malbeck, a successful wine merchant in the Bordeaux area, exported Cot to many countries. His name, Malbeck, spelled with a "k" apparently stuck though the "k" dropped off at some point. Mr. Malbeck owned a wine estate in the Medoc.
Value for the Money
Here in California, the land prices and labor prices are driving wine prices ever higher. California wines are pretty expensive. Wines in Bordeaux and Burgundy are mostly off the charts. Cahors, on the other hand, produces fine wines at reasonable prices. Exports to the U.S. are relatively small but more than doubled in the last ten years. Today there are about 40 to 50 brands of Cahors Malbec sold in the U.S. Prices typically range between $18 and $20, with a few priced considerably higher.
You can even still start a wine business near Cahors if you aren't a billionare. We all know how expensive and built up regions such as Bordeaux and Burgundy are. Prices can be astronomical, even if you're wealthy. Cahors is in a region where there's still land that can be planted to vineyards that's relatively inexpensive – closer to the land prices in Monterey than Burgundy. In theory and possibly in practice, a regular person can still get into the winemaking business in this tight-knit region. Of course, selling the wine is the challenge.
These wines go with food
It's a cliché to say these wines go with food, it could even be a cop out. But in this case, it's true. Ocassionally these wines when tasted by themselves seem overly astringent and tannic. Pair them with froi grois or a rich stew, though, and watch out. Then it's a different story. That was one of the takeaways in today's tasting report. Pair Cahors Malbec with fatty foods like cassoulet or duck!
Malbec is made all over the world and even seems to do quite well in Washington State. As one Cahors producer said, "Some of the Argentinian Malbec may be quite easy to drink and I understand it suits more consumers, but in Cahors, we are able to make wines with a lot of natural acidity and we cannot deny it is coming from our soil. There are a lot of places in the world you can make Malbec, but you can only make Cahors Malbec in Cahors."

Pro Tip for Regional Wine Press Trips – Visits Based on a Blind Tasting

In the picture below, Armand de Gerard with the Union Interprofessionelle du vin de Cahors pours wines blind for a group of journalists. During a recent visit, the journalists tasted more than 40 Cahors Malbecs in the morning: then impromptu afternon winery visits were quickly arranged. Not all of the journalists went for the more well-known, usual, suspects. The journalists broke into three separate groups to visit the specific producers that made the wines the journalists liked best when tasting blind. Great idea!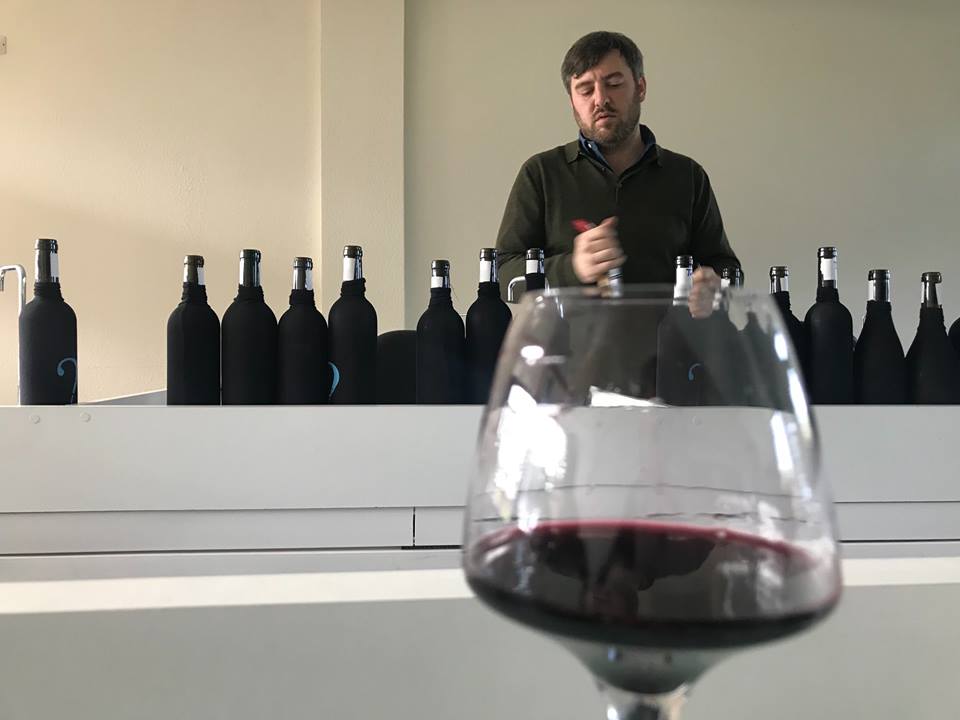 Armand de Gerard with the Union Interprofessionelle du vin de Cahors