First International Volcanic Wine Conference held at New York City's Metropolitan Pavilion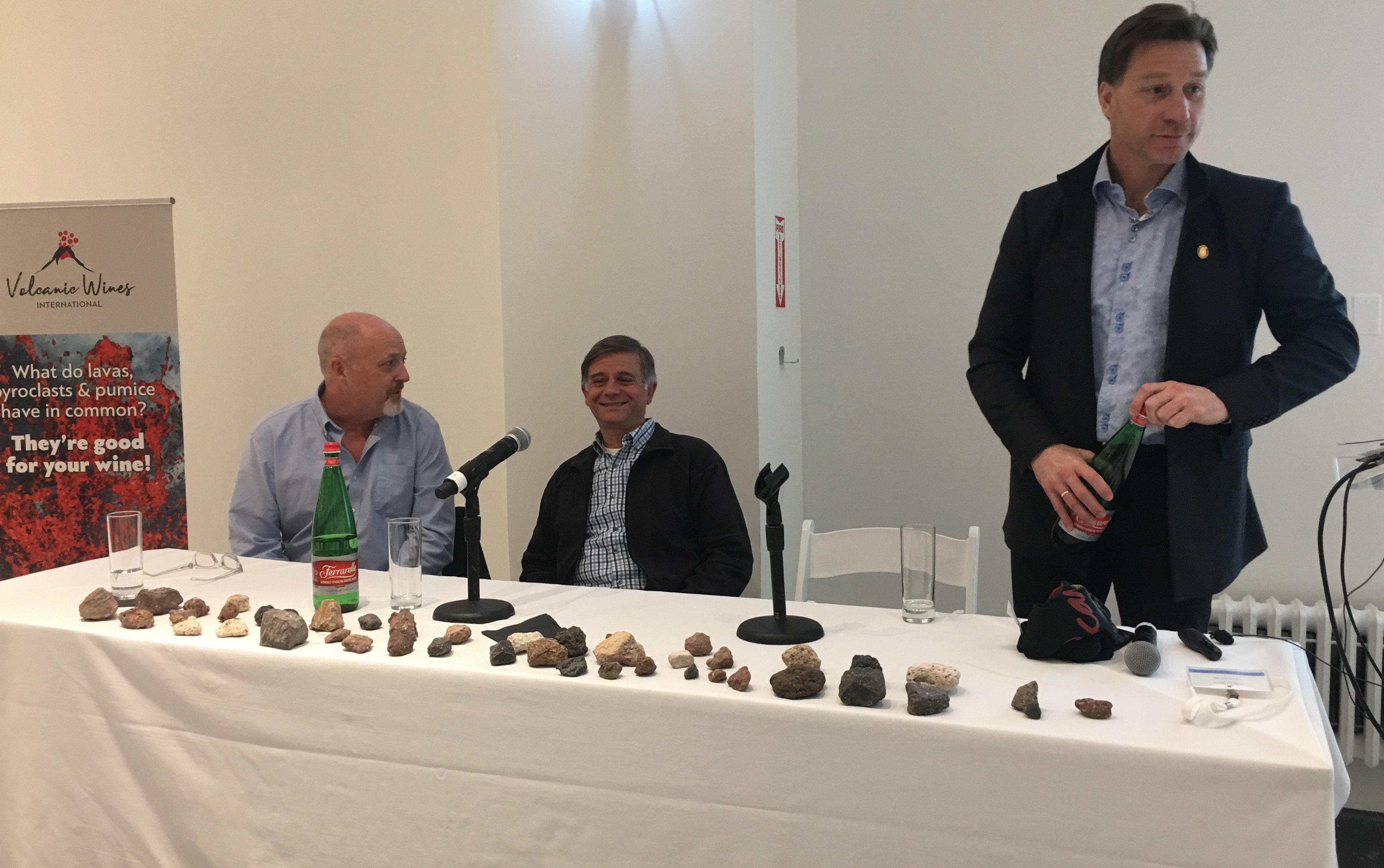 The first International Volcanic Wine Conference was held at New York City's Metropolitan Pavilion this week. Following two staged over the past few years in Soave on a more domestic platform, and another all-encompassing iteration scheduled next month in Hungary, Master Sommelier John Szabo spoke to the standing room only trade/press event joined by Drs. Georges Vougioukalakis and Kevin Pogue.
"The intention for these conferences are too learn the links between wines and their soil profiles...the unique and singular wines," he exclaimed recalling the challenging topography volcanic soils typically possess claiming that "many of these vines are phylloxera-free even today. Dirt matters, terroir matters. These wines are different and often particularly good and, like the effects of climate change cannot be linked to only one type of impact yet between them possess commonalities." Szabo pointed out that some of these are density and extract from poor, often low pH soils which give a sense of minerality--"an amazingly ambiguous term"--he associates with a sense of 'salinity' attributable to a range of mineral salts other than merely table salt (sodium chloride).
Szabo's book, Volcanic Wines: Salt, Grit and Power, came out last year
Volcanologist Vougioukalakis provided a primer on volcanoes and their rocks beginning with hot and fluid magma venting to become lava flows and explosions with fragmented magma creating basalt formations.

Whitman College geology professor Pogue said iron content in soils can also be transmitted into vines therefore finding its way into grapes.
The afternoon continued with workshops focusing upon Italy's Aglianico & Garganega varieties (Winebow's Jesse Becker MS), Santorini (Drs. Georges Vougioukalakis and Yiannis Paraskevopoulos), Soave (Roberto Zorzin, Chiara Mattiello), and Lake County's Cabernets (Paul Skinner, Peter Molnar).
left to right - Pogue, Vougioukalakis, Szabo