California Crush Report: Crop not as Light as some expected
California's wine grape crop was about 4 million tons in 2017 – about the same as in 2016. Overall, brokers expect the market for grapes and bulk wine to remain steady as prices for wine grapes continue to climb.

The fact that the wine grape crush is nearly identical to last year's is "no real surprise," said Jeff Bitter, vice president at Allied Grape Growers. At 4 million tons, the 2017 wine grape crush is still slightly short of what is considered an average size crop in California, Bitter said.

Some brokers expected an even lighter crop in 2017 before federal and state officials released California's preliminary grape crush report Friday.

Glenn Proctor, partner at Ciatti Global Wine and Grape Growers, said the 2017 crop ended up bigger than anticipated because the yield in the Fresno District was 3.5 percent higher than in 2016 and Bakersfield's, about 11 percent higher. Altogether, this adds up to 1.6 million tons of grapes, Proctor said.

The state's 2017 crop was the largest ever for a number of varieties, including Pinot Noir, Pinot Gris and Cabernet Sauvignon, according to Ciatti.

Chardonnay remains the leading grape variety with 14.5 percent of the total crush volume. However, it is 9.3 percent lower than in 2016, a result attributed to a series of heat spikes over the summer.
Chardonnay 2017, Interior Versus Coastal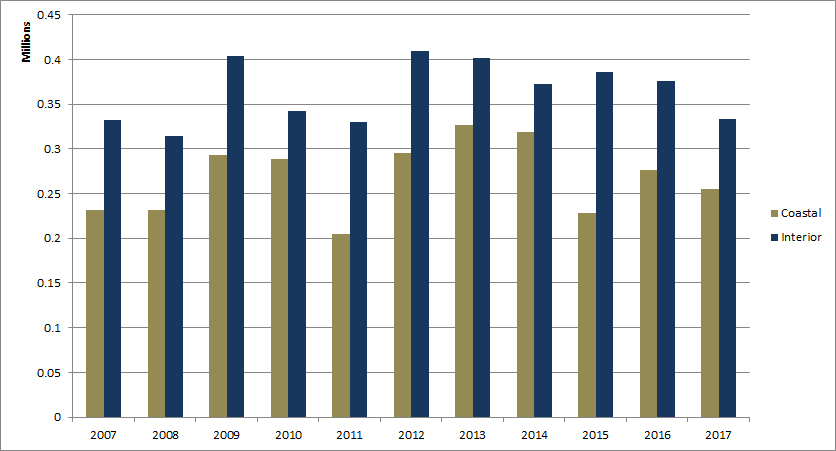 The 2017 Chardonnay crop is the smallest since 2011, Turrentine Brokerage president Steve Fredricks said. The crop yielded about 614,000 tons statewide – 13 percent down from the 5-year average, according to the Turrentine analysis.

Proctor, of Ciatti, noted that Chardonnay's 2017 crop was down 17 percent in Lodi and 19 percent in the Delta/Clarksburg area in 2017 from a year ago. Lodi growers dealt with a lot of canopy and mildew pressure, he said.

"I was surprised how far down it was," he said, referring to the smaller-size crops.

California's Northern Interior's overall crop was more than 5 percent down, Bitter noted.

The crop, statewide, was lighter in 2017 than in 2016 for other varieties. Zinfandel's 2017 crop was down by 12.6 percent. Riesling was down about 9.8 percent from 2016; Syrah decreased by 7.6 percent and Petite Syrah, by 7.3 percent.

Wineries continue to pay more for fruit. Statewide prices increased by 1.8 percent for all varieties, according to Ciatti.
Cabernet Sauvingon 2017 Interior Versus Coastal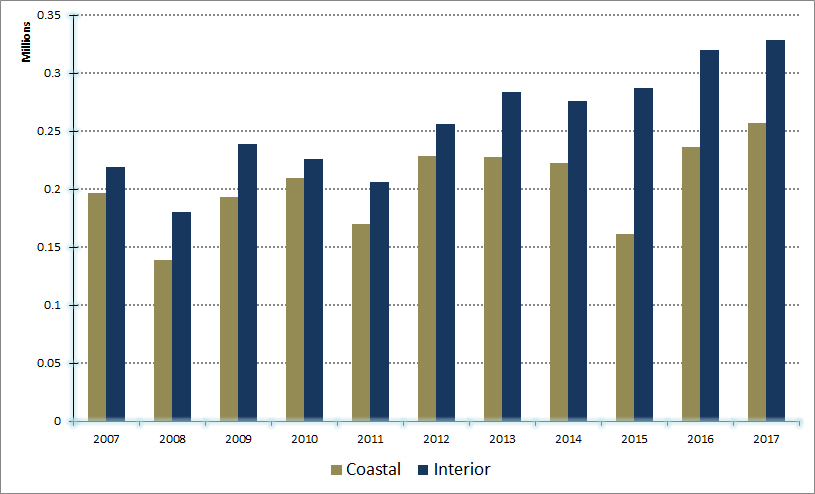 Statewide, Syrah prices increased by 5.5 percent, according to Ciatti. Cabernet Sauvignon fruit increased by 4.5 percent; Sauvignon Blanc, by 4.6 percent; and Pinot Noir, by 4.2 percent.

Fruit from Sonoma cost 8.3 percent more in 2017 than in 2016. Napa Valley fruit prices continue to break records has it has over the past decade. Napa County wine grape prices overall climbed by 10.4 percent, as compared to 2016. Cabernet Sauvignon reached a record $7,421 – an 8.4-percent increase over 2016, according to Ciatti.

Fredricks said the prices are not a surprise as so much of the grapes are contracted.
With prices increasing, wineries and brands are considering various strategies to maintain profit margins, including sourcing fruit from more affordable areas, brokers have reported over the past few months.
For example, a North Coast brand may consider sourcing from Lodi or the Central Cost, Proctor said.

The California Preliminary Grape Crush Report is available at: https://www.nass.usda.gov/Statistics_by_State/California/Publications/Grape_Crush/Reports/
The final report is scheduled to be published March 9.