Richard Thaler Wins Nobel Prize in Economics
November 02, 2017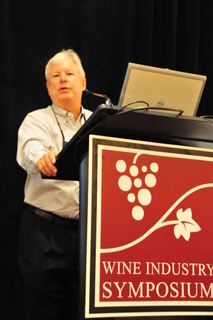 Richard Thaler studies behavioral economics. Actually, he's been called the father of behavioral economics. Thaler was just awarded the nobel prize in economics for his contributions to behavioral economics.
Wine marketers have long known that consumers don't always act rationally. They count on it! We buy too much and save too little. Behavioral economics can make that lack of rationality on the part of consumers more predictable.
In the picture to the left, Thaler is speaking during the 2010 Wine Industry Financial Symposium. He was Bob Smiley's classmate at Cornell and Bob asked him to speak. It isn't too often that a speaker at the Wine Industry Financial Symposium wins a Nobel prize.
Thaler is Professor of Economics and Behavioral Science at the University of Chicago's Graduate Business School where he directs the Center for Decision Research. He's a principal with Fuller and Thaler Asset Management, using behavioral finance for institutional clients. Articles and books include Nudge: Improving Decisions about Health, Wealth and Happiness He was a long time contributor to the Economic View column in the New York Times Sunday Business Section.