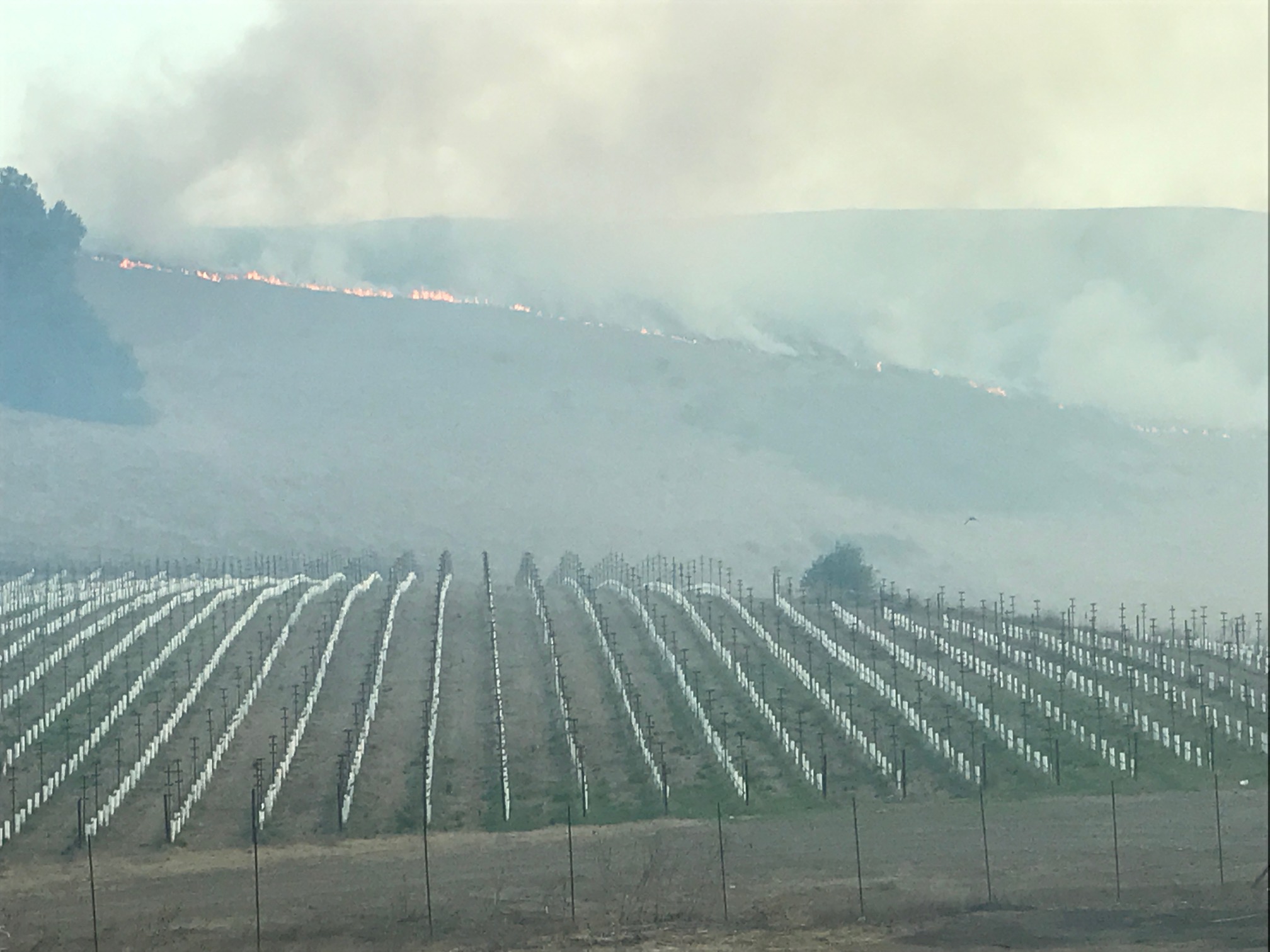 Fire approached the Suscal Mountain Vineyard but helecopters arrived and firefighters we were able to stop it in time.
"I never thought I'd be happy to see rain before the end of harvest," Mark Couchman, chief investment officer for Westchester Agricultural Asset Management and CEO of Silverado Premium Partners, said of the rain that fell on California's North Coast last Thursday. "This was one exception."

While California's wine grape harvest had nearly concluded before wildfires devastated Napa, Sonoma, and Mendocino on October 11, a considerable amount of Napa Cabernet (and a little Merlot) remained to be picked.
Napa Cabernet is typically harvested in October but the harvest came to a stop for five days. Roads were closed, there was concern about having workers out in the smoke, and more wineries than not were out of operation because they had no electric power. Even with the fires nearly contained, some roads remained closed.

Couchman said roughly three quarters of his Napa Cabernet was still out when the fires broke out.

"We've had to send fruit to custom crush facilities out of the area but they've been very considerate and helpful," he said. "All in all, we're coming through quite well."

"We weren't hurt at all in the vineyard business," grape grower Andy Beckstoffer said. "Vineyards are great firebreaks. We delivered every day. In some cases we had to go around the horn because the roads were blocked. Some wineries didn't have a generator and were out of power at first – but then they got the power back."

Beckstoffer, who sold 17,000 tons of grapes to 150 wineries this year, said 10 or 15 percent of his Napa Cabernet and a little Merlot remained to be picked when the fires broke out on October 11.

Mark Neal of Jack Neal & Son Vineyard Management, who farms 1,000 acres for clients in Napa, said he was 95 percent picked before the fires started.

Allied Grape Growers vice president Jeff Bitter said his Napa growers had just a quarter of their Napa Cabernet Grapes picked before the fires broke out, and that by Friday about a third of their Napa Cabernet remained.

"At this point, (on Friday) we're probably down to our last third and I fully anticipate that will be off by the end of next week, or the end of the month."
Jury Still Out
Compounds from smoke can be absorbed by grape vines, causing unwanted flavors in wine, but analysis can allow winemakers to screen for the risk and mitigate its effects.
Smoke taint is insidious.

ETS has six GC/MS and GC/MS QQQ instruments running around the clock but recommends calling for turnaround times.
Vinquiry is testing.
"Everyone is struggling a little bit with potential smoke taint," Couchman said. "I'll leave the winemakers to describe the challenges and mitigation techniques, but some people are concerned enough to want to have a discussion about how to deal with the costs in the event that they have to spend money on mitigation."

"You won't know for sure until the wines are made but the prospects (for not having taint) are very good," Beckstoffer said, adding that the grapes that were left were thick skinned.

"All I can say now is that everyone is taking the grapes," Beckstoffer said. "People are going to test, and there are a couple of things people can test for. … there was more concern about ash in the bins than about smoke taint."

Mark Neal said some wineries were "good" about harvesting remaining grapes, others more "difficult."

"This is where relationships can become stronger and this is where relationships can break," he said.

Neal said an initial round of test results indicated "pretty low numbers."

"Everybody was pretty much at full maturity and the numbers we've gotten back from ETS are pretty low for the thresholds," Neal said. "The jury is still out. I don't think anybody can go out there and just because they see smoke, call it a day."

"Smoke taint is certainly an issue," Allied's Bitter said. "I don't think anyone can pretend it's not being talked about among wineries and growers. There's a general concern in the industry that we don't want it to become something that gets blown out of proportion."

In a few cases, wineries were choosing not to harvest remaining grapes if they had crop insurance (insurers may to ask that grapes be tested) - sometimes because fruit was past optimum ripeness due to delays in harvesting, in others because wineries had other issues resulting from the fires.

"I see wineries taking very methodical approaches to dealing with potential smoke taint, but also to dealing with their growers and their contractual obligations," Bitter said. "I don't think any winery has haphazardly tried to walk away from things. Most are doing everything in a spirit of cooperation, saying 'lets' see how we can get through this together.'"
Flashing Away Smoke Taint
Some wineries were sending grapes suspected of having smoke taint precursors to be processed with flash detente because it may remove some of the unwanted compounds associated with smoke taint.
Some high-end and ultra-premium wineries use flash for positive reasons, to increase concentration and color or to remove vegetative characters or otherwise embolden their wines.

Some wineries only consider flash when things have gone awry and they need to "fix" problem wine grapes.

Flash is known for removing pyrazines associated with herbaceous flavors, for enhancing concentration, bringing out fruit forwardness, volatile acidity, and proteins that can oxidize wine prematurely. In the case of smoke taint, 4-methyl guaiacol (and other compounds) from burning wood can be isolated and pulled out to some extent.

Trials of 2017 wines may offer additional data points.

Over at Flash Wine Technologies, located at Kunde Winery, Rudy Zuidema said he was scheduled to process hundreds of tons of fruit, much of it suspected of having some taint.

In 2015, Zuidema flashed lots that were exposed to fires in Lake County and lots with 4 and 5 ppb came back at 1.5 or 2 ppb. "The key point is that after you flash, you press right away, so you don't have your juice sitting on your skins waiting to get the color and extraction out. It brings all that out in a minute-and-a-half, so you remove the skins immediately and hopefully the taint goes away along with the skins," he said.
Zuidema said, however, that he had lots coming with initial tests showing higher numbers and that he didn't yet know how much methyl glycol would be pulled out during the flash process.

Lots were also headed for flash at Carneros Vintners, where general manager Dave Dobson said a small number of trials have shown flash can help. He said trials showed fermenting on the skins resulted in a reduction of about a third with flash, though its effectiveness in removing smoke taint isn't well known.

"If you have a vineyard with 40 ppb coming in – even if the machine does an amazing job to get it to 20 ppm, you still have a problem, he said, hypothetically – because that's well above – 5 or 6 – where you can recognize smoke taint."
Winesecrets is also offering Flash Détente service for smoke tainted grapes with its system at Napa Wine Company. The program requires a 2-ton minimum, and is suitable for up to 20 ton lots. Juice may also be shipped from Napa Wine Company to Winesecrets in Sebastopol.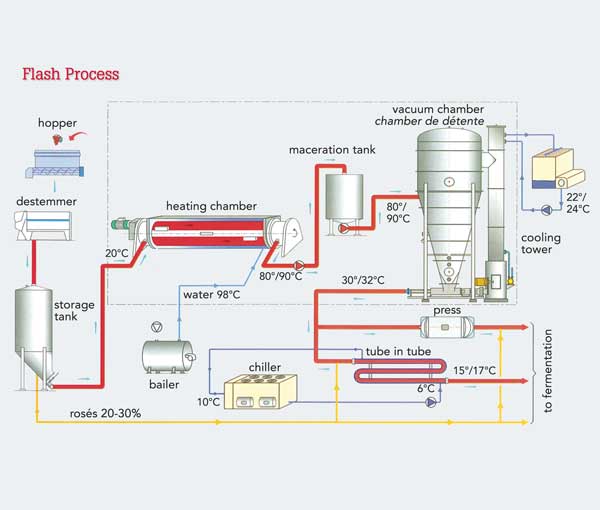 "Any rush to judgment on 2017 is definitely premature"

"Integrity is going to be the name of the game in this vintage and we're not going to do anything that would put the integrity of our brand into question," Chateau Montelena winemaker Matt Crafton told Wine Business Monthly. "Any fields that we're not 100 percent certain on, or any lots that we're not 100 percent certain on we're giving extra scrutiny this year," he said. "It will go to bulk if there's any question."
Crafton said nearly all of Chateau Montelena's Cabernet was in before the fires hit, as most of its vineyards are in Calistoga and mature earlier. He said these vineyards have low yeilds, allowing for fruit to be picked earlier. He said about 40 tons of fruit from one leased vineyard of Cabernet that was still out during the fires will not be picked.

"Any rush to judgment on 2017 is definitely premature," Crafton said. "We don't want to sound like a bunch of Pollyanna's saying everything is fine, but on the other hand, these wines are two-plus years out and we are not really sure what the effects are going to be long-term. We're taking a wait and see approach, being as methodical as we can, and being very conservative in keeping an eye out for any of the known precursors. So far we've been very, very clean."

"We've already made a decision," Pat Henderson, director of winemaking for Kenwood Vineyards in Sonoma Valley told Wine Business Monthly. "We already know that everybody is going to be looking for smoke taint in the vintage. It doesn't matter where it comes from, people are going to be hypersensitive to smoke taint. If we taste any smoke taint or analytically detect any smoke taint we're not going to bottle it."

"I have full confidence that California's wineries and Napa Valley's winemakers in particular will put a good product out into the marketplace this year," Bitter said. "They've got too much at stake. When you look at that category, its known worldwide and the brands that are associated with it are incredibly concerned about their brand reputation. They should be – it's their livelihood."

"The media has a way of taking a tiny portion of the business and then applying that to the whole," Bitter said. "The reality is less than 20 percent of California's wine grapes are grown in Napa and Sonoma. Probably three quarters of that was picked prior to the fires. We're getting down to where we're talking about a very small segment of the business. We as an industry don't want this thing to get blown out of proportion and all of a sudden to have trouble moving the vintage because of exaggerated quality issues."

"The issues of people losing their homes and lives - that's way more newsworthy than one vintage of a few grapes."