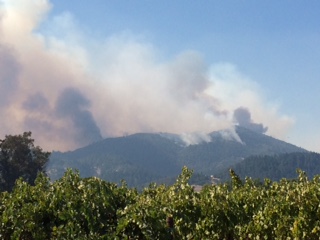 As of 1 p.m. Friday, plumes of white and dark brown smoke and flames from the Nuns fire were visible from Oakville Grade Road west of Oakville (pictured, right). Law enforcement stopped non-emergency traffic near the Dry Creek-Loyola Volunteer Fire Department in the 5900 block of Dry Creek Road.

Cal Fire firefighters and air resources were trying to keep the fire from progressing further into the Napa Valley, according to Cal Fire. The Napa County Sheriff's Department issued an evacuation advisory for the areas west of Highway 29, from Oakville Grade to Rutherford Road.

"That west side of the valley is going to be a priority for us today," Barry Biermann, Cal Fire deputy incident, told reporters Friday morning.

The Nuns fire has burned about 44,400 acres in Sonoma and Napa County, according to Cal Fire.
"But particularly of concern on the Napa County side of the fire is the area of Dry Creek Road, Lokoya, Mt. Veeder, as well as areas up above Rutherford and St. Helena," Biermann said.

"Those are areas that we do have fire coming on the Napa County side," said Biermann, who is also Napa County's fire chief.

The Tubbs fire, which has burned 34,770 acres and devastated neighborhoods in Santa Rosa and was 25 percent contained. However, Cal Fire was particularly concerned about the west side of the Tubbs fire near Robert Louis Stevenson State Park above Calistoga. The town of 5,100 people was evacuated Wednesday.

On another front, Cal Fire continued to try to stop the progress of the fire near Lake Berryessa, where the blaze threatens 300 homes at Berryessa Highlands.

As of Friday morning, the Atlas fire was 27 percent contained, Biermann said. "Great progress is being made here. Resources out there are doing an amazing job. They're tired, they're working hard, but we're making great progress on this incident."

In the meantime, dozens of wineries have closed their doors to the public. In Yountville, some restaurants remain closed, including the French Laundry and Hurley's Restaurant.