Napa Valley's Ashes & Diamonds Winery wrapped up their Series of Conversations between Leaders and Conspirators Friday night with legendary winemaker Paul Draper. More than 100 people attended the event held at the winery. Draper, who recently retired after 47 years of winemaking at Ridge Vineyards was interviewed by Ashes & Diamonds winemaker Diana Snowden Seysses.
Paul has been a leader in minimal intervention winemaking. He also changed California winemaking by focusing on single-vineyard bottlings and by championing the potential of Zinfandel grapes to produce world-class wines. Draper's wines have inspired Ashes & Diamonds winemakers Steve Matthiasson and Seysses.
What follows is a summary of the Q&A with Draper.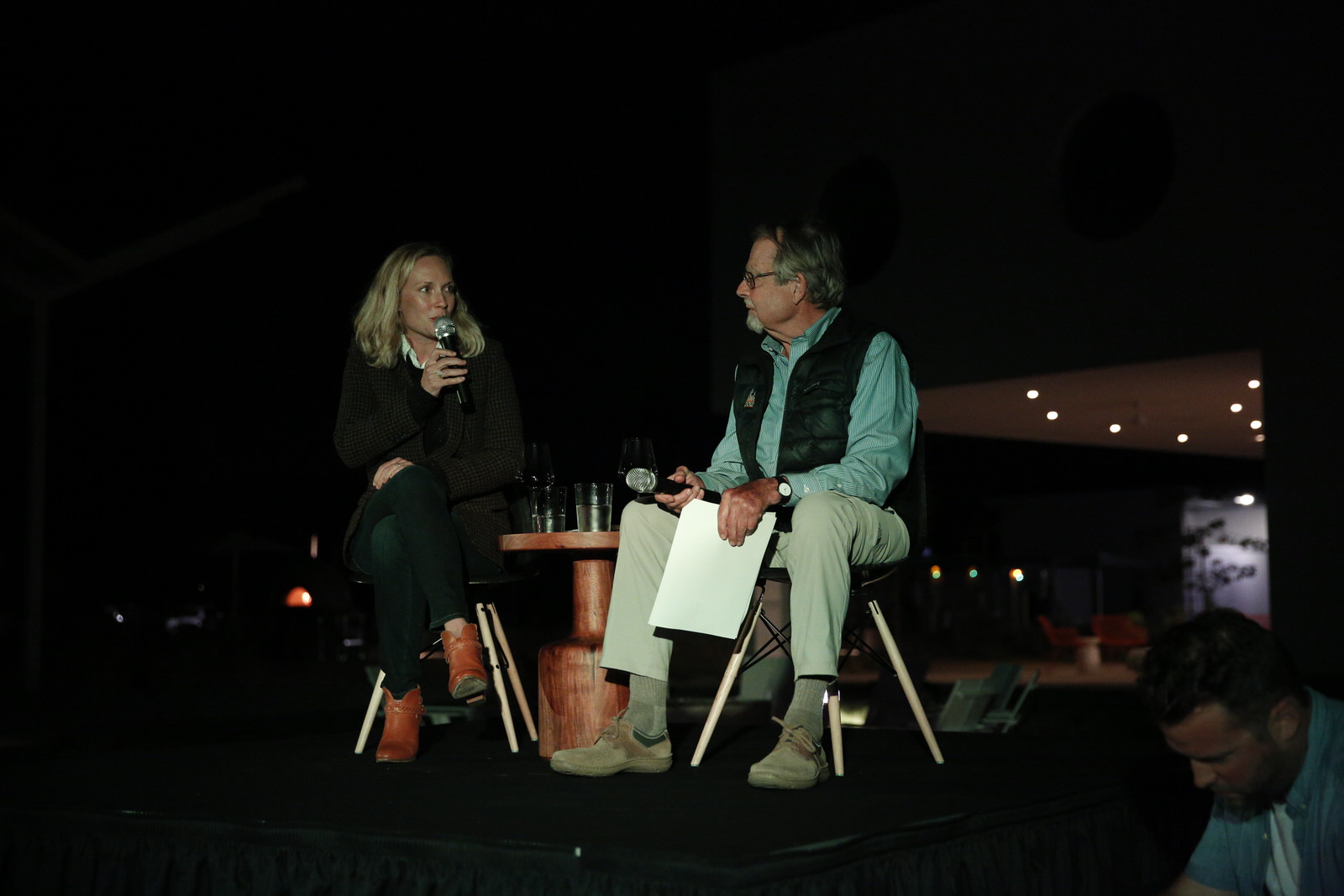 Diana Snowden Seysses and Paul Draper speak at the Series of Conversations between Leaders and Conspirators event Friday, September 29. (Photo by Mark Hunter)

Natural Yeast
Draper uses only natural yeasts in his wines -- he avoids the addition of commercial yeasts and enzymes. Draper believes the use of natural yeasts lead to healthier fermentations and more complex wines. Draper worked closely with Robert K. Mortimer, professor emeritus of molecular and cell biology at UC Berkeley to ascertain that the yeasts fermenting Ridge wines came from the Ridge vineyards.
American Oak
Draper indicated that he decided to use American oak barrels for his wines after reading two studies conducted with Bordeaux First Growths in which wines aged in American oak barrels were preferred to wines aged in French oak barrels.
Zinfandel
Draper has been at least partially responsible for the resurgence of old vine Zinfandel. He has made wine from more than 110 Zinfandel vineyards.
Vineyard Practices
Draper never replants vineyards; he only replaces individual vines. The challenge is how to establish new vines in an old vineyard. A couple of things they have learned are:
As much as possible, get the roots of the old vine out
Make sure the new vines get enough water. To this end he drip irrigates the new vines. The old vines in the vineyard are dry farmed.
Paul credited his vineyard manager at Ridge, David Gates, for figuring out best practices for establishing new vines in an old vineyard.
To make a great evening even more special, guests were served a 1985 Ridge Vineyards Cabernet Sauvignon.
About Ashes & Diamonds
Opened in August 2017, Ashes & Diamonds Winery is the ultimate convergence of modern and old-school flavors. Committed to offering a wide-ranging group of wines, Ashes & Diamonds chose to hire two separate winemakers, each focusing on their own projects, as a way to increase production while maintaining quality.
Winemakers Steve Matthiasson and Diana Snowden Seysses, with proprietor Kashy Khaledi, adhere to an ethos of light-handed winemaking and transparency of terroir as a guiding light for all of the wines they produce—a Burgundian approach to Bordeaux varietals. A community of like-minded, legendary winegrowers has quickly taken shape, journeying from Bart and Daphne Araujo's biodynamic sites Red Hen Vineyard (Oak Knoll District of Napa Valley) and Rancho Pequeño Vineyard (Oakville), to Jack Bates's Bates Ranch in the Santa Cruz Mountains, and back to A&D Vineyard's own organically-farmed 30-year-old vines.