Introducing the 2014 Top 10 Hot Brands ~ Fiddlebender/Cellar 433
January 16, 2015
Every year, when Wine Business Monthly chooses our annual list of the top 10 Hot Brands, we look for vintners, growers, wineries and wines that are making a statement in our industry. While quality is always our first and foremost consideration, Hot Brands is not simply a list of the best or most interesting wines we've tasted during the year. This list delves more deeply into what it means to be a part of the American wine industry. These are wineries that best exemplify their region or variety, or that dared to take big risks (with big rewards) in creating a new category or technique. In 2014, that common thread was that these wineries are all pioneers in some way. Each of the wineries on this list are helping to forge new paths that will be used for generations to come.
We are releasing the Top 10 Hot Brands in alphabetical order, one per day, leading up to the Unified Wine & Grape Symposium. Wine Business Monthly will be serving these wines to winemakers, grape growers and industry members at our annual gathering Bottle Bash during Unified on Tuesday, Jan. 27, 5:00-8:30pm at cafeteria 15L (1116 15th Street, Sacramento).
Fiddlebender/Cellar 433
Cannonball Red Blend (Tempranillo, Petit Sirah, Alicante Bouchet), Willcox, Arizona
Cannonball Aimed at Exposing Consumers to a New Wine Region
John McLoughlin wants to expose you to his pride and joy—his Arizona wines, of course. The brazen and indefatigable McLoughlin is the owner, grower and winemaker at Cellar 433, a winery based in the remote, high-altitude town of Willcox, Arizona.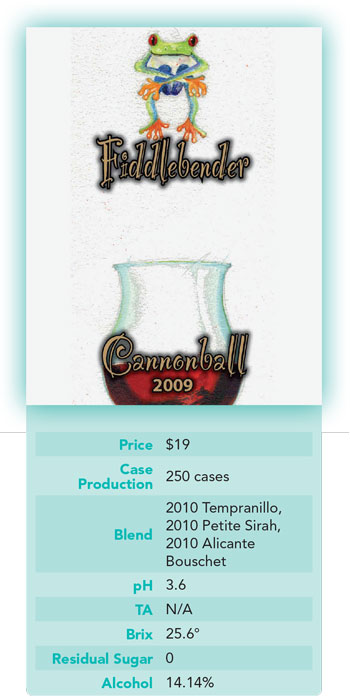 McLoughlin calls himself, and Arizona's wine industry, a pioneer, a cowboy or an underdog. He knows the challenges he faces in trying to establish a wine industry in a state that has largely been overlooked and ignored by American wine consumers. He doesn't care. He's often willing to bet money that somewhere in his portfolio of about 45 different wines across six different brands, you'll be exposed to something you'll like. The Fiddlebender line is right in the middle, a bridge between wines that attract more novice wine drinkers and those looking for high-end reserve wines.
"With Fiddlebender, the advantage I have is there is no comparison. There is great strength in that because it allows me, as a winemaker, to expose people to something they never knew they even liked before," he said. "Nobody has any expectations from us. When I go to California, it's really kind of fun because people don't realize we grow grapes in Arizona. If you don't like it, dump it. I tell the women, you didn't really like chocolate until you tried it for the first time. I tell the guys, you didn't like kissing girls until you tried it for the first time. I try to have people experience things they've never tried before."
This quest for discovery is not just a winemaking philosophy for McLoughlin; it's more like a personal mantra that he's been developing since he was a teen. He clearly remembers his first glass of wine: He was 16 years old, visiting family in Germany's Mosel region. They descended a gondola into the dark, dank and flooded cellar, plucking out a Pinot Noir to share with their American relation. He was hooked, and he's been chasing that sense of wine discovery ever since.
It's this philosophy that kept this Arizona native in his home state when he decided to establish his own winery. "I could have set up shop very easily in California. But I thought, you know, Arizona is untapped. It's a challenge," he said. "Nobody's done it. Who wants to do what everyone else has done? Let's show the world that there's something going on here that nobody ever imagined. I thought, 'We can farm here. Let's be pioneers.'"
McLoughlin grows about 100 different varieties in his 150-acre Dragoon Mountain Vineyard in Willcox, nestled in a bowl-shaped valley at 4,500 feet. Part of being a pioneer, he says, is figuring out what works. "We don't know what grows here. And just because something grows well doesn't mean a winemaker can do something with it," he said. "We are all trying to figure out what is going to put Arizona on the map."
Growing conditions are truly unique. First, there's the constant wind that goes from hot and dry in the spring to cold gusts in winter. Then there are the year-round 30- to 40-degree diurnal temperature swings, one that can turn a 90-degree June day into a 50-degree night. It's also a closed (or endorheic) basin water system—there is no inflow or outflow of water beyond rainfall and evaporation.
Another, and perhaps the most critical, issue for winegrowers here is the need for qualified labor. "There's a real void in the state right now of a large pool of wine-oriented staff," said McLoughlin, who traveled to California in November of last year to lobby colleges to guide viticulture and enology students to Arizona. "Wine is a way of life. It's a gift. We're bringing interns in from Europe because I can't get the Americans to come to Arizona. They just don't realize what's going on here. But if you come here, you can really make wine. You won't just be schlepping hoses."
The full story on Fiddlebender ~ and all our Hot Brands ~ will be available in our February 2014 issue of Wine Business Monthly. You can find it here starting Feb. 1, or come by our booth (#1620) at Unified and pick up a copy. Click here to subscribe to WBM.