What Makes Merlot Special (Varietal Focus Preview)
November 07, 2014
November 7 is International Merlot Day, and what better way to celebrate it (without a glass in hand) than by learning about the various techniques winemakers in Napa, Long Island and Washington are using to erase the stigma surrounding the much maligned varietal.
In the January issue of Wine Business Monthly, Lance Cutler's newest installment of the Varietal Focus series will focus on how nine winemakers craft the perfect Merlot. Below is a preview of the article, just in time for #MerlotDay!
To read the full article when it hits doorsteps on January 1, subscribe to Wine Business Monthly here.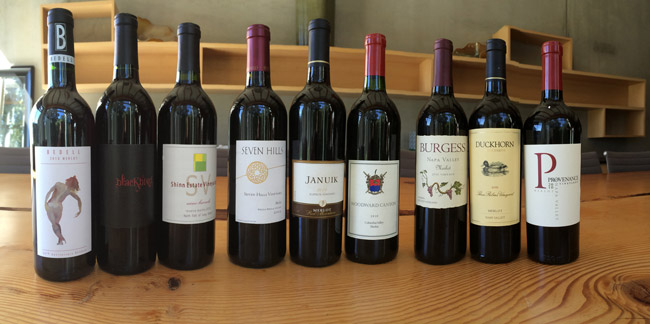 Merlot is a dark-skinned grape variety that is used both as a blending grape and a stand-alone wine varietal. Merlot grows most famously in Bordeaux, France, and it is by far the most-planted variety of that famous region. In fact, the variety is so popular all over the country that France grows more than two thirds of the world's Merlot.

Merlot buds earlier and ripens earlier than Cabernet Sauvignon. It is susceptible to shatter in bad weather during flowering, and its thin skin makes it vulnerable to Botrytis bunch rot if there is too much rain or moisture. Merlot grapes tend to be large and hang in loose bunches. It tends to have higher sugar than Cabernet Sauvignon along with less tannin and lower malic acid levels.

Because Merlot is grown all over the world and can put out large crops, while still producing wines that are supple, fruity and lacking astringent tannins, many producers have used the variety to produce inexpensive, innocuous wines. These wines lack complexity and interest, but they are soft and undemanding. Millions of cases of undistinguished Merlot have flooded wine markets for years, and critics have rightfully chastised these wines as dull and bland. This Varietal Focus concentrates on what makes Merlot special: well-made, challenging wines that offer bold fruit character, lush mouthfeel and good tannic structure.

Merlot can set large crops, especially after a good flowering season. Regulating crop size seems to affect quality in a good way. The vines thrive in well-drained soil. Merlot is notorious for approaching full ripeness and then stalling in sugar production, only to quickly over-ripen in the face of warm weather. This ability to achieve full physiological ripeness has led to two primary styles for the wine. The New World style emphasizes ripeness, inky color, full body and lush tannins. Flavor profiles lean toward plum and blackberry. A more traditional style involves picking at slightly lower sugars trying to maintain acidity. The resulting wine is medium bodied, with lower alcohol and more red fruit character like raspberries. These wines can also exhibit leafy, vegetal notes or earthy, black tea aromas.

Merlot is grown all across the globe, including countries as diverse as Italy, Romania, Australia, Argentina, Bulgaria, Chile, Greece, Hungary, Mexico and South Africa. It is the second most-planted grape in Israel and can be found in Turkey, Croatia and Slovenia. In the United States, California and Washington have had the most success with the variety, but even Long Island, New York is having a successful go with it.

In Bordeaux, Merlot is used primarily as a blending grape where it lends suppleness, ripe fruit character and a more generous mouthfeel to the more tannic Cabernet Sauvignon or the leaner Cabernet Franc. On the Left Bank of the Gironde River, in Médoc and Graves, Merlot usually comprises less than 25 percent of the blend. On the Right Bank however, in St. Emilion and Pomerol it usually makes up the majority of the blend, often with Cabernet Franc as the other main player. Merlot is also grown in Provence, the Loire Valley and Languedoc-Roussillon.

Merlot is prolific in warm climates, but does better in cooler regions. It is grown all over California, and the wines can range from fruity and simple to ripe, mouth filling, supple monsters. It does very well in Washington, where it is the second most widely planted red grape. The state's long days and cool nights help produce a wine loaded with rich fruitiness, but retaining a firm structure. The very special seashore conditions on New York's Long Island lend their Merlots an almost saline character along with dark fruit and black tea flavors.

Napa Valley has long been renowned for Cabernet Sauvignon, but it has produced wonderful Merlots for decades. Renée Ary submitted the legendary Duckhorn Three Palms Vineyard Merlot. Tom Rinaldi, who helped make Duckhorn legendary, gave us his Provenance Vineyards Merlot. Steve Burgess added his family's Triere Estate Vineyard Merlot. Three celebrated Washington winemakers, all of whom were essential to the varietal's success in that state participated. Mike Januik contributed his Merlot from the renowned Klipsun Vineyard. Casey McClellan brought his Seven Hills Vineyard Merlot and Kevin Mott added Woodward Canyon's Columbia Valley Merlot. Long Island has hung its hat on Merlot as its best red wine. Rich Olsen-Harbich shared his 30th Anniversary Merlot from Bedell Cellars. Barbara Shinn and David Gates brought their Nine Barrel Reserve Merlot. Anthony Nappa submitted his Reserve Merlot from his eponymous winery.