Wines Closed With Cork Saw Increase in Sales Volume and Value
November 11, 2014
Nielsen released sales figures for the top 100 premium wine brands based solely on closure type, showing significant improvements for wines sealed with a natural cork. Since the start of 2010, the volume market share for wines closed with cork rose 29 percent. Alternative closures also saw an increase, but of 9 percent in the same time period. While the numbers do not necessarily mean that consumers are making their purchase based solely on closure type, the data does show an improvement in sales of wine closed with cork.
Trend Analysis of Case Sales for Top 100 Premium Brands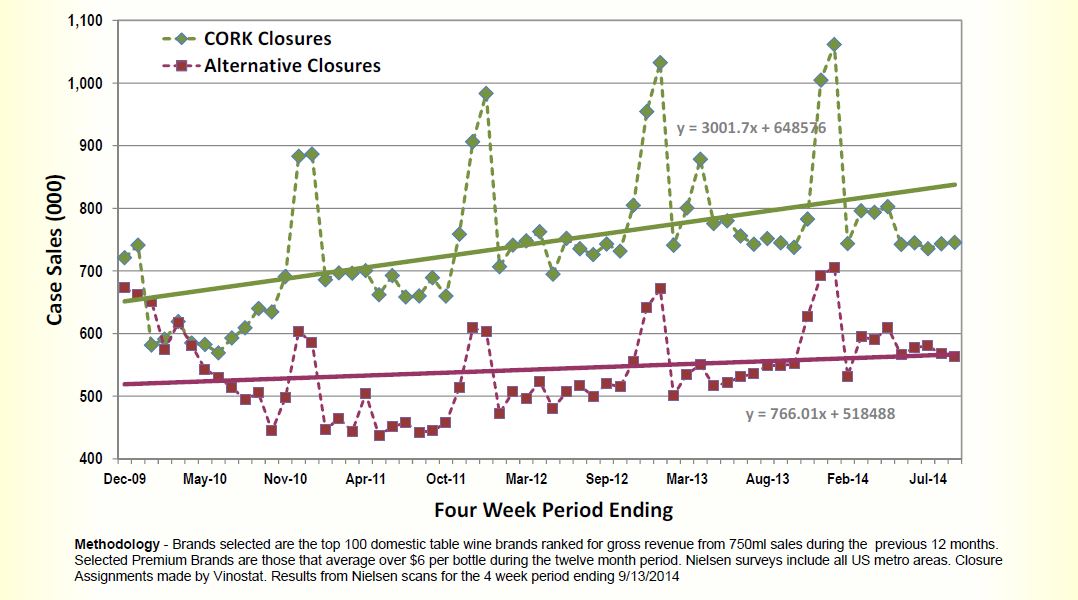 When breaking out case sales by closure type and top brands, those finished with a natural cork have seen significant improvement in volume moved.
The top 10 brands finished in natural cork performed better in both volume movement and sales compared with the top brands closed with synthetic. Eight of the top brands closed with cork saw an increase in case sales and nine saw an increase in revenue, averaging an 8.9 percent increase in volume and an 8.5 percent increase in value. For synthetically sealed brands, six of the top 10 brands saw a decrease in volume, however the average across all 10 remained an increase of 1.3 percent. In dollar sales, another six percent saw a drop in revenue, though as a group, it was up 1.1 percent.
However, the total cases sold in the 52 weeks leading to Sept. 13, 2014 were much higher for synthetic cork—about 5.57 million to natural cork's 4.3 million cases.
Sales by Price Point
For the four week period ending Sept. 13, Nielsen figures show that cork closures out-performed synthetics and screw caps in the $10 to $15, $15 to $20 and the over $20 categories. Synthetic-closed wines saw a slightly higher revenue than its natural counterpart, with just over $35,000 in the $6 to $10 range.