There is quality, there is value, there is variety, or QVV, in the foothills of El Dorado County.
The El Dorado Winery Association held a special media and trade tasting event in Sacramento yesterday, showcasing the region's wine and moderated by wine writer Christopher Sawyer. The distinguished panel of seven winemakers included Greg Boeger, who opened Boeger Winery with his wife Susan in 1973, also pioneer John MacCready, of Sierra Vista Vineyards and Winery, and relative newcomer Helen Keplinger, Keplinger Wines, who was recently featured on the cover of Wine Spectator Magazine.
"We are very fortunate in El Dorado that we have a variety of rich soils that allows us to produce any type of wine we want," said Ms. Keplinger. "As a region, we should embrace this amazing ability."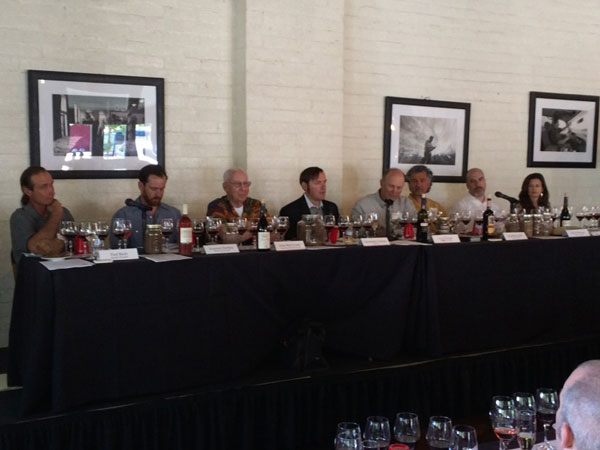 (L-R) Paul Bush, Madrona Vineyards; Grayson Hartley, David Girard Vineyards; John MacCready,
Sierra Vista Vineyards & Winery; Chris Sawyer, moderator; Greg Boeger, Boeger Winery; Jonathan Lachs,
Cedarville Vineyard; Chris Pittenger, Skinner Vineyard and Winery; Helen Keplinger, Keplinger Wines

The Wines
The panel brought some of the region's finest to share, beginning with a citrusy 2010 Blanc de Blancs, Extra Brut ($35) by winemaker Paul Bush of Madrona Vineyards. Own-rooted and organic, the vineyards were established by his parents, Richard and Leslie Bush in 1973.
The second panelist, Grayson Hartley, of David Girard Vineyards offered a crisp, dry 2013 Rose ($22) and discussed the resurgence of interest in this varietal.
Also a pioneer in the region, John MacCready presented a GSMC blend, 2013 Lynelle ($29), named after his two daughters.
Greg Boeger presented a 2011 Barbera ($18), which he said accounts for 30 percent of his wine sales. "It's the wine I bring to dinner when I don't know what is being served."
Cedarville Vineyard's Jonathan Lachs and his wife Susan Marks presented a representative organic 2012 Zinfandel ($25), a varietal that helped make El Dorado one of the top wine-growing regions in California.
Chris Pittenger of Skinner Vineyard and Winery offered a delightful 2012 Mourvedre ($25). Ms. Keplinger presented her 2013 Caldera ($60), made up of 58% Mourvedre, 38% Grenache and 4% Conois.
Following the panel discussion, the tasting opened up to include other wines of the region. Auriga Wine Cellars, Bumgarner Winery, Cantiga Wineworks, C.G. DiArie Vineyard and Winery, Charles B. Mitchell Vineyards, Chateau Davell Winery, Crystal Basin Cellars, DK Cellars, Findleton Estate Winery, Fitzpatrick Lodge/Gold Mountain Winery, Gwinllan Estate, Holly's Hill Vineyards, Illuminare, Lava Cap Winery, Mastroserio Winery, Miraflores Winery, Mount Aukum Winery, Narrow Gate Vineyards, and Nello Olivo Wines were all represented.
Most of the wines are made with estate-grown grapes and vineyard designates. An astonishing statistic brought up by the panelists is that the grape tonnage sold outside of El Dorado County increased 67% from 1,646 in 2011 to 2,741 in 2012. "We are experiencing phenomenal growth, said Boeger. "We hope it continues."
El Dorado, designated an American Viticulture Area (AVA) in 1983, is home to approximately 50 wineries over 2000 acres. For more information contact The El Dorado Winery Association at info@eldoradowines.org, or visit their website at www.eldoradowines.org.