The May issue (the tasting room issue) of Wine Business Monthly is being printed and is on its way to your mailbox. You can also view it online on May 1 here. For a preview of the May issue, see Editor Cyril Penn's month in review below:
Enhancing the Tasting Room Experience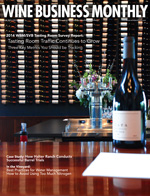 When people that aren't in the business hear I'm with a wine trade magazine and live in "Wine Country" they often ask for wine recommendations. They'll ask, "What's a good wine?" or "Can you recommend a good Pinot Noir?" as if I would recommend only one. They'll often also ask what wineries to visit, too. I'm sure many of our readers get this all the time. In terms of where to visit, I typically respond not by asking "what kind of wines do you like?" but by asking, "What type of experience are you interested in?" I tend to recommend the wineries that I know offer experiences that will be remembered long after the visit is over. I suggest visiting during the week, if possible, when staff aren't overwhelmed by crowds as some tasting rooms in Napa and Sonoma are practically transformed into "bars" during weekends. "Good" wine is a given.

A memorable tasting room visit can inspire steady online purchases for years to come. That's why many wineries are working to enhance the experiences they offer. An article in this issue focuses on this phenomenon as well as on how wineries are using technology to enhance the tasting room experience. Wineries in some regions have become so adept at providing over-the-top customer experiences that it's almost a competitive disadvantage not to have something special to offer. Consumers have practically been trained to expect great experiences. Don't be too discouraged if you don't have a Humvee to take special guests to the top of a mountain or a five-star chef whipping up special food pairings, though. Authenticity and engagement are the key. And, yes, good wine too.

This issue additionally includes the 2014 Wine Business Monthly/Silicon Valley Bank Tasting Room Survey report. The report brings welcome news: Customers are visiting winery tasting rooms more and they're spending more. The industry is growing and maturing so that wineries are increasingly measuring how they're doing, tracking wine club conversion rates, mailing list signups and more. The survey report, by the way, confirms that the type of experience a given winery provides has a huge effect on direct-to-consumer sales. Wineries, for instance, that are open by appointment only sell more wine once the customer arrives, while wineries that offer formal seated tastings do better with their wine clubs. The survey report looks at how wineries are benchmarking themselves. Wineries can use it to see how their tasting rooms stack up. Thanks go out to the folks at Silicon Valley Bank for collaborating with us on the survey, which drew a record number of responses.

Here's to making memories.

Cyril Penn, Editor
To subscribe to WBM, click here.