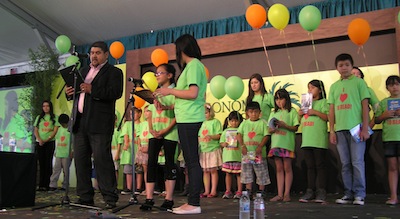 Halfway through Sunday's Sonoma Harvest Wine Auction, auctioneer Fritz Hatton asked bidders to raise their paddles to contribute to a special fund to support literacy skills for at risk elementary school kids. The results were spectacular:

Contributions to the fund got a jumpstart with $75,000 bids by Joe Anderson of Benovia Winery, from the Gallo family, and from Jackson Family Wines. Joel Peterson bid $25,000, more bids came in in consecutively smaller increments. Tom Klein of Rodney Strong Vineyards offered to match donations in $1,000 increments up to $50,000 – which was achieved - and exceeded - in short order. In minutes, bidders raised $692,000. "You kicked it out the door," Hatton said. At that point, attendees knew the auction would far surpass the previous year's fundraising total, they just didn't know by how much. At the end of the day the total raised had nearly doubled compared to the previous year, at $1.4 million.
The auction has gained momentum since joining forces with the Sonoma Showcase of Wine & Food to create Sonoma Wine Country Weekend a few years ago. There are the smaller steps toward a successful auction, making it run more smoothly – a better tent, or a more advanced sound system, for instance. Making these auctions successful requires getting the right people under the tent too. Though the generosity of the vintners is extroardinary, the auction has moved beyond vintners buying each other's lots (though that's still an important part of the mix). Some of the suppliers and service providers to wineries were on hand to lend support: Tricorbraun Winepak was the lead sponsor; attorney John Hinman (who throws quite the big botltle party in December) was the winner of a large lot of magnums; and Neil Foster of cork supplier MA Silva won a lot that includes dining with twelve of Sonoma County's leading winemakers and their wines.
It's a staggering number, but apparently more than half of all third grade students in Sonoma County – 54 percent – read below third grade proficiency levels. Thus, this year's auction benefits are going to a fund to benefit three programs: Schools of Home (United Way of the Wine Country); Sonoma Valley Education Foundation – Summer Reading Academy; and Pasitos Playgroups with the Community Action Partnership.

There is no shortage of good causes out there, and in previous years the auction has backed a variety of charities each year. The auction's commitment to focusing on literacy in Sonoma County, however, will be for three years.