August marks the 30th anniversary of the Russian River Valley as a designated AVA, and in honor of this landmark, the Russian River Valley Winegrowers are hosting its 18th "Grape to Glass: Back to Our Roots" on August 17 from 4-9 p.m. at Richard and Saralee's Vineyard in Windsor, CA.
The theme of the party is "Back to our Roots" and several of the original members of the Russian River Valley Winegrowers Association will be in attendance, as well as over 50 local Russian River wineries who will be sharing their latest boutique releases before they are made available to the public.
Did you see Wine Business Monthly's article "The California Appellation Series 1983-2013: Russian River Valley" in the May issue? For the AVA series, writer Christopher Sawyer follows the birth of nine unique appellations and the accomplishments made in these wine-growing regions over the past 30 years. One AVA a month is featured in the magazine. See below for a teaser of the Russian River Valley edition featured in our May issue.
When TripAdvisor's Traveler's Choice Awards named Sonoma County as the nation's top wine destination in October 2012, it wasn't a surprise to local residents who have seen the popularity of prized wines from the region spread like wildfire over the past decade.

One of the appellations that helped build this momentum is the Russian River Valley, which is located between Healdsburg and Forestville in the north, Occidental and Sebastopol in the west, Cotati to the south and the Mayacamas Mountain range in the east. This agricultural zone is known for its relatively cool temperatures, intrusive coastal fog, unique soils, diverse terrain and long growing season—typically 115 to 120 days from fruit set to harvest.

When the Russian River Valley appellation was granted by the Bureau of Alcohol, Tobacco and Firearms (BATF) on Oct. 21, 1983, the original boundaries covered 150 square miles and the two sub-appellations of Chalk Hill and Sonoma County's Green Valley (now called Green Valley of Russian River Valley). Today, the viticultural region includes 198 square miles of agricultural land, 200 growers and 80 wineries within its boundaries.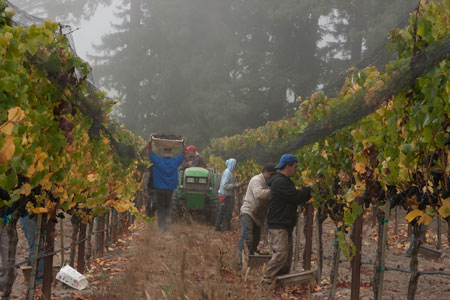 Freestone Hill Vineyard at harvest (Dutton-Goldfield Winery)
View the full article in the May issue here.