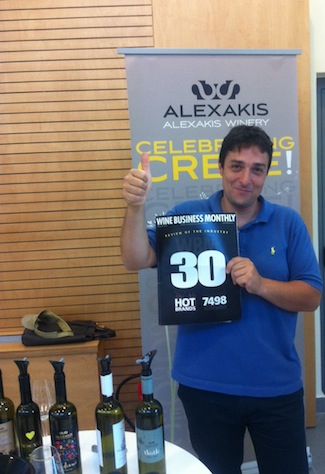 I'm on a quick press trip with Wines of Crete, in Greece, discovering indigenous varietals – for the next couple of days.
Crete is one of those places that has a lot of diversity when it comes to wine grapes – so much so that it is a blessing and a challenge.
Some of the promising wines include whites such as Vidiano, which has become more popular in the past couple of years, perhaps superseding Vilana. Red blends with Kotsifali, and/or Liatika are very interesting, and are often blended with better-known grapes that aren't originally from Greece, especially Syrah.
It's always a pleasure to meet the winemakers. Today, one of the winemakers I met was Apostolos Alexakis with Alexakis Winery in Heraklion, one of the leading wineries in the area, the largest private winery in Crete. Alexakis makes wines under it's own label and in bulk for others.
Many of the wineries in Crete don't have representation in the U.S. market - yet. They're working on it. Alexakis wines, however, are aleady sold in the U.S. through Diamond Importers of Chicago.
Not only is Apostolos Alexakis a graduate of the winemaking program at Fresno State, he's also a Wine Business Monthly subscriber – obviously an astute, and well-informed winemaker.