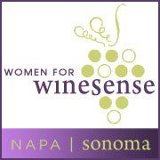 The Napa/Sonoma Women for WineSense (WWS) chapter kicks off its 2013 Professional Member career development program with a daytime leadership seminar on June 6 at Chimney Rock Winery in Napa. The event will be headed by Geni Whitehouse, named one of the "Top 100 Most Influential People in Accounting" by Accounting Today from 2010-2012, and one of the "Top 25 Thought Leaders in Public Accounting Technology in 2013" by CPA Practice Advisor.
Whitehouse, of Brotemarkle, Davis & Co. LLP in St. Helena, Calif., will steer the event, subtitled, "Discover Your Own Brand," through a number of seminar presentations and exercises designed to help attendees build their own brands.
Showcasing the organization's wine industry membership expertise will be presenting professional members:
• Margaret Martin, former Director of Leadership Development for Mezzetta and WWS's Development Director;
• Susan DeMatei, owner of Wine Glass Marketing in Napa;
• Cindy Deutsch, National Retail Chain Manager, TGIC Importers, Inc.;
• Karen Jess-Lindsley, CEO of Lindsley Lighting and a former WWS National President; and
• Julie Johnson, winemaker/vintner of Tres Sabores Winery and co-founder of WWS.
In addition to leading attendees through seminar modules on branding and leadership skills, members will be donating their personal time to the event's silent auction for "Expert Sessions," WWS' 90-minute private meetings or coaching sessions. Winning bidders will pay $75 per session with the "expert" of choice. One hundred percent of the auction's proceeds go to the chapter's scholarship fund.
Providing the backdrop to the event for the second year in a row is Chimney Rock Winery in Napa. Earlier this year, Christine Mueller, the chapter president, announced plans to grow the chapter by more than 20 percent in 2013, to 400 Napa/Sonoma members. "We're offering several incentives for existing members to recruit new ones, such as free membership for a year going to the member who brings in the most new members this year. But our members are already very enthusiastic and bring their friends to the organization simply because they have such fun at our events," she said.
About Women for WineSense's scholarship fund: The chapter allocated $4,000 (a 25 percent increase over the previous year) in scholarships in 2012 to four students enrolled in wine/viticulture studies at U.C. Davis, Sonoma State University, Napa Valley College and Santa Rosa Junior College.
Tickets for this limited-seating event are $79 and may be purchased at: WWS-Chimney-Rock.Eventbrite.com or call (707) 996-8740.